By NICOLE CHANG
Ever since the Persatuan Kebudayaan Kesenian Orang Asal Perak (PKKOAP) launched Tanding 1.0 in 2018, the contest has become an annual event, featuring traditional Orang Asli costumes.
With the first contest, the initiative was aimed at raising public awareness about the art and cultural identities of the Orang Asli community and to foster cultural pride among Malaysian Orang Asli communities, particularly the youth.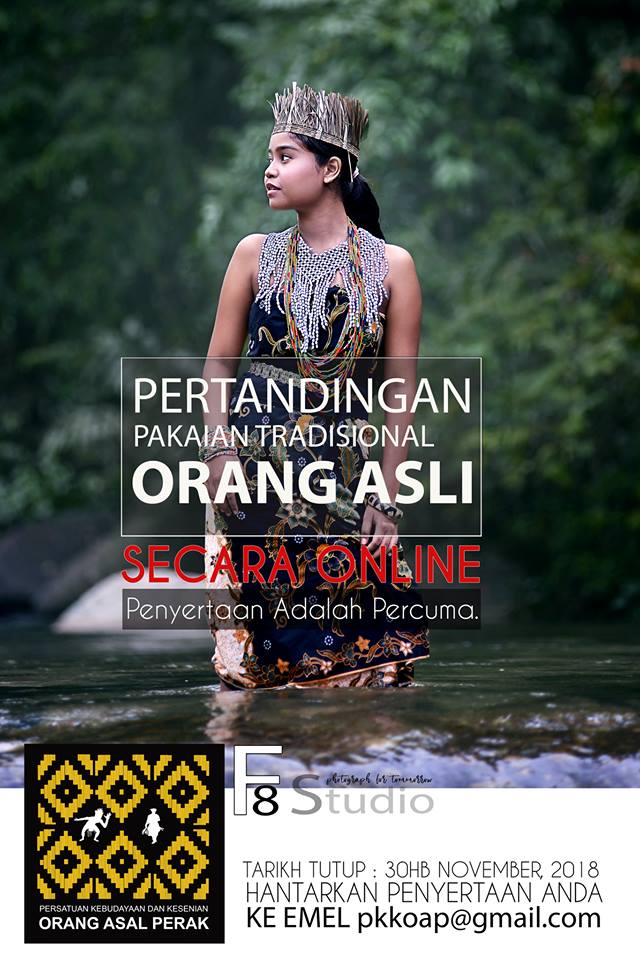 "As Tanding is held in January, it naturally becomes part of the activities to celebrate the festive season of the Orang Asli. According to traditions practiced by different villages, Orang Asli start to celebrate various festivals starting from Dec 31 until the end of March each year," explained Ronnie Bahari, president of the PKKOAP.
Tanding 3.0, in 2022, will feature the theme of wedding costumes. The overall format and requirements for this round of competition have been reviewed, and unlike Tanding 1.0 (in 2018) and 2.0 (in 2021) which only awarded the models wearing the costumes, Tanding 3.0 has expanded its award categories to include prizes for costume designers as well.
"We have learnt throughout the process and are aiming to do our best to enhance the Tanding, to encourage a greater number of young Orang Asli talent to participate. We hope to engage these talents in both traditional as well as contemporary costume design and modelling, to promote a stronger sense of community pride and appreciation of tradition and cultural identities," Ronnie added. "Ultimately, this will build their confidence to continue practicing, promoting and preserving their cultural traditions."
According to the PKKOAP president, the Orang Asli community stopped wearing these traditional wedding costumes during ceremonies years ago; more so among those who live close to cities. Nowadays, many Orang Asli youth don't know what their ancestors wore at wedding ceremonies.
"We don't have much documentation, not even old photos. Thus, our youth are expected to creatively design and present their own version of the contemporary Orang Asli wedding costume, by combining traditional and modern concepts, elements, or design techniques, based on their understanding and interpretation of their own cultural traditions and identities," explained Ronnie.
"According to seniors, in the early days, Semai couples wore unique bridal costumes, with lots of accessories, made in beads, on their head, waist and so on. But all these accessories are no longer visible today. Today, many Semai couples wear songket like the Malays on their wedding day."
Tanding 3.0 attempts to introduce contemporary wedding costumes that creatively highlight the traditional and modern elements of Orang Asli's culture and tradition.
Ronnie said: "We hope that Tanding 3.0 may inspire our talents to explore their creativity to revitalize or develop a unique version of the Orang Asli cultural wedding costume."
In order to encourage Orang Asli to participate, Tanding has kept the rules of the competition to a minimum. There is no charge for participation. According to Ronnie, Tanding 2.0 was widely accepted by the Orang Asli community.
"We were shocked to receive a total of 2,700 entries from 15 of the 18 Orang Asli tribes in Malaysia. Contestants come from different states within the country. We also received positive comments and active sharing on Tanding 2.0 on PKKOAP's Facebook page. Many were impressed to see contestants from various Orang Asli tribes wearing innovative traditional costumes. In addition, the community got to know more about the different Orang Asli tribes."
Tanding 3.0 is now calling on the Orang Asli community again, particularly the young creative talents in fashion design and modelling. "It will be open for free participation from the country's 18 Orang Asli tribes. Besides those from Orang Asli families, anyone with maternal or paternal Orang Asli roots is also invited to participate."
Tanding 3.0 participants must include a designer and a pair of male and female model contestants who will model the designer's thematic costumes for the bride and groom. All talents must be between 18 and 30.
The judging criteria will be based on originality and creativity in costume design; modeling styles; additional accessories; and importantly neatness and decency.
Every entry must be submitted via Google forms, between March 1 and March 18, 2022. The top 30 submissions will be selected by a panel consisting of multi-racial professional experts in fashion. The images showing the 30 best designed and presented costumes will be uploaded to PKKOAP's Facebook to accumulate "likes" over a four-day period. Final results will be announced on March 27, 2022.
All interested participants are encouraged to keep an eye out for more details about Tanding 3.0 on the Persatuan Kebudayaan Dan Kesenian Orang Asli Negeri Perak (PKKOAP)'s Facebook page.