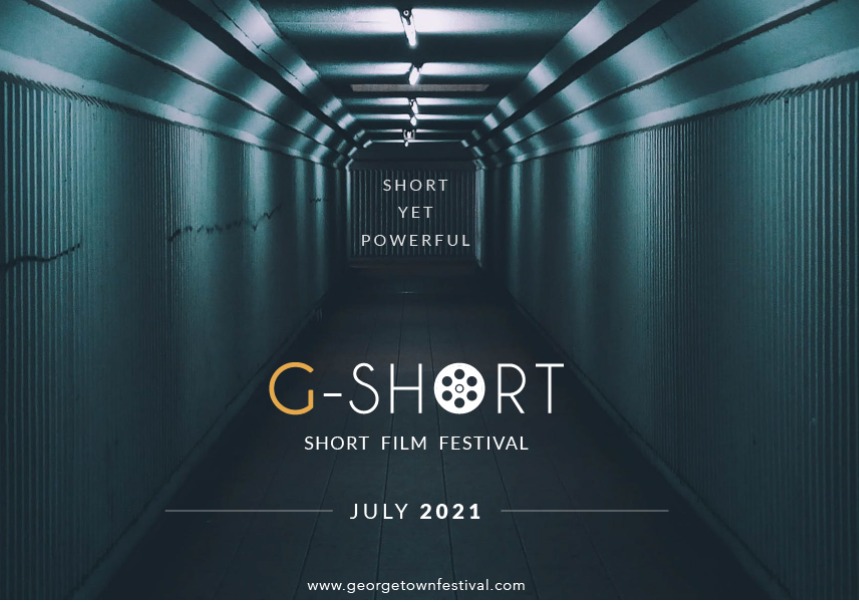 Good things come in small packages, they say. The G-Short Short Film Festival aims to make you reimagine how you view things. Catch the finalists this week!
By SOFIA SHAMSUNAHAR
Miss attending events? Want something arty and FREE to go to? Give G-Shorts a go. Happening from July 14-18, George Town Festival 2021 is hosting a short-film film festival. And this time, the films are real short, at only 90-seconds each.
This year the theme of the shorts is ""Reimagine: A New Way of Seeing", and the organisers were looking for short-and-sweet stories told in a new perspective. The festival had close to 700 video submissions from 37 countries (from as far as Brazil and Poland), of which only 30 have been deemed finalists.
There's going to be a mix of styles to choose from: Some shorts are animations, some have real-life actors and some are monologues. There's a mix of genres as well, dramas and lighter pieces all thrown in the mix to create a film festival for everyone.
Why just 90-seconds? The festival organisers believe that there can be "endless imagination" and "possibilities" that a 90-second short can bring about. The festival hopes to unearth budding filmmaking talents. And a 90-second film is probably much less intimidating to create and submit than a 20-minute one.
This mission to encourage those who are less experienced in the arts to try their hand at being creative rings true throughout the whole festival.
George Town Festival is an annual festival held in Penang, which started in 2010, to honour the city's designation as a UNESCO World Heritage Site. Being the host of international and local artists, in the past the festival has featured a multitude of unique events, such as "Blind", a performance art piece where people dressed in business suits covered in clay walked around the city blindfolded as a commentary on urban life. Playing with the idea that art is everywhere in the city, during the festival we saw alleyways and colonial shophouses filled with artistic activity, such as pop-up concerts in kopitiams and puppet shows. 
This year during the pandemic, things are looking a bit different. It's easy to wonder if an online festival can compete with the festivals of the past, but GTF 2021 is offering pretty exciting experiences. Instead of the city coming to life, George Town Festival is hosting a mix of events on its website. This year we're seeing unique experiences such as IMAGINARIUM, an audio-immersive theatre, and BODY x Culprit, an interactive digital theatre production on Zoom where the audience has to solve a murder mystery.

Those wanting to attend the G-Short Short Film Festival, you can see the finalists screening at 8pm (Malaysian time) by registering for a free ticket on CloudTheatre on a date that suits you best between July 14 and 16. 
The duration of the festival is 45 minutes, and the announcements of the winners will be made on July 18. Out of the 30 finalists, there will be 11 winners, and a total of four awards with prizes worth RM 20,000. You can watch the live stream of the finals on George Town Festival's Youtube and Facebook pages.
The judges are Indrani Kopal, Tunku Mona Riza, and Dennis Lai Chaing Ming. The backgrounds of each judge is quite impressive. Indrani is an award-winning documentary filmmaker, a Fulbright scholar and a former video journalist at Malaysiakini.com. She has won film festival awards, such as "Best Short Documentary" at the 2014 Harlem International Film Festival for her documentary The Game Changer.
Tunku Mona graduated from the New York Film Academy, and has earned 17 coveted local and international awards for her debut feature film Redha, making it the most-awarded Malaysian film in the country. And Lai is a highly acclaimed film producer and screenwriter, who has been involved in film and television production on a full-time basis since 1989. Some of his most popular films are Let's Eat! (2016) and The Iron Lady (2009).
Apart from the film screenings, on July 17 at 2pm on Zoom, there will be a virtual talk by the judges, who will draw on their experiences and talk about how the pandemic has impacted their industry as well as what is needed to tell a good story. The speakers will also share what it was like judging the 697 submissions at the G-Short festival and give some advice to aspiring filmmakers.

On July 17, at 4pm, there will be a talk by behind the scenes experts Joe Loy and Sam Koay, who will share the story of their careers in film and how "lights, sound and action" are used to enhance storytelling in film. Both panels will be moderated by Penang-based media artist Goh Choon Ean.
G-Shorts takes place online from July 14-18, don't forget to join in the experience… all for free!
For more information, go to G-Short. 
July 20: Updated with winners list below.