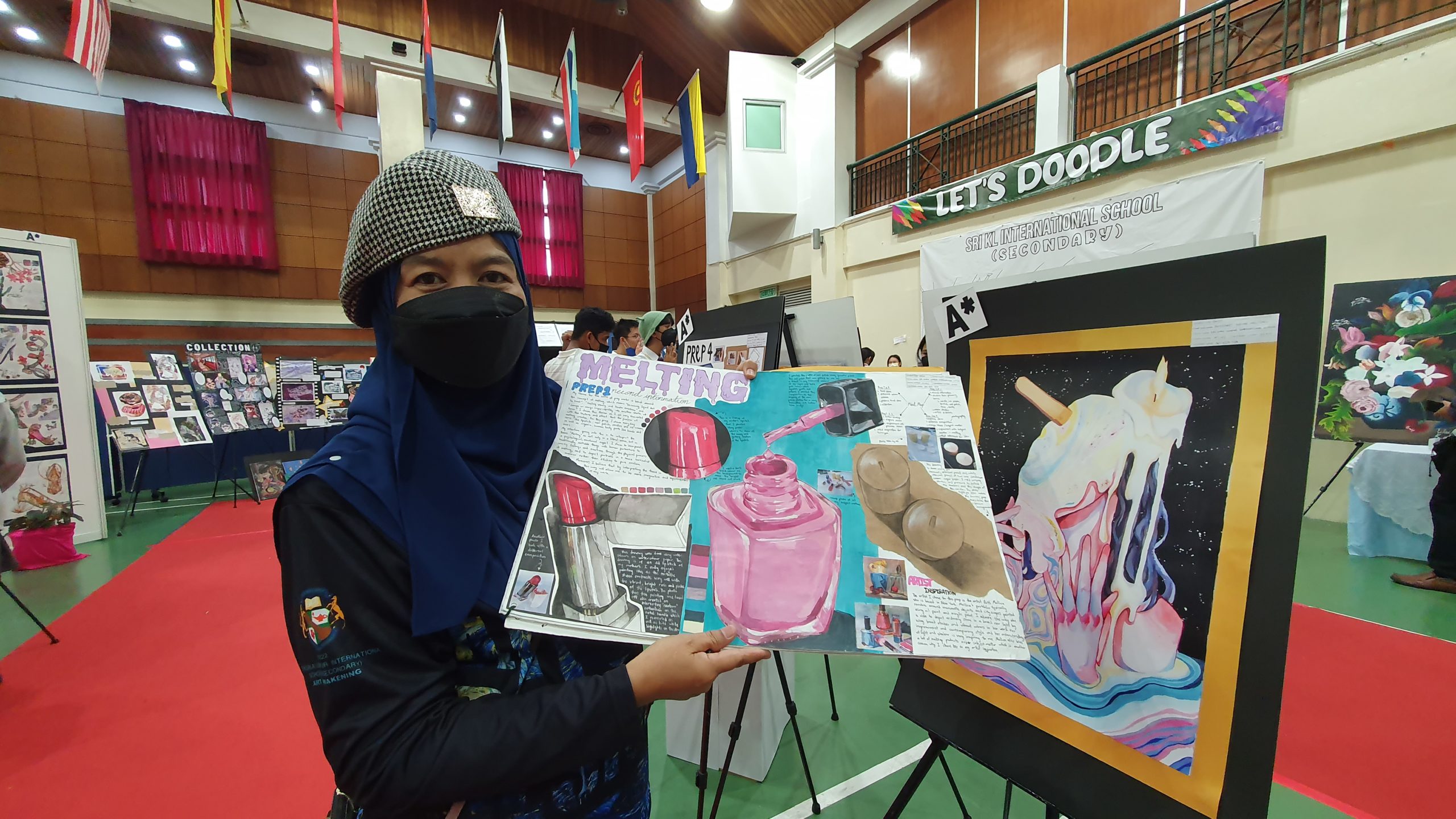 Sri Kuala Lumpur inspires art students, earns 'Top in Malaysia' award for IGCSE
exam series for four years.
By ANN MARIE CHANDY
At Sri Kuala Lumpur's Art and Design Exhibition 2022 last month, visitors – students, parents and teachers – were treated to a two-day art and craft extravaganza with lots to see and do.
Held at the Great Hall on Sri KL's premises in Subang Jaya on June 22 & 23, the exhibition provided a platform for students to express their creativity through various mediums of art. The exhibition was also aimed at showcasing the artwork of some of the school's past students who have gone on to make a name for themselves in the field of Art and Design.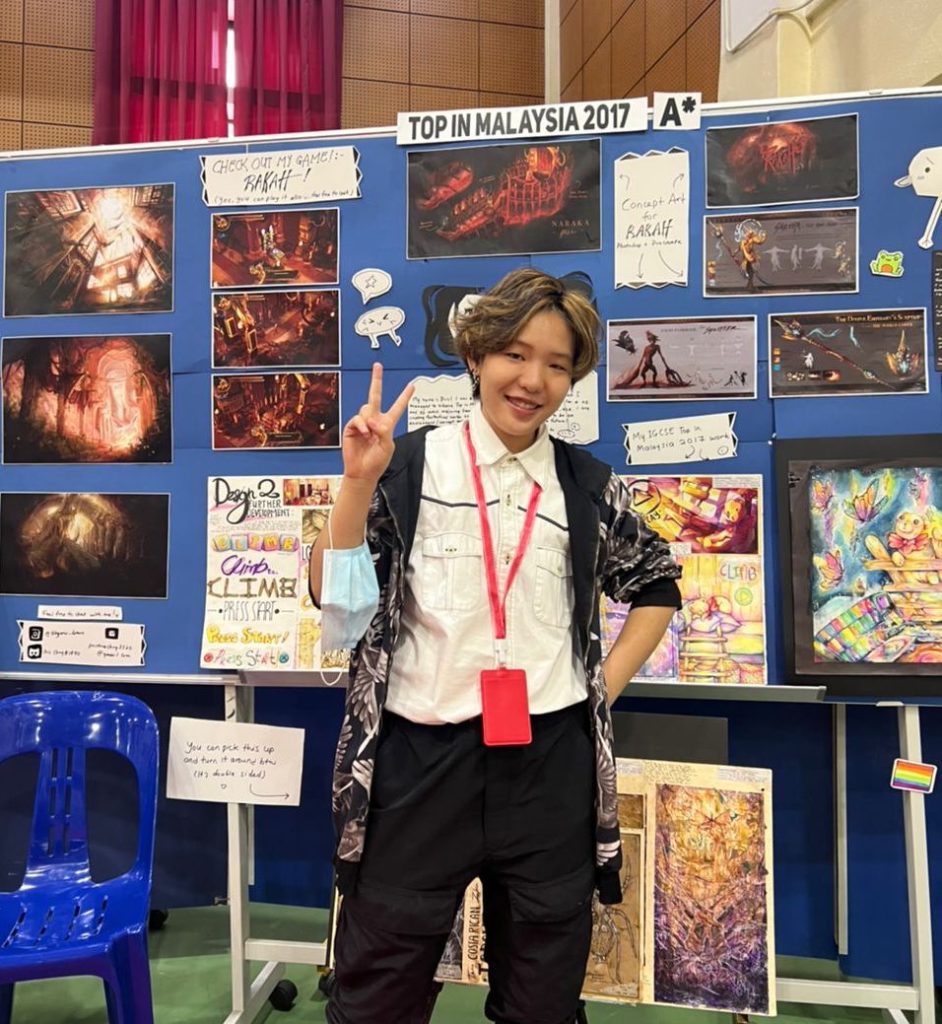 Pris Chng, for example, had set up a large board at the exhibition featuring excerpts from the dungeon crawler third person isometric game she is developing. Chng was from the first batch of IGCSE art and design students back in 2017.
"I don't do fine art as much as I did back then but it's still quite interesting to look back at the work I once did," says the Ringling College of Art & Design student, who is based in Florida, United States, but back home for the summer holidays. The 22-year-old is majoring in Game Art.
"In Game Art, we go through the entire pipeline, from 2D concept art to 3D modelling in Maya, Sculpting in ZBrush, Texturing in Substance Painter and Designer and we do our programming in Unreal Engine; we put everything in there and you can play it like an actual game!" she enthuses. "I am really interested in 2D and 3D environments and that's something that I would like to continue doing in the future."
Chng, who shared her experiences with students during the exhibition, is thankful for the strong foundation she received while at school. "It's not just about the accreditations that you receive, but how much hard work you have to put into the subject – you are taught how to become a professional artist by doing professional work."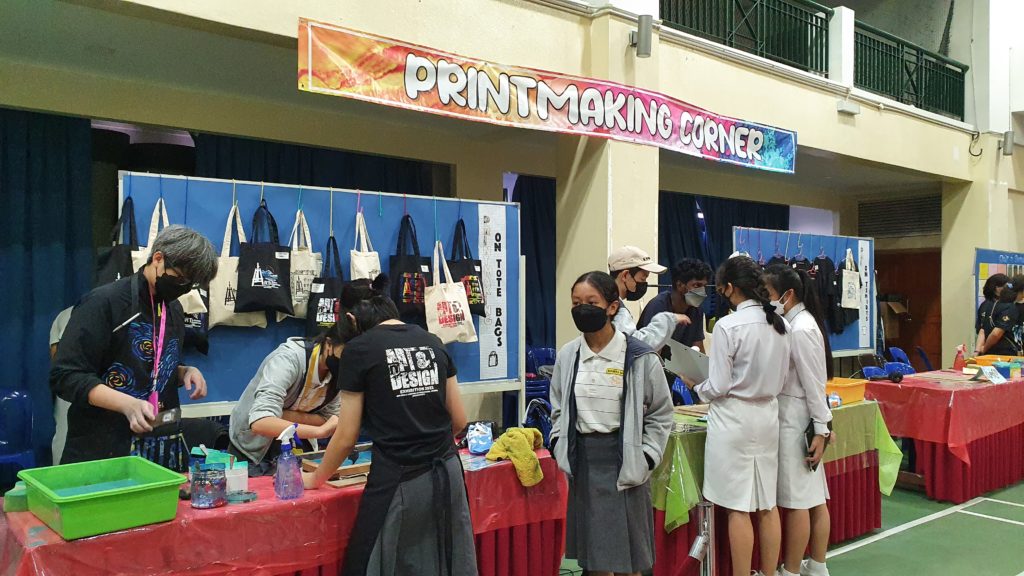 Sri KL has produced students who have won the prestigious "Top In Malaysia Award" in the IGCSE exam series, presented by Cambridge International. The school has consistently bagged this title for four years since introducing this syllabus in 2017, according to Puan Masita Mohd Noor, who has been attached to the school for the last 26 years, and is head of the Art Department.
"I really enjoy teaching the IGCSE syllabus because it gives the students freedom to explore, and assessment is done throughout the process, from inspiration to the final product," Masita says. "It's really interesting to go on that journey with the students."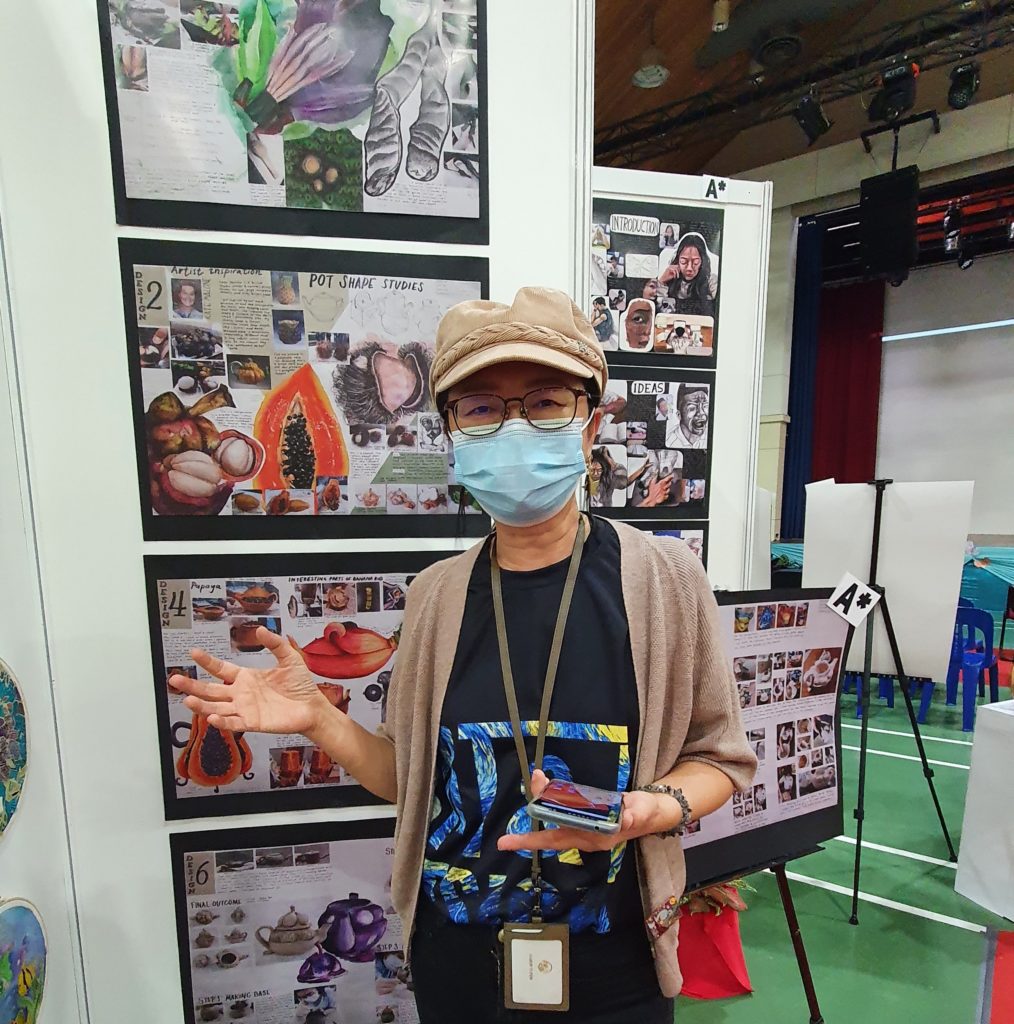 Students are assessed on work that they begin in Year 10, which encompasses 8 prep stages and culminates in a final product in Year 11. Many of these engaging pieces, including the prep, were on display and gave viewers an insight into how much research and thought go into these projects – a couple of the captivating artworks were inspired by the likes of London-based ceramic artist Kate Malone and New Yorker fine artist/professional illustrator Patti Mollica.
Teacher Stacy Chiew who teaches Year 8 enjoys her job because she says it is great to equip students with strong skills and a good foundation.
Chiew, who studied at Radford University in Virginia, the Malaysian Institute of Art, Nanyang Academy of Fine Art and Saito Academy, is an artist herself, and appreciates the fact that ideas are central to the IGCSE syllabus.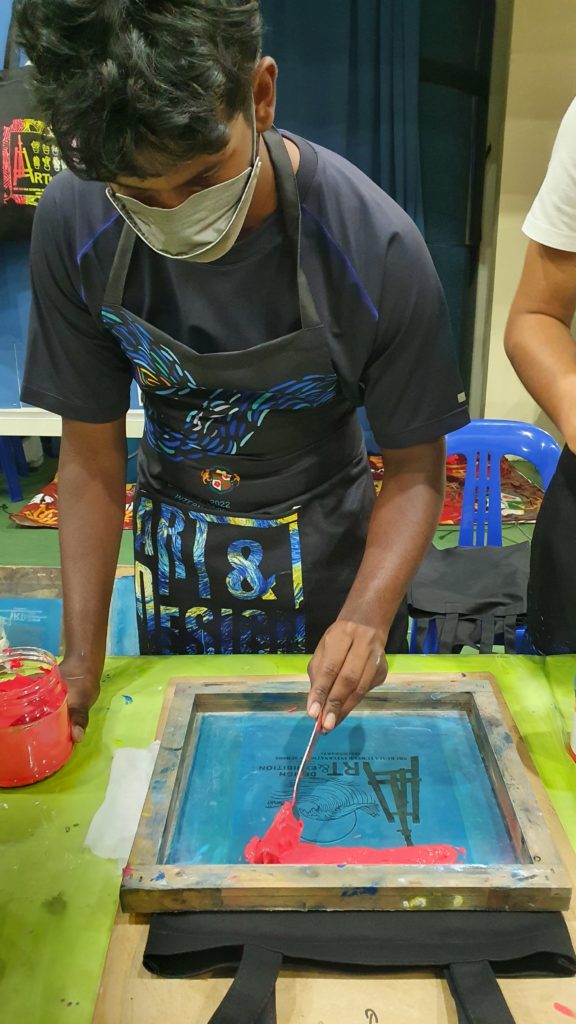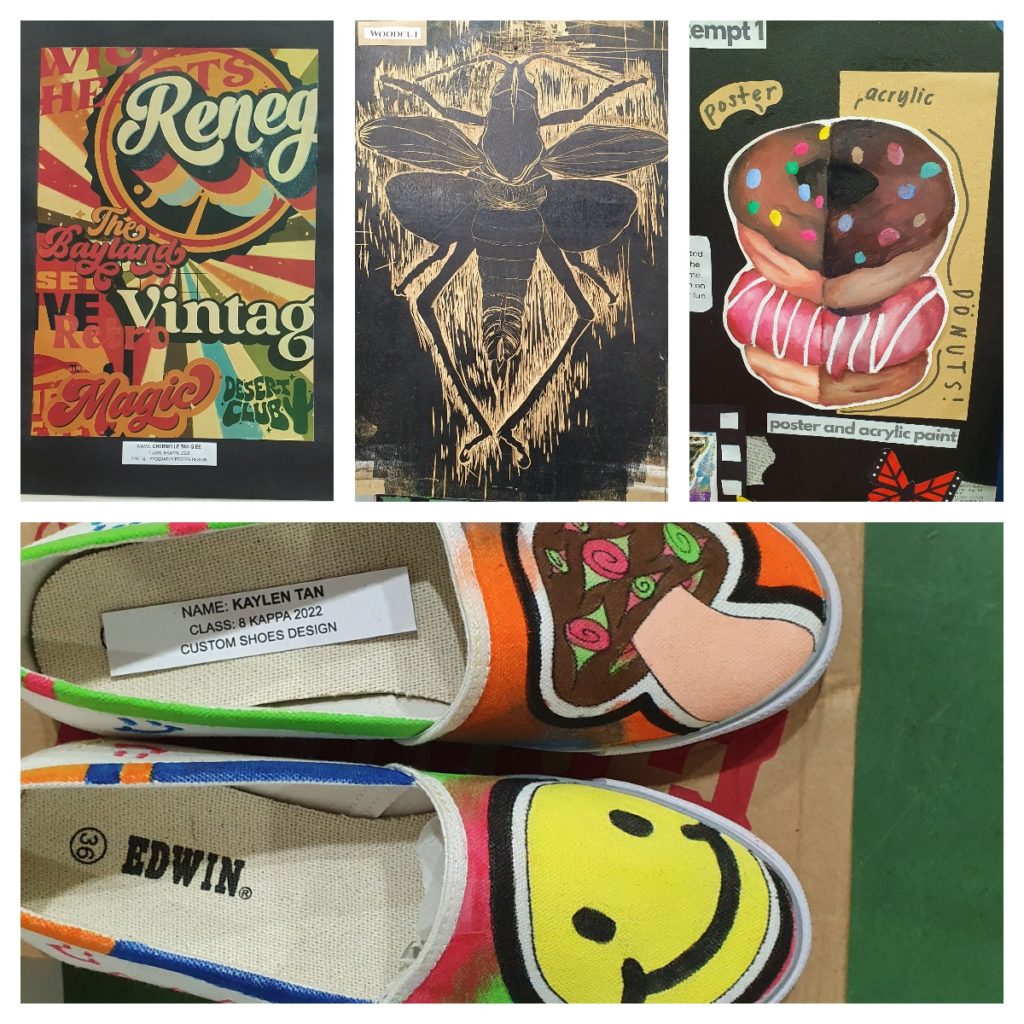 "Students learn about the Western concepts and periods from renaissance and baroque to pop and digital. They are constantly refining their ideas, through the various prep stages before ending up with their final product. They learn to think logically, creatively, conceptually and with an analytical mind. All of this training can be applied to other aspects of their lives later on, even in business or tech."
At the exhibition, visitors were given a chance to gain first-hand experience at silk-screen printmaking, doodle drawing and acrylic painting. There were also video presentations and talks to inform and entertain the crowds.
Featured image at top of page: Masita holding one of the student's artworks.