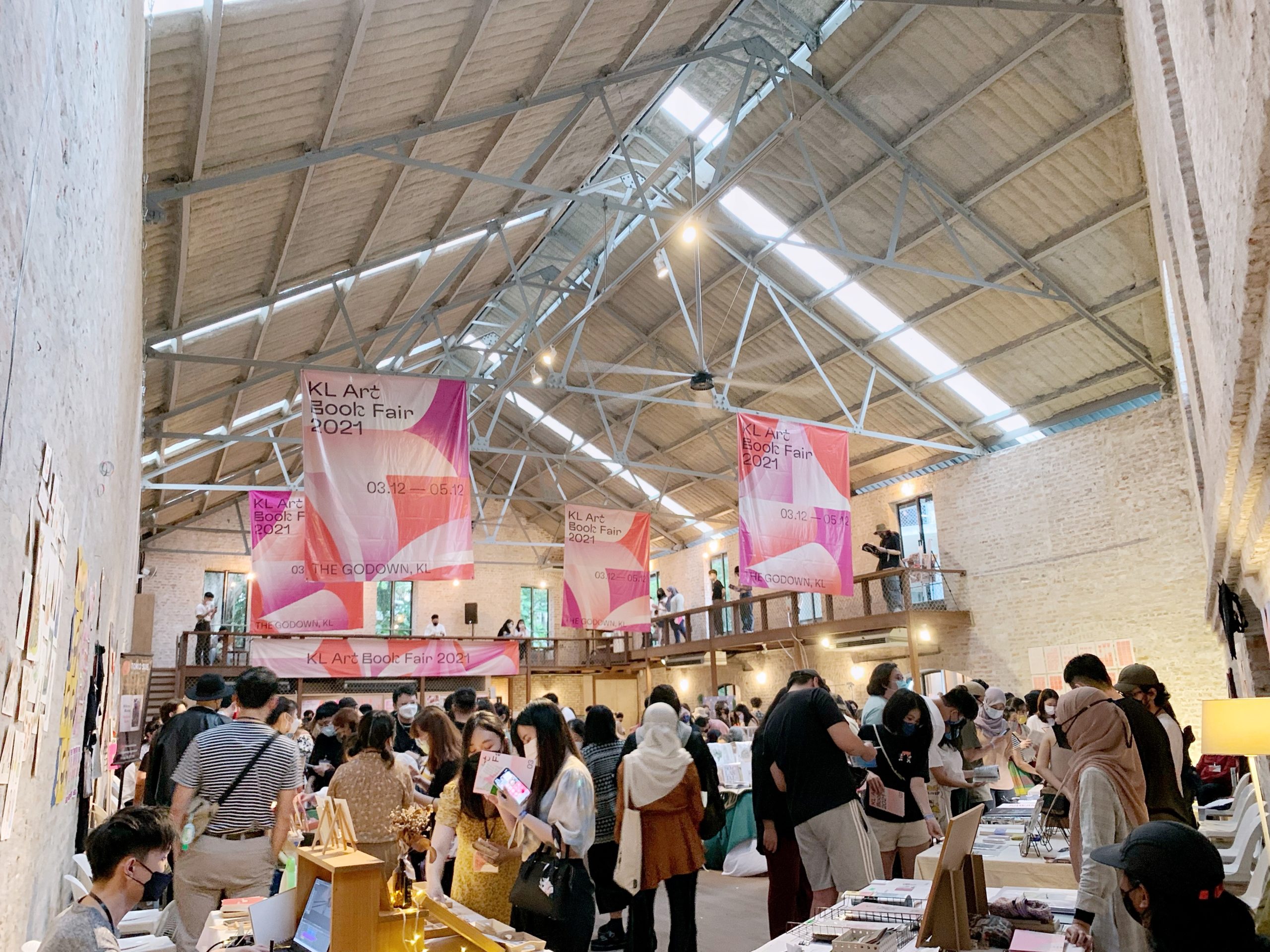 The KL Art Book Fair in December was a fulfilling, creative experience.
Story and photos by AQILAH AMINUDDIN for Lensa Seni
It's a miracle that I was able to grab a last minute ticket to the KL Art Book Fair (KLABF) 2021 which happened on Dec 3. And when I say last minute, the slot I scored was literally the last one for the event.
I have never been to an art book fair, and had zero expectations about the event. To be honest, I was expecting books – loads of them. But what kind of books? What exactly are art books?
The constant teasers and updates posted on the official Instagram page made me curious and reminded me that I shouldn't miss this. And here are my five reasons why I thank myself for not missing KLABF2021:
Stepping out into the new norm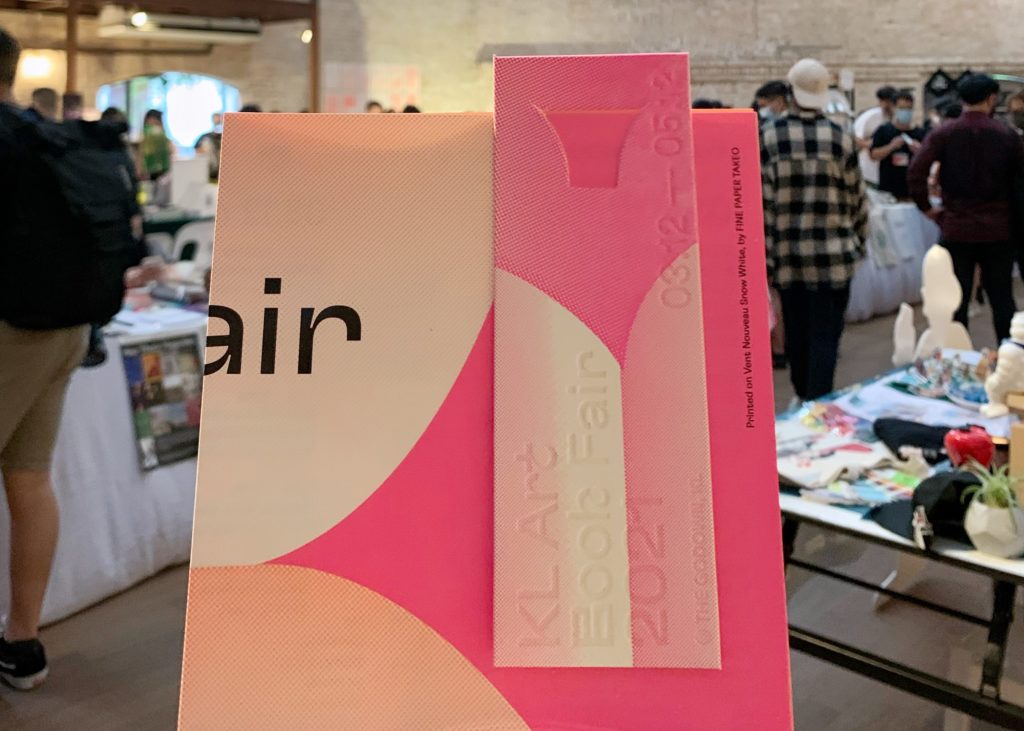 If not now, then when? I admit that I am a tad cautious when it comes to joining crowds during unpredictable times like these – but it had been so long since I had gone to an art festival, I couldn't even remember when it was.
KLABF opted for a ticketing system to control the crowd, and that made me feel safe, at least, the crowd was controlled. The fact that KLABF's tickets sold out prior to the event, only proved that many were thirsty for an artsy weekend after being cooped up at home for months.
They divided browsing slots into two and a half hours each – which gave one enough time to go through every vendor and spend time admiring one of Kuala Lumpur's heritage buildings now turned into an art space called The Godown.
2. Visiting The Godown
I'd heard about The Godown for awhile, so having the KLABF there made it the perfect reason to finally set foot in one of my favourite venue genres, a repurposed building.
The Godown is located right in the centre of Kuala Lumpur, so accessibility isn't really an issue. You can ride the LRT to Masjid Jamek Station, and a five-minute walk should get you to the place. If you are driving, parking spaces are available right in front of the main entrance.
KLABF's vibe of a mellow exhibition filled with many creatives sharing thoughts and works matched well with what The Godown brings as a venue – a chilled space with non-modern and non-high-tech architecture.
The venue has a main space of a used 'gudang' (warehouse) with high ceilings and a viewing deck from above. I didn't feel too cramped in the space as I was able to sit on the ledge above, look down and absorb all the creativeness KLABF brought to the space.
3. Creative makers all under one roof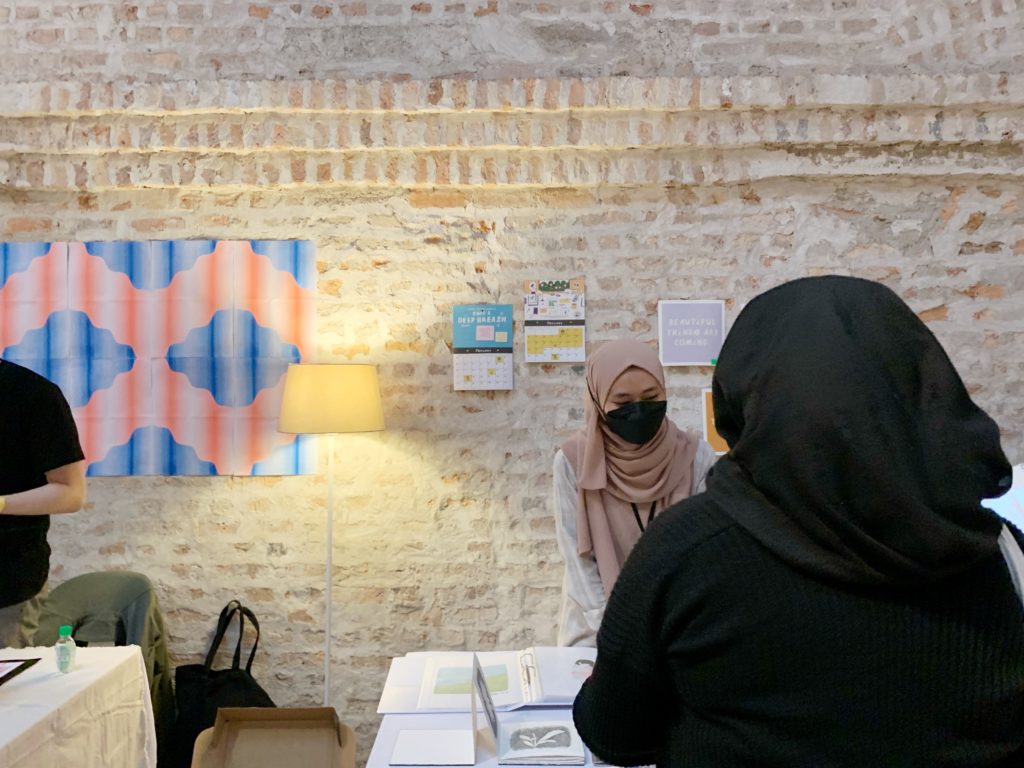 When KLABF announced its list of vendors, I was hooked. Some of the names were familiar: Huruf, Fictionist, Humana, to name a few. As the list grew longer, I was certain that I should be meeting them in person to see and feel their works.
There were roughly 40 vendors, each exhibiting their own amazing spread.
It was a great experience to go from one booth to another and be in awe of every work everyone brought to the table. The exhibition was set-up in a way that allowed visitors to interact with each vendor, getting to know everyone's works closely. This allowed one to understand these works better.
There were colourful booths as well as monochromatic ones. If tables weren't enough, they resorted to using the walls. There were so many unexpected prints on display – you could find posters, books, zines, postcards and stickers in many forms.
It felt like a party. A party of like minds appreciating each others' creations.
4. Shopping Haul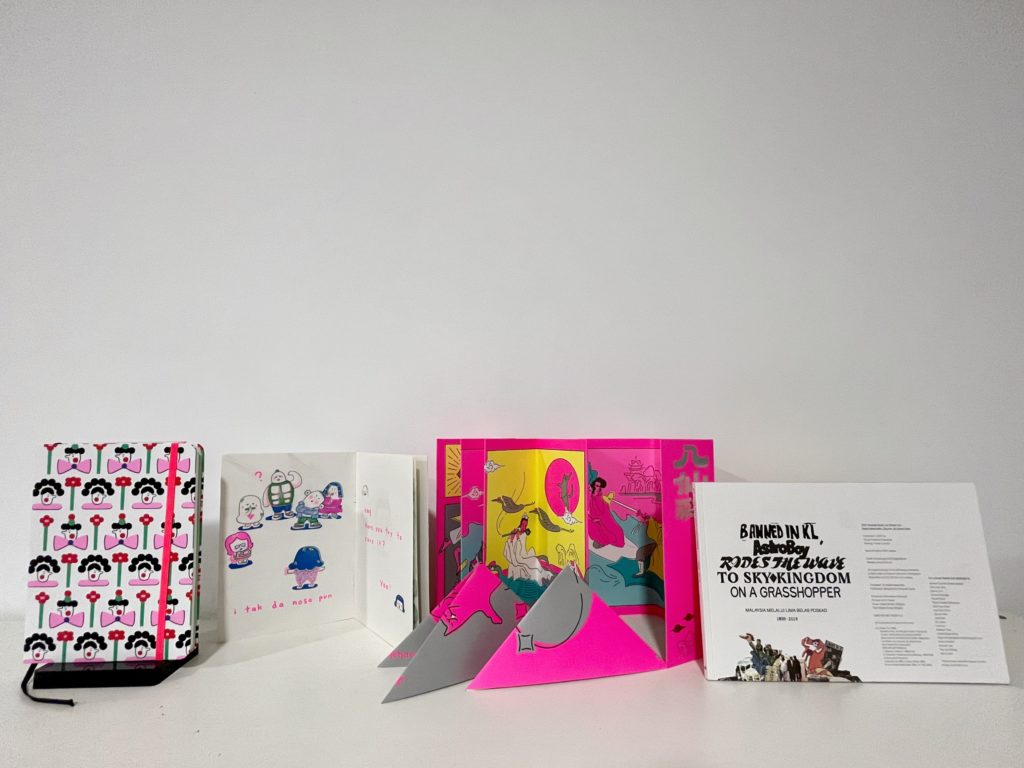 I was intrigued to see all the different kinds of non-literal books on display at the book fair. There were plenty of them, but these ones attracted me for their different genres and functions. They got me to understand how art books are anything but just printed material.
From left to right (pic above), I was happy with my haul:
A limited edition notebook by Humana X Mossery. Since the new year was coming, one needed a new planner.
An illustrated zine by Bang Bang Zine, Smell Lah. A short open-ended story about a girl without a nose.
An artwork of Chinese folklore, 8 Immortals' Colours, given contemporary form by Where's Gut. I was attracted to the contrasting colour palette chosen, definitely not the colours you would associate with traditional Chinese art.
A book of postcards, Banned in KL, compiled 15 stories of each decade (1886 – 2019) in postcard form by Cloud Projects. It's a history book that keeps you awake – so I was sold.
5. Meeting LIE, the organiser behind KLABF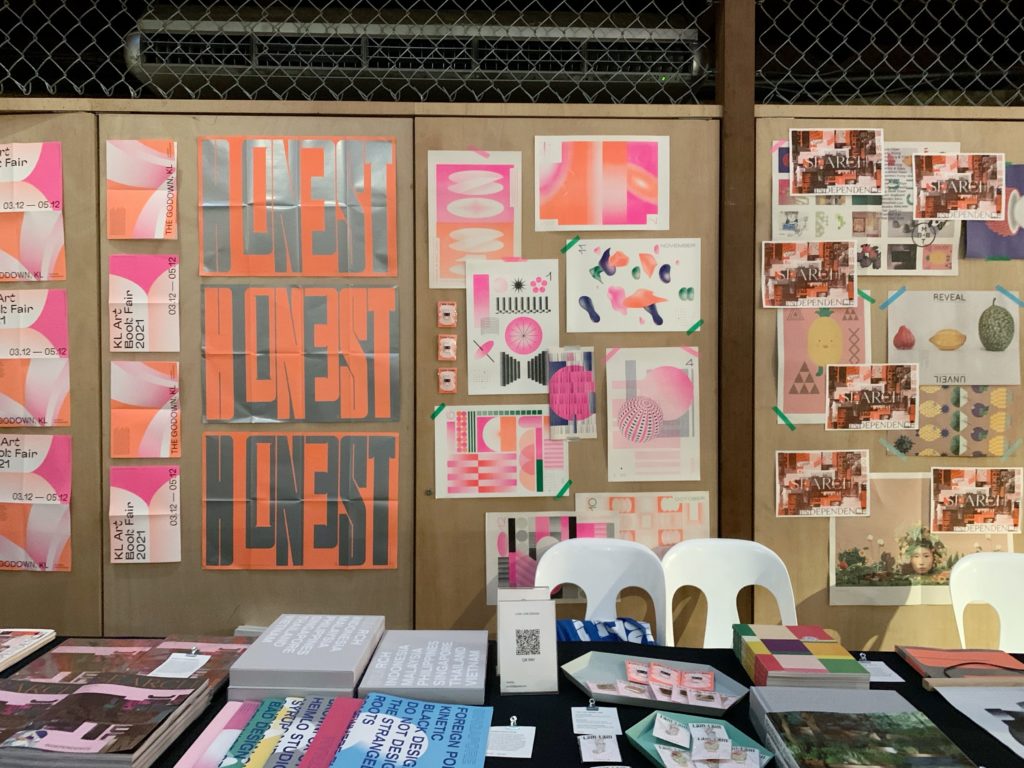 LIE was the brain behind KLABF, the organiser which brought us a carefully planned art-filled weekend in the midst of a pandemic. LIE stands for Little Ideas Everyday, a graphic design studio based in Kuala Lumpur.
It had two booths of its own displaying official merchandise of KLABF and merchandise under their sub-brand, LAIN-LAIN DESIGN.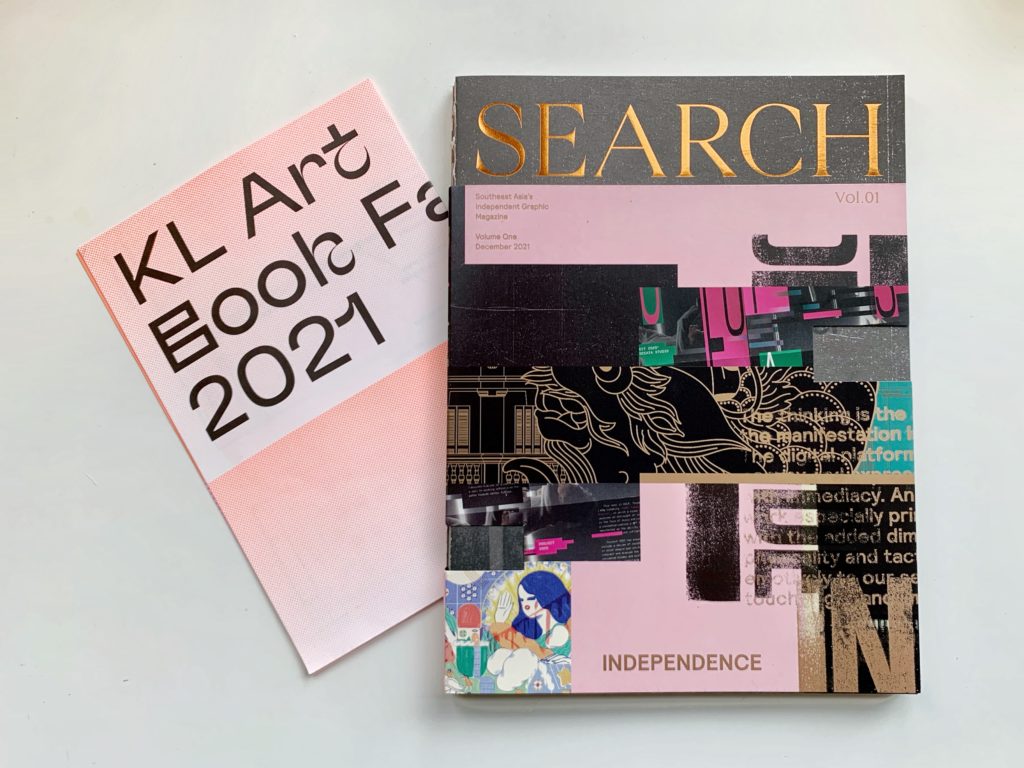 But what attracted me the most on the table was the first volume of its newest publication, SEARCH Magazine.
SEARCH made its debut during the weekend of the art fair. It is an independent graphic magazine founded and published by LIE which aims to discuss the creative landscape throughout Southeast Asia with different themes for each volume.
For its first volume, SEARCH went with the theme of Independence – featuring Fahmi Reza as its cover story for using arts as a medium of activism.
It was an adventurous read for me. As I browsed SEARCH, I became more curious about other creatives we have out there that have yet to be found. May this first volume be the first of many, may the SEARCH continue to unravel more creatives we are yet to meet.
Five reasons are more than enough for me to deem this was a fulfilling, creative weekend with KLABF at The Godown. Two and a half hours were spent well, and was an appropriate amount of time to explore everyone's works.
Being my first art book fair experience, I felt that KL Art Book Fair 2021 was fair – it did not only exhibit books. It was fair in taking any prints, from graphic publications to printed merchandise as reading material – so long as it made one read, it was a worthwhile exhibit.
Quoting Driv Loo the editor-in-chief of SEARCH: Words and ideas archived in print will remain like a time capsule that withstand the test of time.
Till next time, KLABF. Thank you.
Aqilah Aminuddin is a participant in the CENDANA ARTS WRITING MASTERCLASS & MENTORSHIP PROGRAMME 2021.
The views and opinions expressed in this article are strictly the author's own and do not reflect those of CENDANA. CENDANA reserves the right to be excluded from any liabilities, losses, damages, defaults, and/or intellectual property infringements caused by the views and opinions expressed by the author in this article at all times, during or after publication, whether on this website or any other platforms hosted by CENDANA or if said opinions/views are republished on third party platforms.