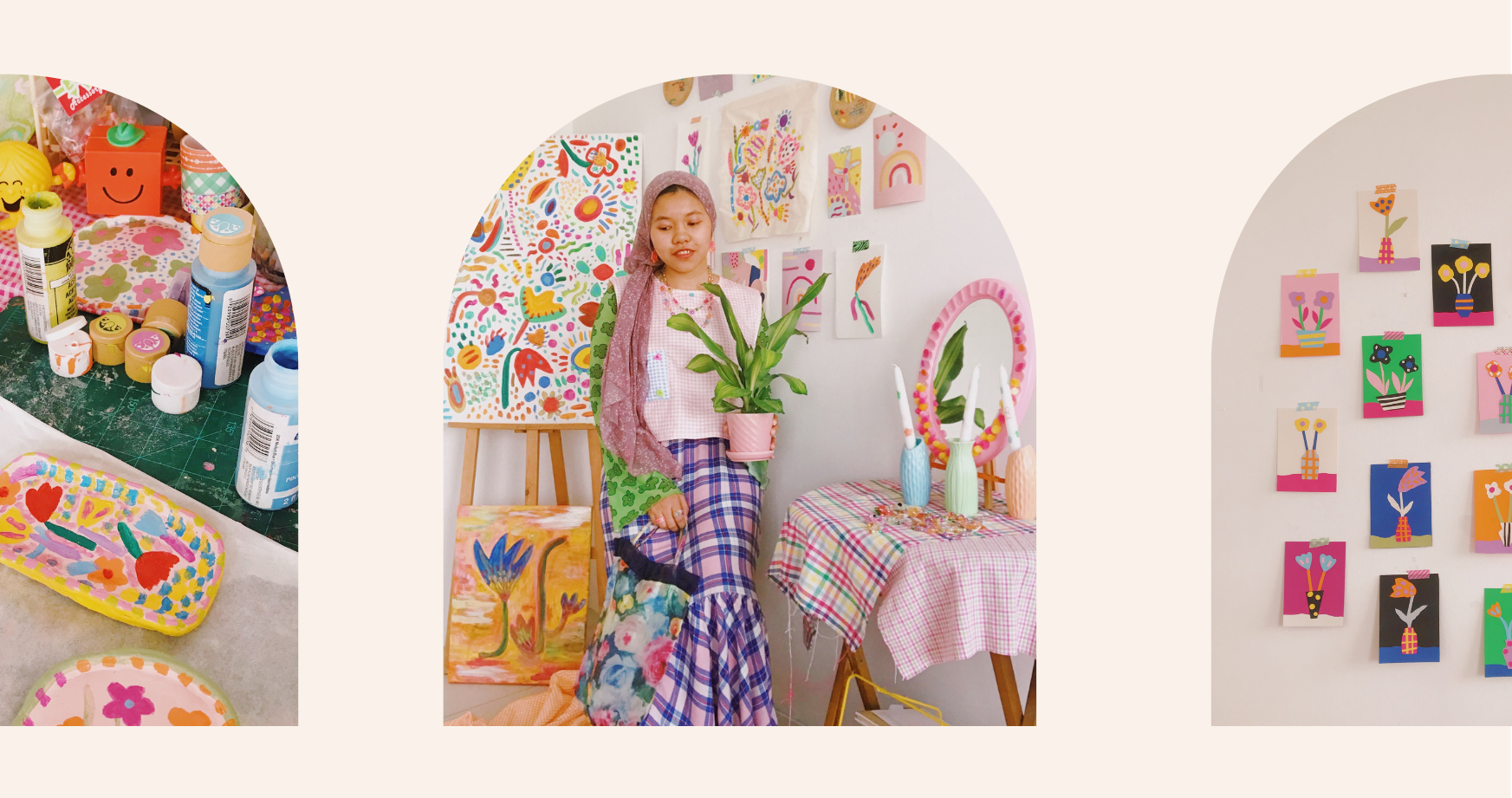 Solopreneur Anis Khairina Ahmad Kamil embraces the mess.
By NABILA AZLAN
Even if you have not come across The Messy Club, you must have heard of or even visited one of the artisanal bazaars under its name. BASKL had the chance of catching up with its proprietor, artist and solopreneur Anis Khairina Ahmad Kamil, 29, as she took a breather from the roll-out of events during the recent Raya festivities.
The Club amalgamates Anis' interests and aspirations in a way that she has always looked forward to have – five years today since its inception, it is a rising platform not only for creative pop-ups but also art exhibitions and workshops. Wondering how things get done under the Club's colourful roof, plus what's coming up soon? The Messy Gal spills all in a quick chat.
BASKL: You seem to be getting a hand into multiple segments of art – craft, visual, even fashion – what brings you to all of them?
Anis: Art has been my passion since primary school. From then until now, I have fully developed my perspective on art to what it is today. My art repertoire hinges on colour elements and sustainability.
I basically spend most of my time planning for upcoming events and making art, while also working on my ideas and art commissions. In order to expand my knowledge and vision, I often turn to art exhibitions.
How would you summarise what you're doing for a living?
I predominantly run The Messy Club pop-up events while I conduct art workshops and plan out interior decor for homes and spaces. At the same time, I rent out my studio in Damansara for photography and all kinds of creative purposes. It has always been my dream to have my own platform where I can share my love of arts with everyone – a space where I believe that healing through art is one way to happiness.
What does The Messy Club stand for?
Previously taking shape as "Oh Little Mess" in 2017, this venture began during my time as an art teacher. It was borne out of my observations that kids are scared of messing up their artworks. I'd often tell them to enjoy the whole process, because oh, a little mess won't hurt – just go crazy with it! It morphed into The Messy Club in 2019 as a platform and healing space for idea sharing and workshops, to now one for art bazaars and exhibitions.
What are the Club's core values?
Professionalism, equal opportunities and having fun.
Also… who's invited?
Everyone is invited!
Take us to the Club's first pop-up event.
Under the theme 'Messy', our first one was held in December 2020 in my previous studio at the height of the pandemic. I took a risk in support of local creatives during the hard time by organizing a small pop-up. I invited a few small businesses as the event's vendors and it turned out successful. Following the occasion, we have been in collaboration with many creative spaces. Success follows mutual respect and win-win propositions.
What satisfies you the most about what you do?
How I'm able to express myself in my own way while sharing this love across through installations and exhibitions. Seeing the happy faces of visitors and the time they take to be in their element have been really satisfying.
Fashion is definitely your avenue of expression. How would you describe your everyday fit?
My daily attire is uniquely 'The Messy Gal' – trendy with vibrant colour combinations. Sustainability is part of the whole runway. I layer and give old clothes a new look as a way to express myself. I can't get enough of colourful dresses and vests. Most of the time, I thrift my looks and redesign them to give off that strong retro look.
Are there any particular motifs or colours that you're drawn to the most?
I love all the bright shades – my fashion calls for everything vibrant. Also, I'm a big flower girl.
Name us some of the people you look up to in the art scene. Who would you love to collaborate with, given the time and space?
I look up to Diana Rikasari and Yayoi Kusama for reference and inspiration. I'd love to collaborate with both local and international creatives, especially those who revolve around the themes of sustainability and empowering female creatives. I would love to explore the creative minds of Diana as well as Dhan Illiani in a fashion/art project.
What are you tending to right now?
The Messy Club is currently working on a vintage market and a picnic market. I hope to bring it to all the key cities in Malaysia soon.
For upcoming events, workshops and art exhibitions under The Messy Club, follow it on Instagram.