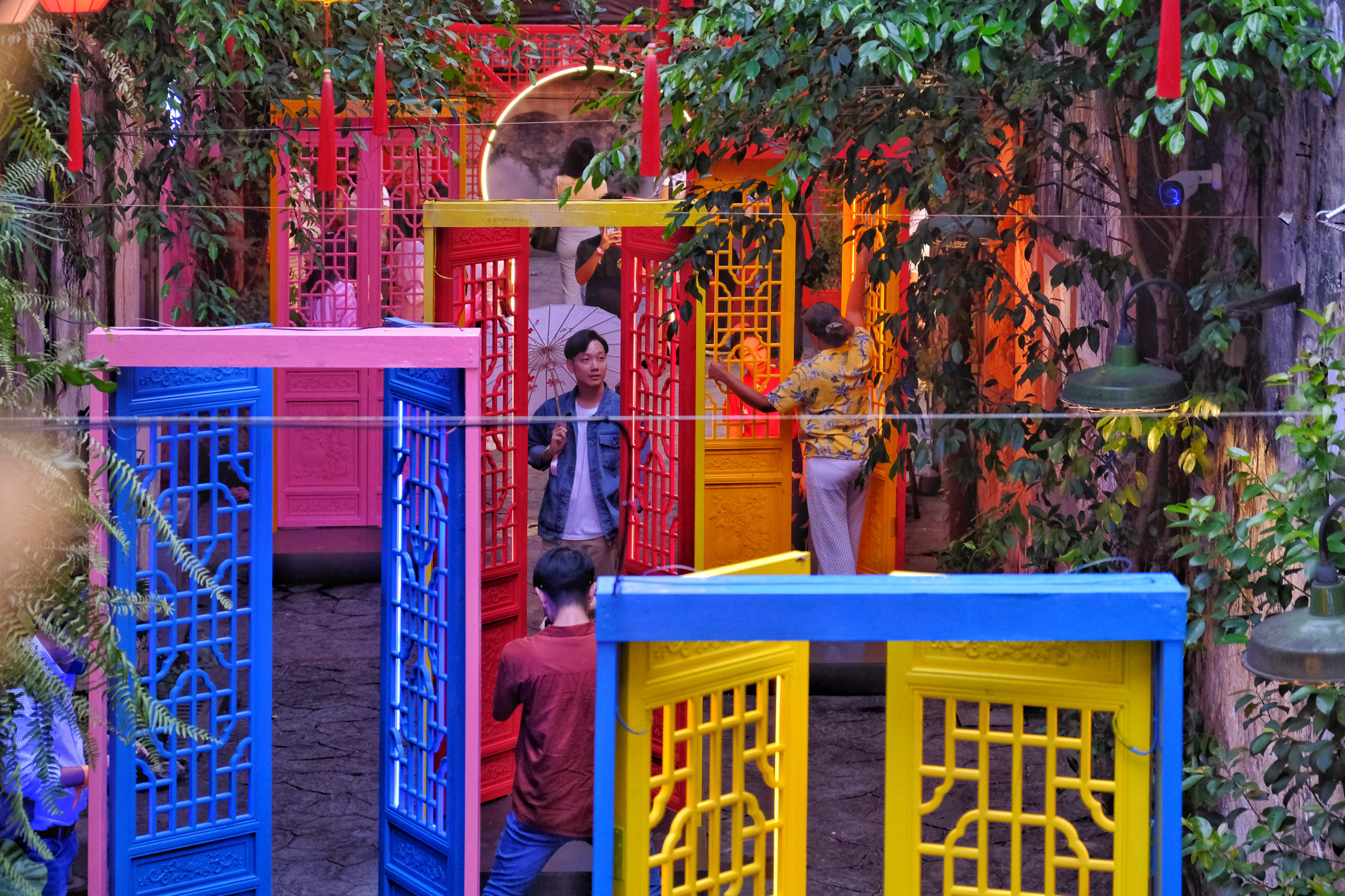 Take the opportunity and step between past and present at Kwai Chai Hong this Mid-Autumn Festival.
By CHIN JIAN WEI | Photos by SAM THAM
Stepping into the quaint alleyway of Kwai Chai Hong, one is greeted by a world of colours and light. Hanging over Kwai Chai Hong's famous little bridge is artist Pamela Tan's latest installation, Endless Frames. Consisting of hundreds of precisely laser-cut acrylic sheets, the sheets are hung at various lengths above the bridge. Catching the light, they glow beautifully, subtly bringing to mind the paper lanterns wielded by children during the Mid-Autumn Festival celebrations. Moving into the alleyway proper, you are greeted by a collection of colourful, neon-rimmed, Chinese-style doors. This installation, titled Moonlit Doors, was set up by the Bai Chuan Management team to symbolise the opportunities that life can offer, and our ability to take those opportunities.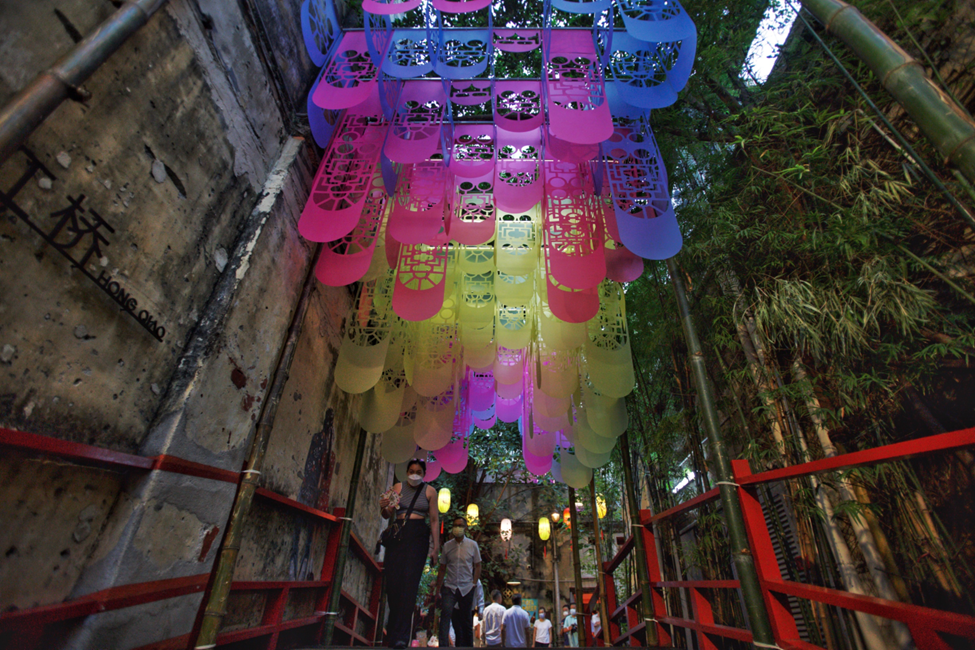 "We started this community to make sure that the community retains the Chinatown element," Zeen Chang, managing partner of Bai Chuan Management says. According to her, the Chinatown district had begun to lose some of its quintessentially Chinese elements by the 1990s, gradually becoming known more for its counterfeit goods and foreign labourers. Bai Chuan Management's efforts in restoring and promoting Kwai Chai Hong are very much meant to preserve some of the aspects of old Chinatown.
Other than the art installations, an assortment of Mid-Autumn Festival-associated decorations has been put up to coincide with the approaching festival. A luminescent "moon door" has been set up underneath a massive artificial moon. Paper lanterns and mooncakes had also been laid out for the invited influencers and media personnel when the installation was launched.
"We believe that doors and windows represent opportunities," Chang continues. "Like in English one would say whenever one door closes, another one opens. We also always say that opportunity never knocks twice. In Chinese culture, doors also represent time travel. When you look through a door, you're looking at a different time."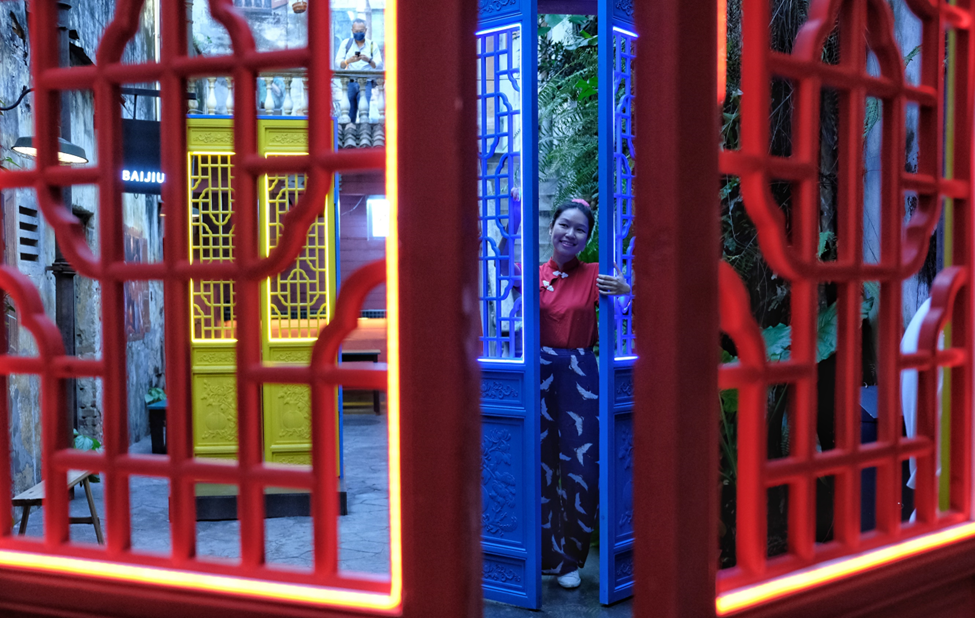 Chang gestures to the many murals painted on Kwai Chai Hong's walls. Many of the characters depicted in those murals are shown looking out from windows into the alleyway. "We are presenting to you windows to their lives. But imagine them viewing us. To them, we are their future. This is why I always say, we learn from the past, we embrace the present, and we seek better opportunities and seize the future."
As with much other art created this past year, Moonlit Doors was shaped by the psychological impact of the pandemic. Chang says, "With the pandemic, a lot of us are just sitting here waiting for things to happen, but in truth every time we are presented with an opportunity and we just sit and wait, we will never make it. This is why the doors we present to you today can be opened, you can knock on them, and you can walk through them. You take the opportunity, you take action." The symbolic significance of this crossing is apparent as the influencers and media personnel go about taking their photographs, posing as they step through the luminescent doors. In a sense, they are creating new opportunities for themselves by putting themselves out there in the digital world.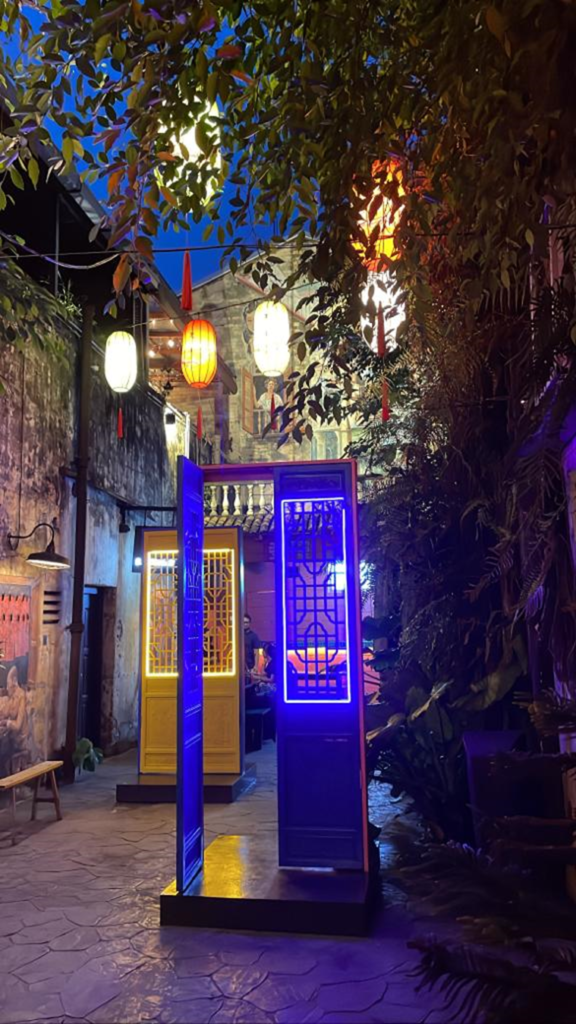 This is the second time that Tan, the award-winning architectural designer and artist from Poh Sin Studio has worked with Bai Chuan Management. "She believes in the things we do and I love her work," Chang gushes. Tan affirms this, saying, "When Zeen and the whole gang talked about the doors and windows narrative for the Mid-Autumn Festival, I said yes, a hundred percent, yes, I can do something. I looked at the bridge, and I felt that it was quite an important element and when you cross it, it feels like you are travelling into another space. Maybe it could act like a time tunnel, something nostalgic, ethereal, with some aspects from a Chinese lantern in terms of its appearance, giving it the meaning of hope as well.
"I wanted the work to acknowledge its surroundings and create a familiar memory. I hope that when the visitors come and experience it, they bring their own individual experiences. It doesn't have to hundred per cent be like how the author wanted it to be. Everyone is different. You could come in and feel like, 'this could be a memory of my parents or grandparents or something from when I was young.' That's the kind of experience I hope you will feel today."
Chang directs our attention to Kwai Chai Hong's main entrance, framed by the Endless Frames installation. "When you cross the bridge, look out on the modern world outside," she says, referring to the rest of Chinatown as it is right now in 2022. The Endless Frames, and the gentle glow that the evening light lends it, truly serves as a surreal portal in between the modern Chinatown of today, and Kwai Chai Hong in its encapsulation of the Chinatown of yesteryear. It reminds us to always keep hope for a brighter future, while also remembering the past.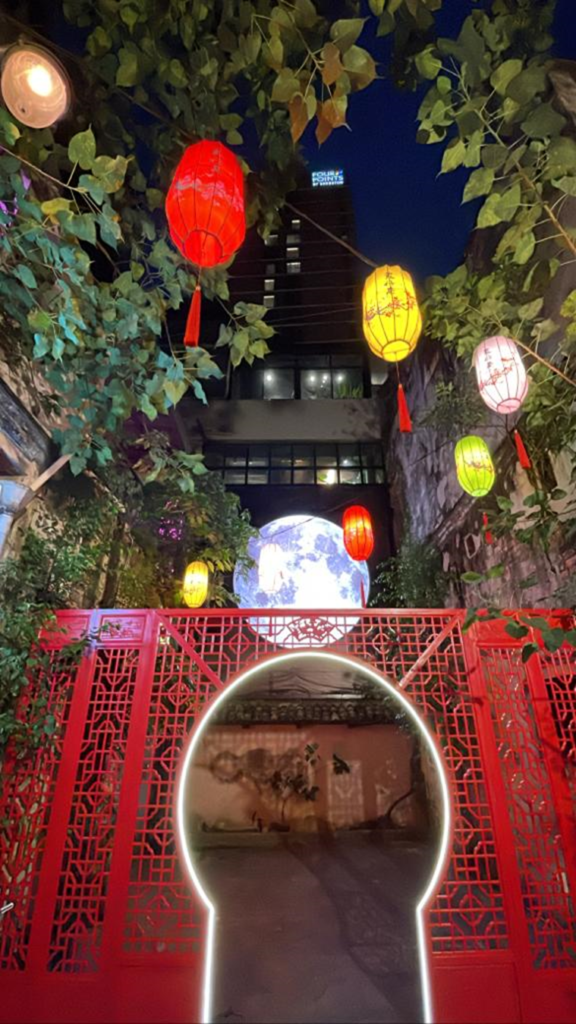 Kwai Chai Hong is open to the public daily from 9am to 12am. The Beyond the Moonlit Door exhibition will be available from Aug 26 to Oct 2, 2022. For regular updates, please visit Kwai Chai Hong's Facebook, Instagram or website.
Featured image and the two credited pictures taken by Sam Tham. To see more of her work, please visit her website.