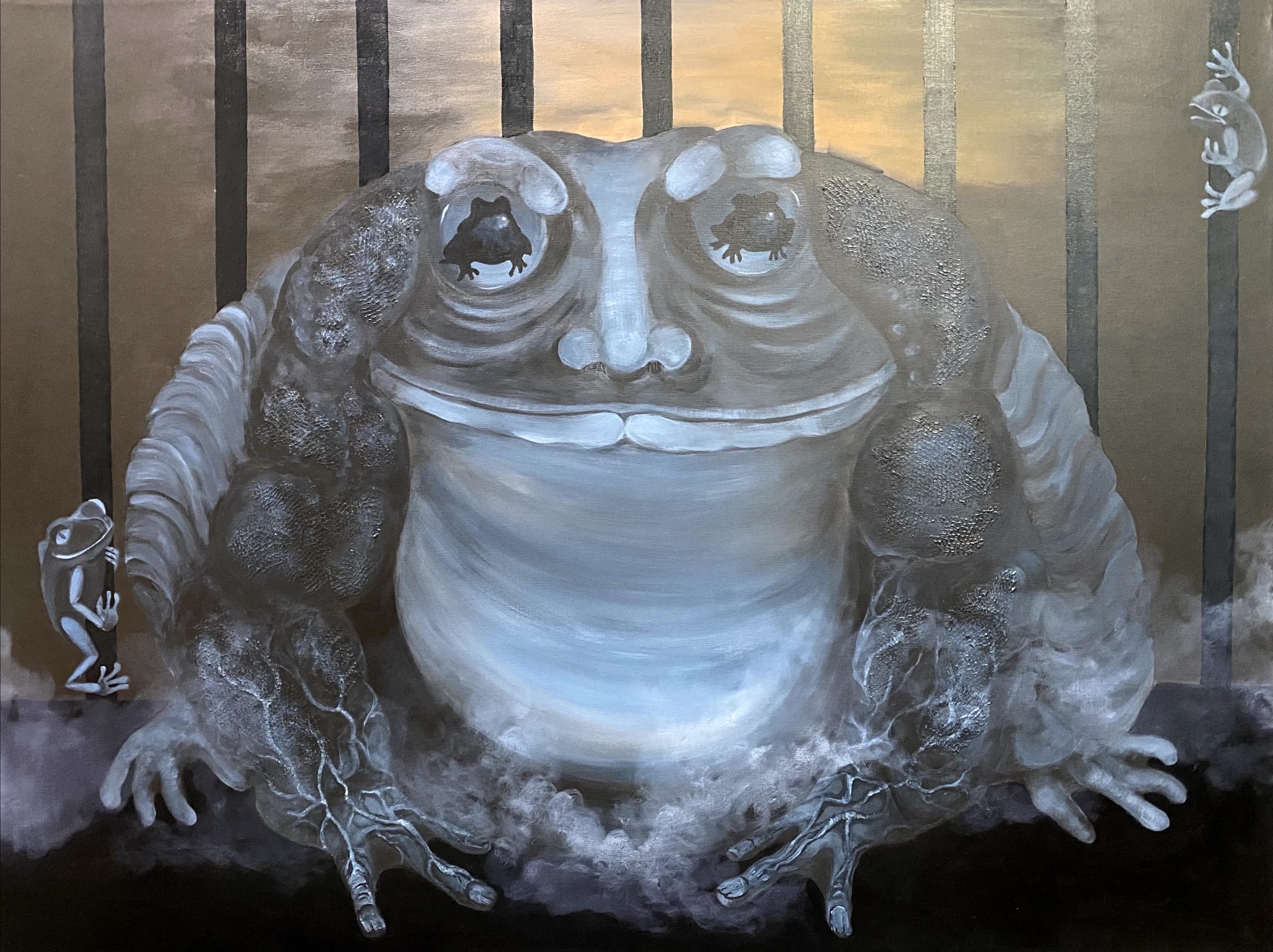 Yuki Mun's "Froganda" in Artober 2021 featuring dark, human-like frogs captured the attention. But what did these familiar everyday amphibians have to tell us?
By EMBUN
Yuki Mun's dark, bold and satirical exhibition entitled Froganda at CIMB's Artober invited the public to reflect on subjects such as power, wealth and perhaps politics through the artist's eyes.
Frogs aren't usually depicted as antagonistic or dark in stories, especially fairytales in which the princess kisses the frog that magically turns into a handsome prince. Stories like these make us see frogs as harmless and somewhat innocent (and maybe even a prince in disguise!).
So, Yuki Mun's Froganda successfully stirred my curiosity. I wanted to dive deeper into the imagery of the frogs in her paintings.
Born in 1995 and raised in Kuala Lumpur, Yuki graduated from the International Academy of Fashion & Design with a fashion design diploma. Later, she decided to pursue her passion in fine art by furthering her studies at the Malaysian Institute of Art.
Even though this was her debut art exhibition as a full-time visual artist, striking elements such as satire and paradox were very much present in Froganda. These were certainly not the frogs that I had read about in fairytales.
In my opinion, the intricate details in each piece could arguably be interpreted as depictions of our current political scene.
In her series, Yuki says however, that the frogs represent creatures wanting wealth and grabbing opportunities regardless of political standing. Often people may start out their career with good intentions but then get overwhelmed by the benefits and wealth that come with it.
The satirical elements in her art are important to Yuki. "Even the name 'Froganda' is a combination of Frog + Propaganda … I wanted the frogs to have human-like qualities," she said when asked about the exhibition and her art.
In the pieces "Froganda" and "Turn around-round and around", the frogs take centrestage at a circus as if they were performing to an audience. Yuki said she wanted to portray the frogs as actors on a stage, and when a show ends, the audience holds its breath in anticipation for the next show; sort of a cynical cycle that never ends.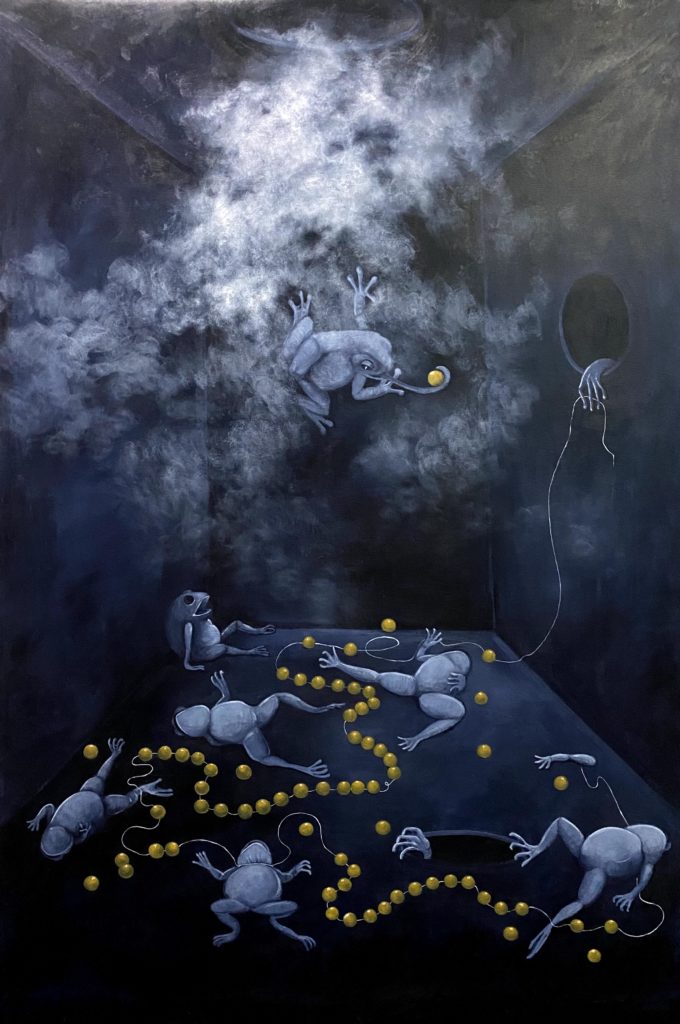 In the "Backroom", we see what goes on backstage. This piece is particularly striking for its allusions. The contrast of the gold beads amidst the monochromatic palette makes the image stand out.
Yuki said: "Personal is creative. As an artist, I used to be a perfectionist and I cared about what others thought of my work. Before, I would only want my best pieces to be shown to the public."
But she broke away from this "imposter syndrome" when she found herself in tears in front of a blank canvas and then lying on the floor all night … "macam orang pengsan".
She revealed: "The incident taught me that I need to paint in my own artistic style. I had to let go of my ego, and embrace my art."
To Yuki, Froganda also represented the starting point of her career as a full-time artist.
"All my paintings represent a memory of events that have happened to me or around me," she said. "I believe that Froganda is a series that helped me to grow as an artist, and helped me adapt and transform in my art."
Froganda has a way of capturing the events of today, depicting frog culture and perhaps even political propaganda if you will. Surely, every interpretation varies and that is the fun part about art because it is very subjective. There is no objective "one answer" to what these frogs actually represent. How would you interpret these frogs, dear reader?
Froganda was exhibited during CIMB's Artober at Artas Gallery from Nov 4 to 7, 2021.
Embun is a participant in the CENDANA ARTS WRITING MASTERCLASS & MENTORSHIP PROGRAMME 2021
The views and opinions expressed in this article are strictly the author's own and do not reflect those of CENDANA. CENDANA reserves the right to be excluded from any liabilities, losses, damages, defaults, and/or intellectual property infringements caused by the views and opinions expressed by the author in this article at all times, during or after publication, whether on this website or any other platforms hosted by CENDANA or if said opinions/views are republished on third party platforms.