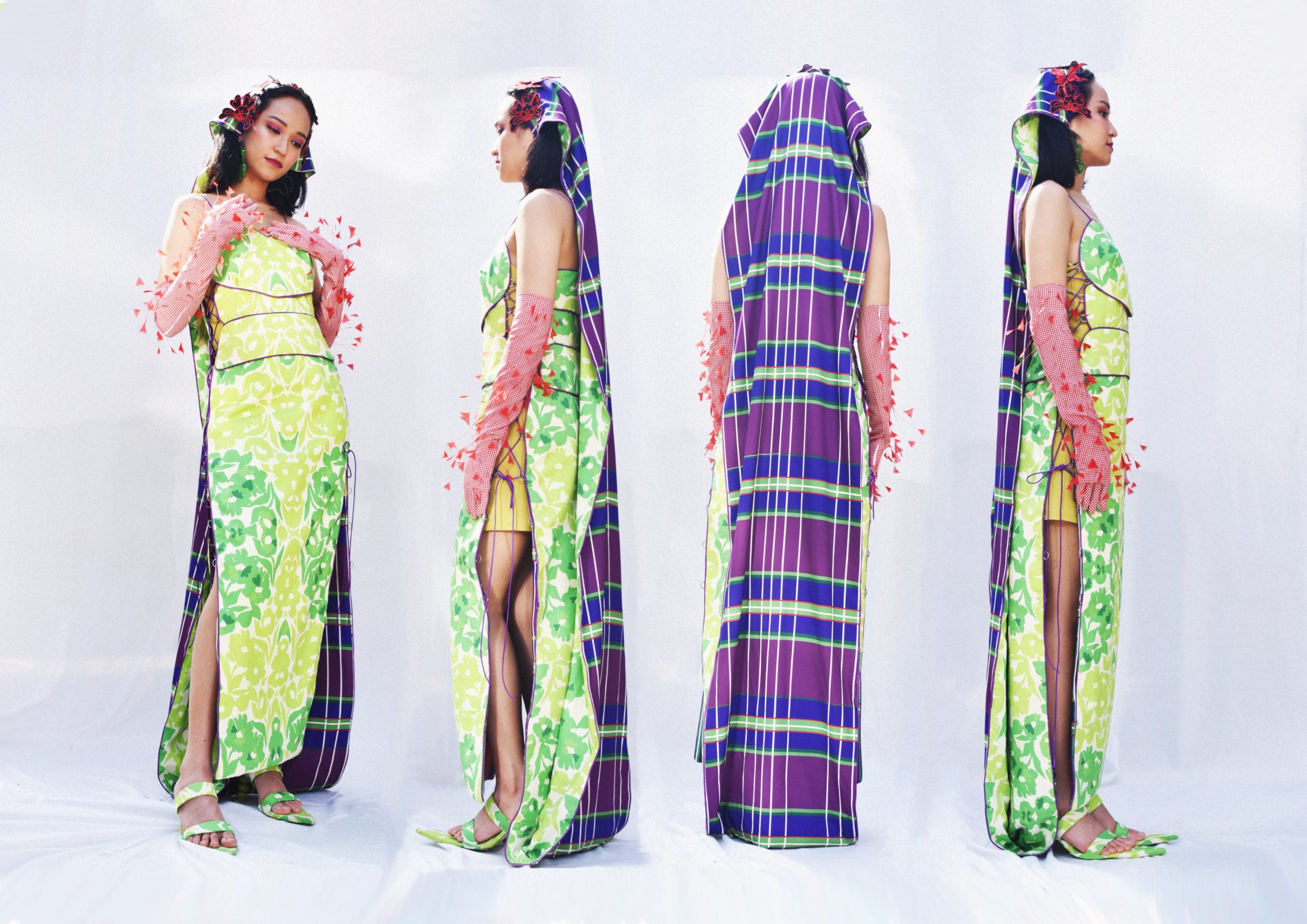 For his graduate collection, student designer Uzair Shoid interprets classic Malaysian legend 'Dayang Senandong' in a new light.
By LEE XIN YING for LENSA SENI
"My lecturers wanted the designs to be black, but that isn't what Dayang Senandong is to me – it's something much more than that," said Uzair Shoid.
As far as fashion designers go, Uzair isn't an old hat in the industry. In fact, he's only just graduated from design school. But like some of the best couturiers, the 23-year-old is unyielding in his convictions – and what he didn't want, with his graduate collection, was to turn the folkloric character of Dayang Senandong into an obvious caricature.
Dayang Senandong, a beloved local fairytale and 1965 movie (though terribly politically incorrect today!), is far from unfamiliar: a cursed princess forced to live the life of a lowly commoner, attracts a prince with her melodious singing, is mistreated by her wicked mother-in-law, and saved by a sultan in shining armor who happens to be her estranged brother. At last, the princess's curse (she was born with black skin) is lifted, and the prince and princess lived happily ever after.
Uzair, however, chose Dayang Senandong as his folklore-themed graduate collection because he felt it was more than just a superficial tale about the colour of one's skin. Uzair felt that audiences/readers have always been unable to really empathise with the protagonist because she is portrayed so one-dimensionally.
How the designer interprets the folktale is best exhibited through the name of his collection, "Sayang Senandong". "Sayang" inMalay translates to love, and reflects Dayang's affection for her family and son. In contrast, the word "sayang" can also mean "a waste" or "a pity" because no one sees Dayang and her story beyond the colour of her skin.
Rather than focusing on the events happening to Dayang, Uzair diverts the attention to her personality, especially her inner thoughts. How would she have felt leaving her father as a child, during her marriage and during childbirth? How did Dayang change or grow, from girl to woman and mother? These are the questions the fashion designer set forth to answer in garment form.
Tailoring and toiling
In the span of 14 weeks, the entire collection was designed, made, photographed and edited all from Uzair's own abode. Needless to say, the task was a formidable one: Uzair was not just aiming for the outcome to resemble what he had envisioned as closely as possible, this was also his biggest project and working through the lockdown certainly added to his anxiety.
"Since kedai tutup, I had to get my supplies from Shopee. It was a nightmare finding pearls of the same size for the outfits!" he laughed.
A closer observation divulges the meticulous work and effort that went into Sayang Senandong's storytelling, where symbolism, layers and contrasts showcase Dayang's three looks from adolescence to adulthood.
For example, the tie-dye corset above the checkered shirt creates a "hugging visual", representing Dayang embracing her father. The green floral wedding dress portrays her island, Pulau Senandong, and the kain pelikat veil characterises her husband Raja Kamaruzaman. As for the final look, the nine beaded hearts illustrate her nine months of labour, while the hardships of pregnancy are shown through the voluminous skirt.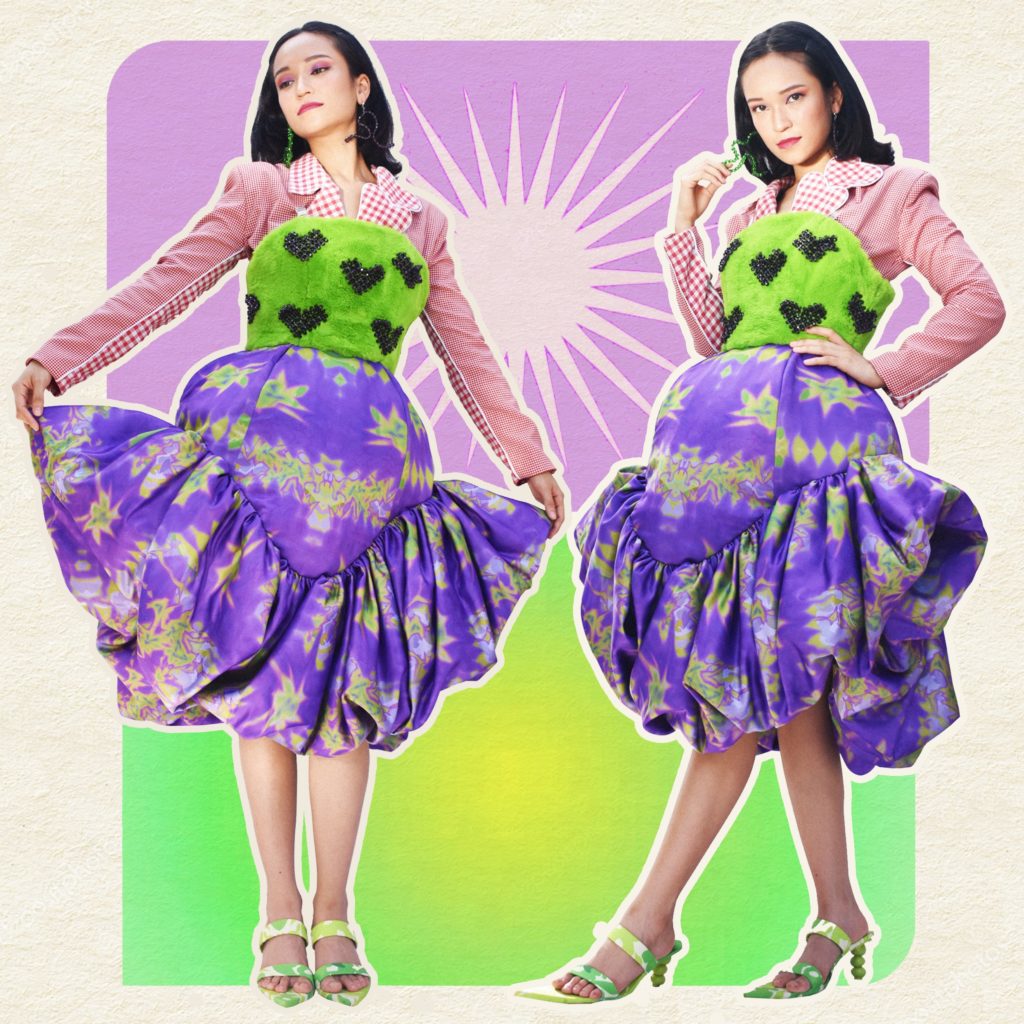 Sustainable fashion
We have the Internet to thank for Uzair's collection gaining online traction. Despite garnering praise from netizens, the designer confessed that he is never fully satisfied with his work. "I believe it's important to stay true to your own vision."
He does note that: "There is definitely a growing appreciation for fashion and the artistry of the pieces, which I see as really positive."
Sustainable fashion is something he wishes to implement in his future work due to fast fashion's destructive environmental impact. To start with, he established, emerging designers do not mass produce like global corporations. ("It's like, five pieces handsewn versus five thousand pieces machine churned, you know?")
Yet, Uzair points out that there is no "certain way" sustainable clothing should look like. "Innovation and creativity are still huge factors when creating sustainable garments. Even something small like the buttons – making them from scratch with resin can be an alternative to plastic as well."
Aesthetics and craftsmanship aside, Sayang Senandong is a cohesive, thought-provoking collection that fleshes out the main protagonist in a way not imagined before. Not only does it allow Dayang to reclaim her own narrative, but also views the chronicle from a lens other than her melanin levels. In place of skin colour, Uzair weaves love and resilience. In place of black, he adds vivid greens, purples and pinks.
Sayang Senandong rewrites "A Story About Dayang" into "Dayang's Story", making all the difference.
Look out for more of Uzair's work on his Instagram.
LEE XIN YING is a participant in the CENDANA ARTS WRITING MASTERCLASS & MENTORSHIP PROGRAMME 2021.