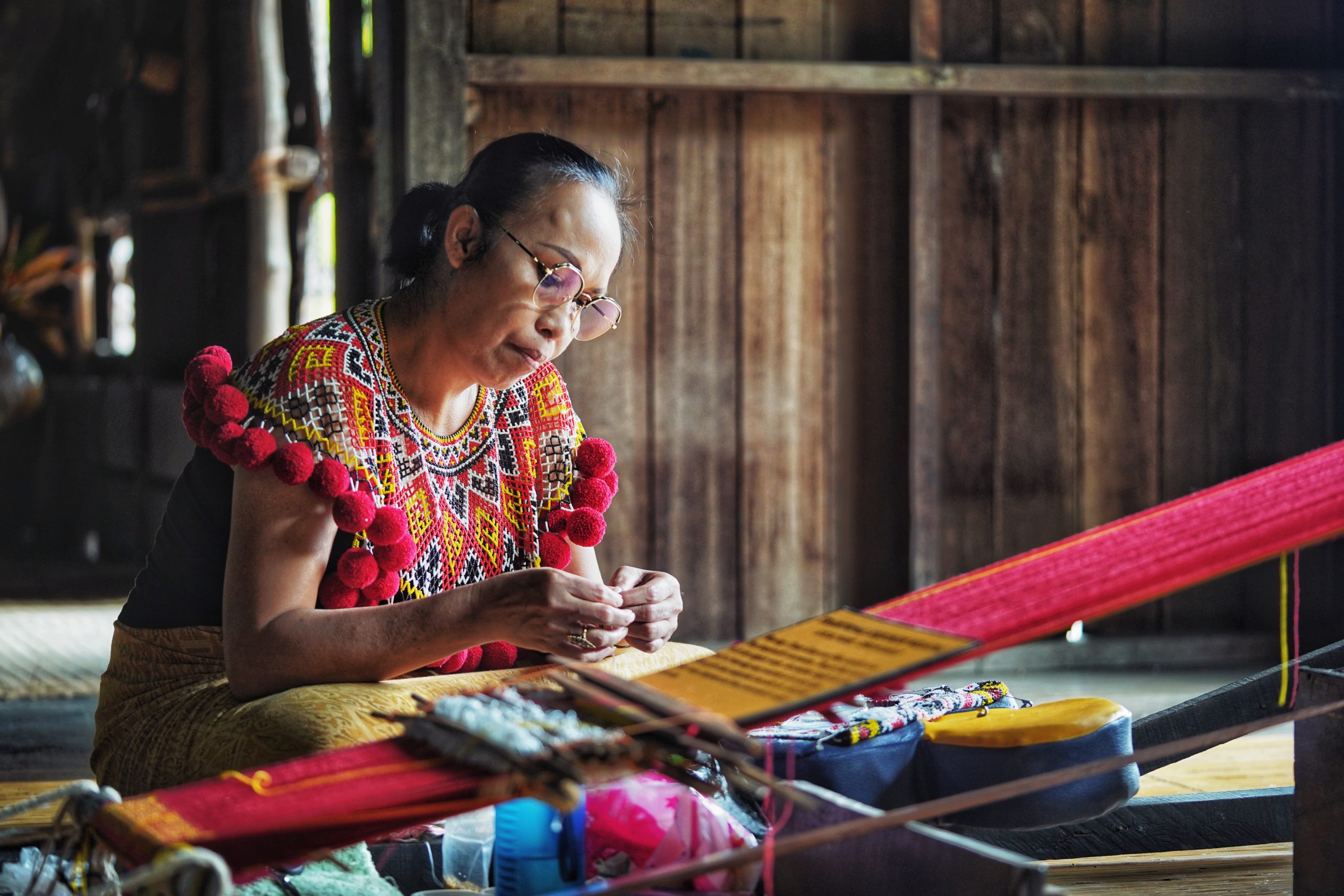 BASKL speaks to Aisha Nazar, the lenswoman behind our new cover photo!
By MARIA MURUGIAH
Hey there, notice anything different about us? There's no way you could've missed our website's new cover photo, depicting an Iban woman hand-weaving a traditional fabric – the same one you see above. The photographer responsible for that work of art is Aisha Nazar, a Sony Alpha Guru and the co-founder of Women Photographers Malaysia (WPM).
Like many good things in life, Aisha's interest in photography occurred unexpectedly. "I bought my first camera in 2014 on impulse and tried to sell it off within a week since I had decided that I wanted to use the money to travel instead," she shares.
Unfortunately (or fortunately!), Aisha had trouble securing a buyer and took the camera with her on a trip … and the rest is history. Based in KL, Aisha is now a commercial and documentary photographer who describes her signature style as "visual narratives built on the subjects of social and cultural influences around the world delivered through a kaleidoscopic viewpoint."
Aisha made her mark as a skilled artist in 2018 when she snagged the grand prize for the "Through the Lens" photography contest by Air Asia and Sony, making her the first joint ambassador for the travel and tech giants respectively. Subsequently appointed as a Sony Alpha Guru, Aisha's professional career has sent her to many places, including a teenage dream destination.
"I was around 14 when I wrote a short story to express my fascination of the world. It was about the uprooted life of a recently orphaned young teenager who had a journey of adventures in the unlikeliest place on this planet, Tibet. Little did I know that work would eventually take me there at the age of 30."
In 2019, Aisha was given an assignment to capture the landscapes of the Gansu province in China to be part of the Air Asia X destination portfolio. Her journey spanning three weeks started in Lanzhou and ended in Lhasa, Tibet; the very place she had dreamed of many years before!
Highs like these keep her going but the lows are what led Aisha to become the other half of WPM's founding team which includes Annice Lyn (read our interview with Annice here).
According to Aisha, the idea for WPM came about when the two friends reflected on their identity as "women photographers" and the gender-related challenges they faced as newbies in the industry here in Malaysia. "I believe that a lot is being done by women around the world to navigate this problem but we couldn't find a local and public initiative in Malaysia to remedy the lack of female representation in our photography industry," she says.
But as they say, be the change you want to see, right? So, Annice and Aisha started WPM, dedicated to bridging the gender gap in the photography scene and uplifting women to showcase their talent. Since its beginnings in March of 2020, WPM has held multiple sharing sessions, exhibitions, contests and has also secured collaborations with leading imaging brands and organisations which are supportive of this initiative.
On a more personal level, Aisha is excited about her current project for Exposure+ Photo which she declared to be close to her heart as it's centered around Aisha's own family. "While I take privacy seriously, I'm looking forward to telling a story of my family in a visually creative way while being able to share it with the public," she says adding that the pandemic hasn't been easy on many artists including herself. Since many have lost their jobs, creatives have had to find other ways to adapt and make the most out of their situations. Aisha says: "Thankfully, I have been able to take up more teaching and speaking roles. I'm also able to focus more on visual projects based on genres I don't typically do."
No matter the challenges or obstacles, Aisha has only good things to say about her craft. The most rewarding part about being a photographer for her is the fact that their primary tool does more than capture moments, but also allows people to connect with each other without exchanging a single word. "I feel like a camera is a universal symbol that speaks to all walks of life and it is an unspoken invitation to a subject to allow us into their lives and world."
Whenever she goes through a creative block, Aisha prefers to look to the streets for inspiration. She says that documenting people going about their everyday lives is interesting since often there is more than meets the eye. Aisha credits the ability of photos to reveal details that are easily overlooked which helps her to appreciate the complexities in life.
It's important to be an intuitive photographer as well as a technical one, she believes.
"Learning photography was natural for me and I picked it up really quickly. But in order to be better, I realised that there are other factors that contribute to making an image greater such as understanding light and how it affects your photography. Speaking of technicality, here are some of Aisha's go-to gear and software!
Camera: "There are two cameras which I love right now, my Sony a7iii and the newer a7c, both of which are full frame cameras with a few additional features to boot in the a7c that makes it my precious pet."
Lens: "I absolutely love using the Sony FE 55mm F1.8 ZA for almost anything; street, portrait, still life, food, etc. It's a remarkably versatile focal length that gives me the flexibility to produce outstanding visuals and offers a perspective closest to what we see with our eyes."
Photo editing software/apps: "I swear by Adobe Lightroom and Photoshop whereas for on-the-go editing on my phone, Snapseed and Lightroom Mobile do the job."
Interested to know more about the WPM? Read Through the lens of a woman, an earlier interview with the co-founders of WPM, and check out their photos on Instagram. Until December 2021, BASKL will feature a new photograph taken by WPM's photographers on its homepage every month in conjunction with the BASKLxWPM "Through The Lens" initiative.