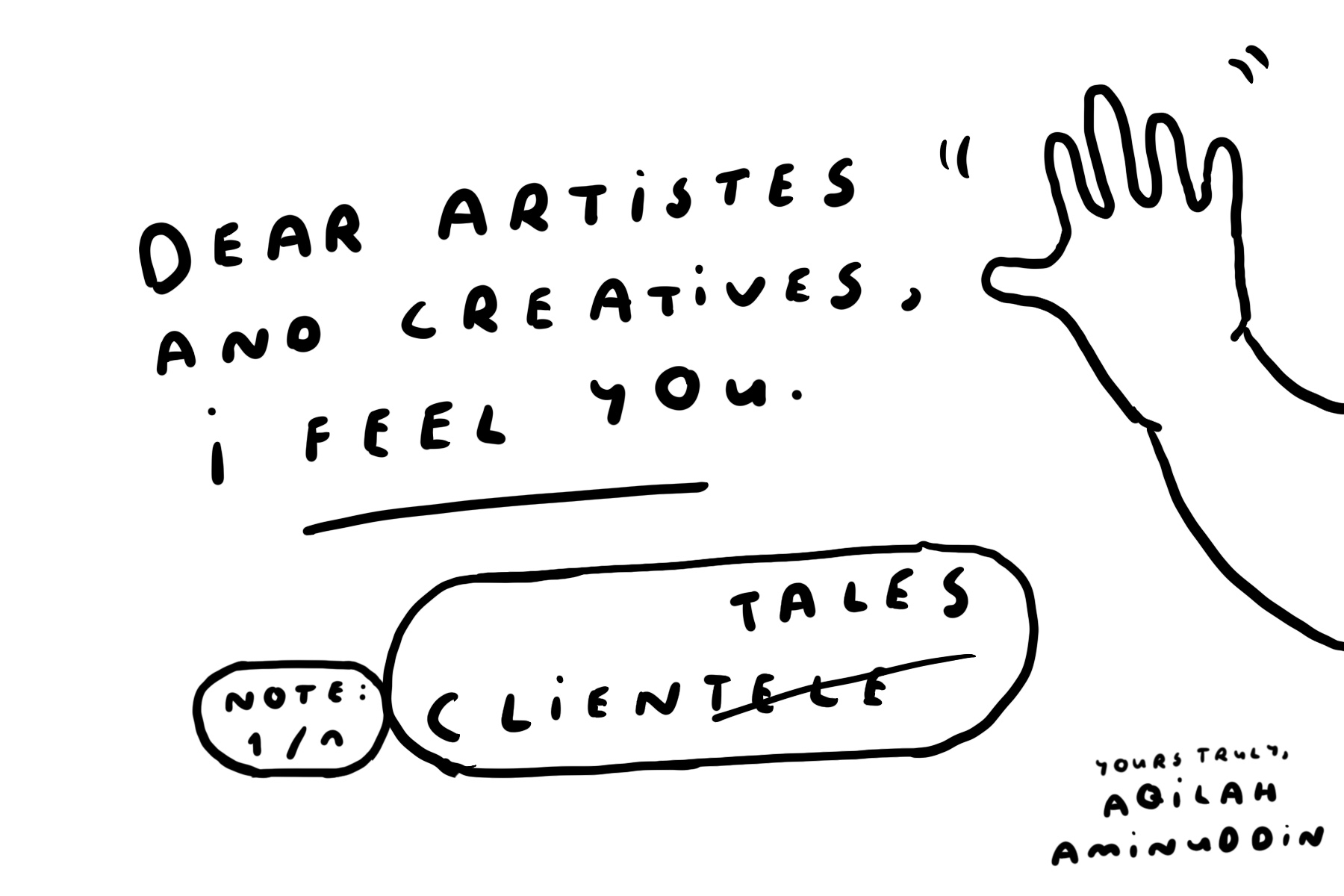 Customers are always right. Yeah, right. But what is right? And what is not? Here is an account of my true-life experience as I deal with different kinds of clients, once I have decided to become a full-time creative – specifically in the illustration and graphic design scene.
Story and illustrations by AQILAH AMINUDDIN for Lensa Seni
Dear artists and creatives, I'm giving you a tale about clients. So, you think you have what it takes to become an artist and a creative?
You may be great at dealing with your art tools and materials, and be amazing at creating artworks, but there's always another side to the story of becoming an artist. Creating art isn't just about creating. Art is nothing without its fans – or in this case, our "clientele".
Please, let me introduce you to the four types of art clients that you should be familiar with.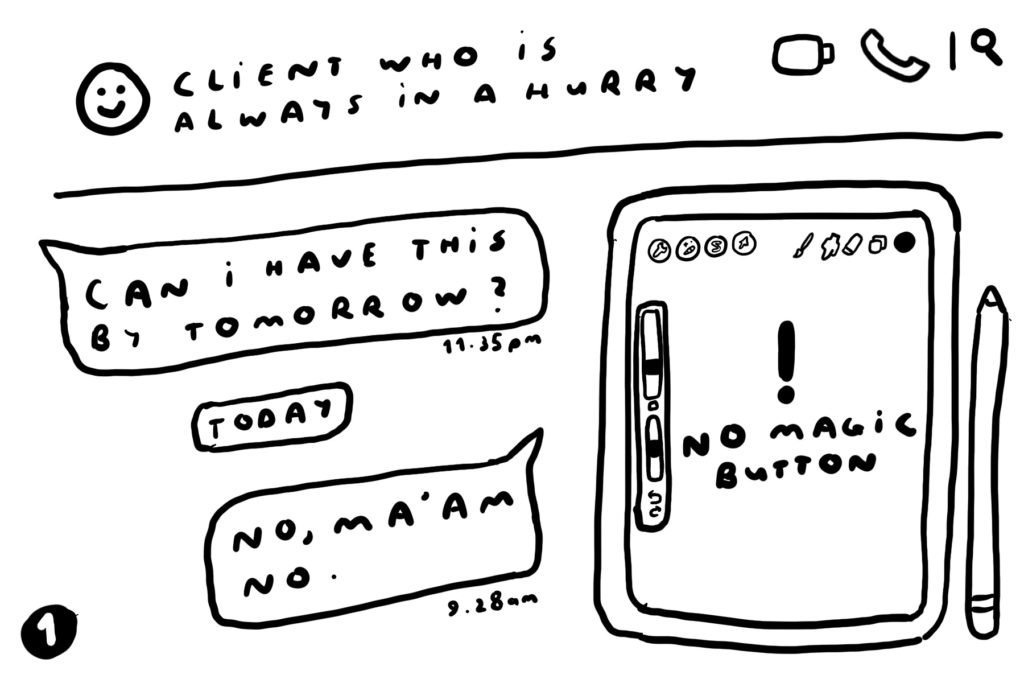 "Can I have this by tomorrow?" says the client who is always in a hurry
Ahh, this one. A classic. These in-a-hurry clients are usually unaware of the thought process and time spent in producing an artwork.
This happens most often when dealing with digital illustrations and artworks. Uninformed clients have a common misconception that just because we use tools of technology such as an iPad or drawing tablets, they are magic wands that can produce artworks overnight.
We know, these are merely tools to aid us when it comes to creating. We have them to replace traditional brushes, canvases and paints, but we still require time and skills to create a masterpiece.
Brainstorming, precedent studies, researching the brief, getting inspired – are processes that can't be forced.
We are fully aware of this. But unfortunately, the same cannot be said for all clients.
Before accepting any job, always make the process clear to them. Let them know the time that you need to make your first draft, and of how many amendments they are allowed to make. Make sure this is agreeable to both of you so that no one is unhappy throughout the work process.
Hey, a happy artist and a happy client will ensure a happy outcome!
No ma'am, no. Artists are no magicians – mesmerising artworks do not happen overnight.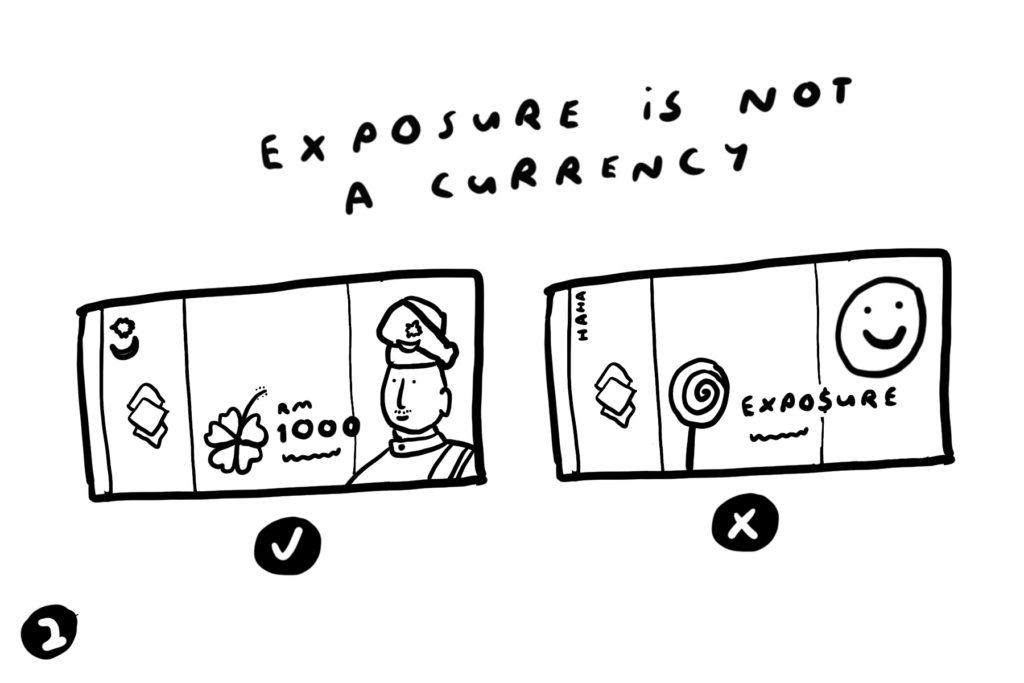 "Eh, instead of Ringgit Malaysia right, can we offer you a post on our Instagram feed?" says the client who believes exposure is as good as a salary
These clients are mostly in the game not so much for the love of the art that we bring – but are more in it to enjoy the hype.
Hype isn't entirely bad, of course. We need some hype to get ourselves and our art noticed out there. But there needs to be a limit to this, in making sure our artwork is valued appropriately.
Know your worth, dear artists and creatives. How do we rate our artwork? Consider the time you spent on your work, the tools and materials that you used, the physical space you were in when creating.
All this should be translated into a legit payment. Exposure is good but it is not the currency that sustains your life. You need a roof over your head, and food on your plate.
Know your worth.
Make sure this is written in black and white. Too many times we hear stories of late-paying clients or worse, clients who bail out without paying for completed, commissioned artwork.
Knowing your worth is not just for yourself but to ensure that everyone in the creative industry is treated fairly too.
Hey, we've got each other, right?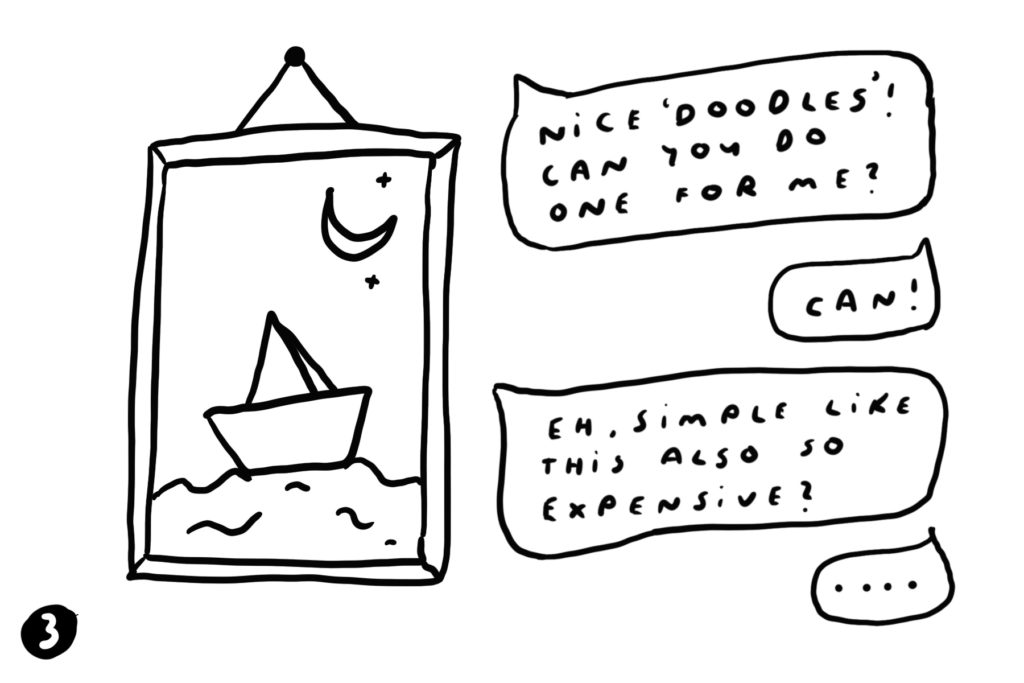 "Oh, I love your doodles. Can I hire you to create a doodle for me?" says the client who thinks all illustrations are just simple doodles
We love informed and educated clients, especially those who understand that not all works that are not realistic paintings or sketches are just something drawn absent-mindedly on a piece of paper or napkin. Granted these days even "doodles" have earned a name for themselves. But the idea that some clients think these jobs are simple and anyone can do them … ouch!
There is also a sub-type of these clients that would say things like, "Your doodles look so simple, they should be charged as such!"
Remember, know your worth. You know what you bring to the table!
Educating and informing is part of the process of being an artist too. Let your clients know (nicely!) that your art may look simple and easy to make but the only reason they come to you is because they like what you do!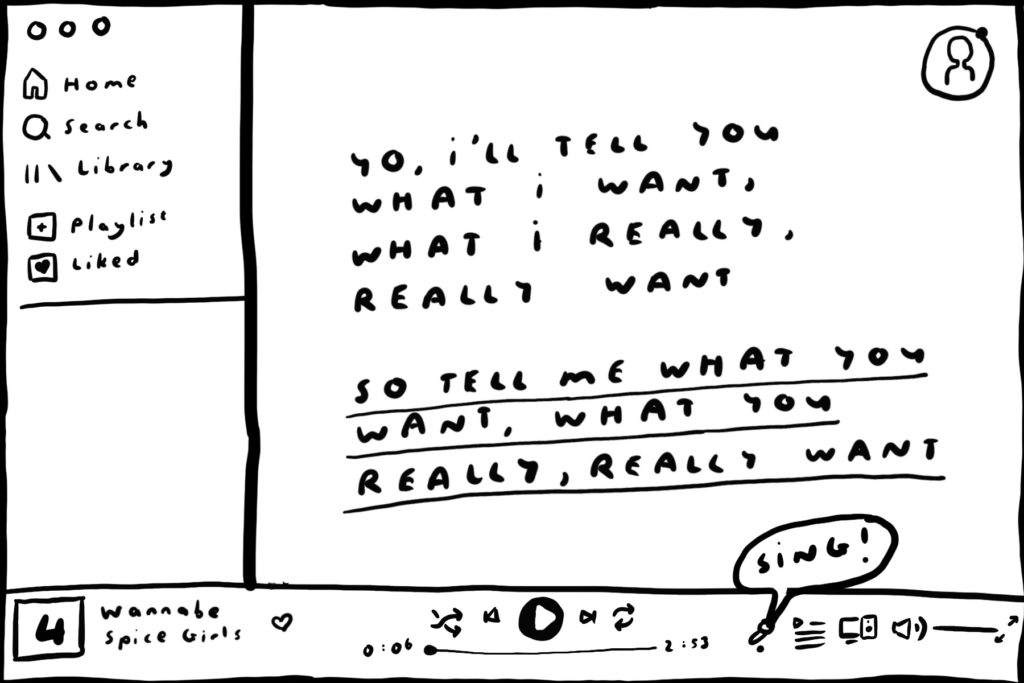 "I love your art and style! Go crazy, I have no brief. Do what you are good at!" says the client who clearly doesn't know what he/she wants
This is one of the common encounters I've had.
They really love what we do, they do. They want an exact outcome of what we've been showing on our profile – but when we are done with a draft or proposal, then comes the reactionary: "Oh, no. This is not what I imagined."
Breaking news. Artists are creatives, but no, we are not psychics. We can't read anyone's minds.
You need to tackle this in a smart way, be your own detective. Show them your profile and ask which of your artworks they are most in favour of. Create a mood board based on what they tell you.
Always secure a deposit before starting any commissioned job, so you've got not much to lose if anything goes wrong mid-way.
Don't go crazy no matter how much you are told to, okay?
And don't get demotivated if the first round didn't go well, remember, a masterpiece isn't created with a push of one button.
Dear artists and creatives,
Every one of us will have different experiences, the good and the bad of facing clients. Dealing with each is an art in its own right.
Aqilah Aminuddin is a participant in the CENDANA ARTS WRITING MASTERCLASS & MENTORSHIP PROGRAMME 2021.
The views and opinions expressed in this article are strictly the author's own and do not reflect those of CENDANA. CENDANA reserves the right to be excluded from any liabilities, losses, damages, defaults, and/or intellectual property infringements caused by the views and opinions expressed by the author in this article at all times, during or after publication, whether on this website or any other platforms hosted by CENDANA or if said opinions/views are republished on third party platforms.