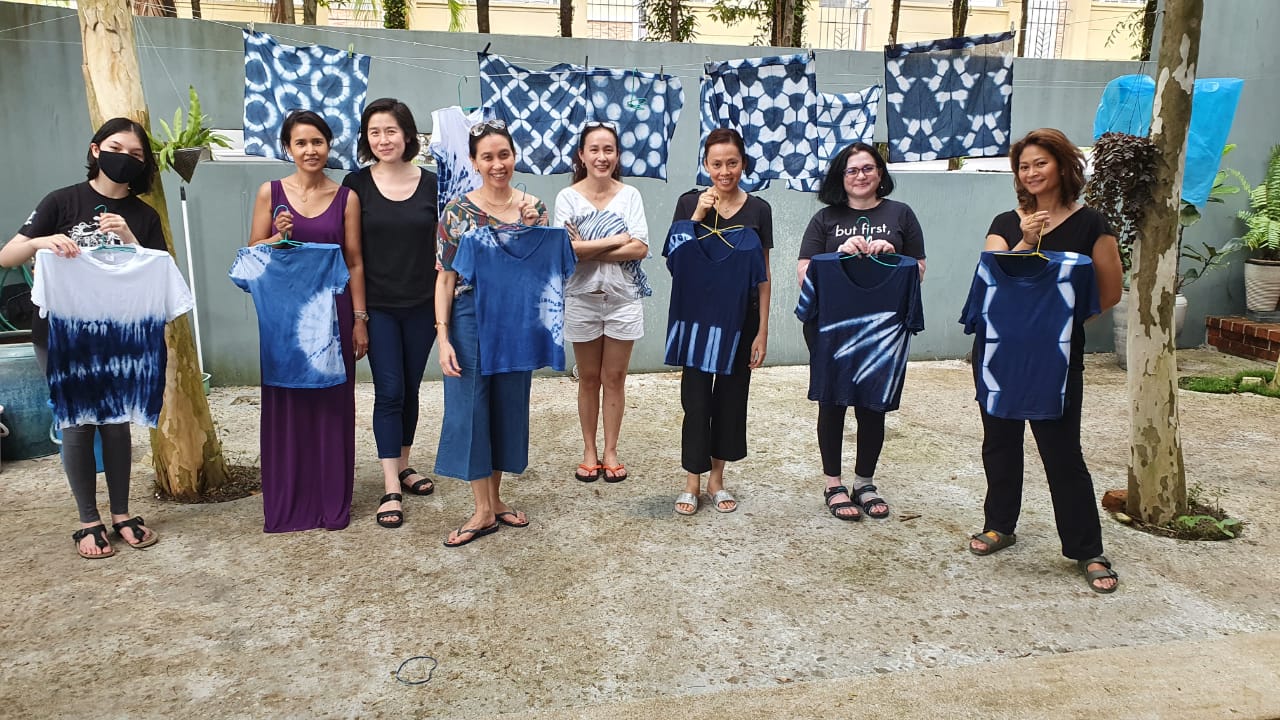 At Yann Indigo Dye Room, you'll learn the basics of Shibori dye-ing from passionate artist-crafter-traveller Kam Woei Yann.
Story and photos by ANN MARIE CHANDY
At BASKL, we're always on the lookout for interesting, creative activities for people to participate in. So we were super excited when we chanced upon and decided to meet with Kam Woei Yann, founder and owner of Yann Indigo Dye Room.
Yann, as she is affectionately called, is a Penang-born artist who in the last decade or more has happily digressed into a world of dyeing – more specifically, Shibori and Indigo dyeing.
On Jan 8, this writer had the privilege of joining a group of ladies at one of Yann's occasional "Shibori in Natural Indigo Dye Experience" workshops, during which we were given a basic intro on plants that produce Indigo dyes. Later, we each began working on tie-dye and itajime (clamp resist) techniques on a T-shirt and small voile scarf in Yann's magnificent home studio.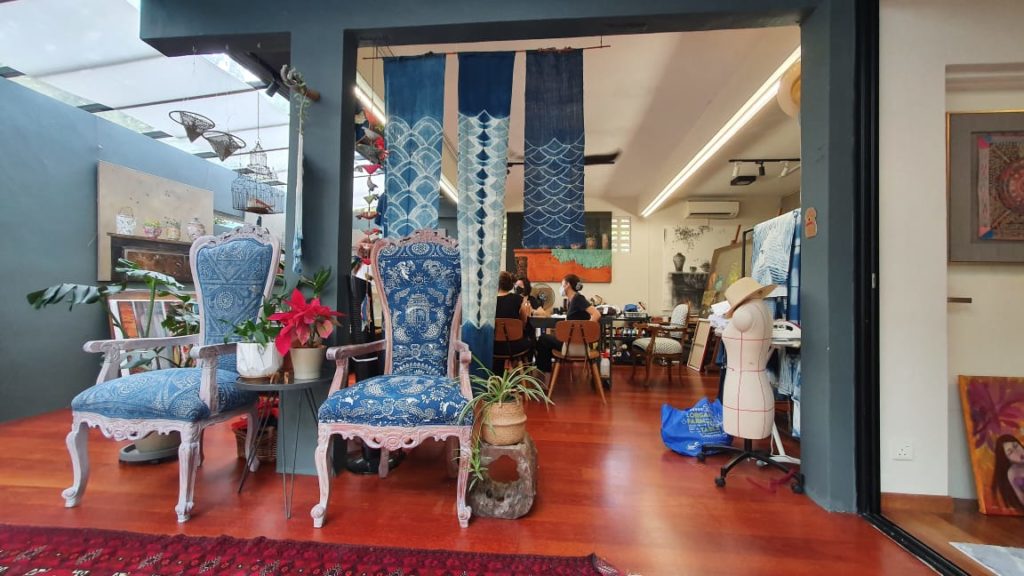 Yann and her family live in Taman Bukit Utama, Ampang, Selangor, in a corner lot that oozes with beauty, tranquility and creativity. Yann's artist husband Yap Chin Hoe's beautiful acrylic antique porcelain masterpieces adorn the walls, and the rest of the outdoor-indoor studio area is packed with Yann's own artwork, fabrics, her tailored creations, vats containing pungent bluish-greenish bubbling concoctions, fairy lights and a quaint garden complete with water lettuces and pretty yellow daisies.
All materials and tools for the workshop are provided and everyone leaves with two works of art! Though a little difficult to complete as it requires a ton of patience, it is a delightfully surprising experience during the final "reveal". Needless to say, you'll be very impressed with your end products.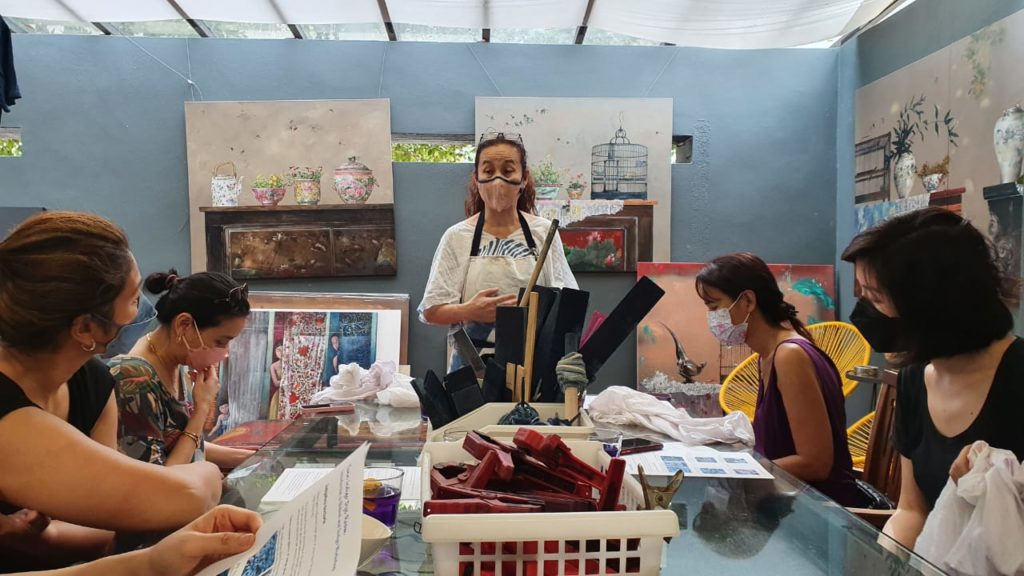 How it all started
Shibori is a Japanese/Chinese manual resist dyeing technique, which produces patterns on fabric. There are many ways to create Shibori. These include techniques such as tied or bound resists; wax resists; and resists where the fabric is folded and clamped between two carved wooden blocks – which is basically what most of us tried that morning.
Yann, 52, stumbled onto natural dyes and these interesting dyeing techniques while she was backpacking through Asia in her younger days.
"I have always been fond of working with textiles … even way back when I was a teenager," the Malaysia Institute of Arts alumnus says. "During my travels to different countries, I would always take a special interest in fabrics and even today that's true. I love ethnic minorities and their textiles, and have a small collection of the fabrics that I have picked up along the way. Many of them are Indigo-dyed textiles with Shibori and embroidery."
Yann shares that she had always wanted to learn more about natural Indigo art.
"But I am one person with many interests – various kinds of artforms intrigue me from graphic design, to interior decorating, fine art and fashion. Before I turned 50 a few years ago, I decided I would not procrastinate anymore… I was adamant that I would learn Shibori and work with Indigo dyes. That was when I decided to make a trip to remote Guizhou (a mountainous province in southwest China) to learn the artform. I learnt from the Dong ethnic minority group living there," the full-time mum of two and avid crafter says.
With little or no intention to turn it to business at the time, Yann's new skill became handy when the pandemic struck in 2020.
"I started Yann Indigo Dye Room full-time during the Movement Control Order. I began designing and crafting for personal use, then started adding friends and family into my small circle. Today my classes are open to the public. And I have pop-up shops every now and then," says Yann, whose booth was recently open from Jan 10-16 at the Publika CNY Bazaar. "Yann Indigo Dye Room has become not just a playground for me to be creative, but also something profitable."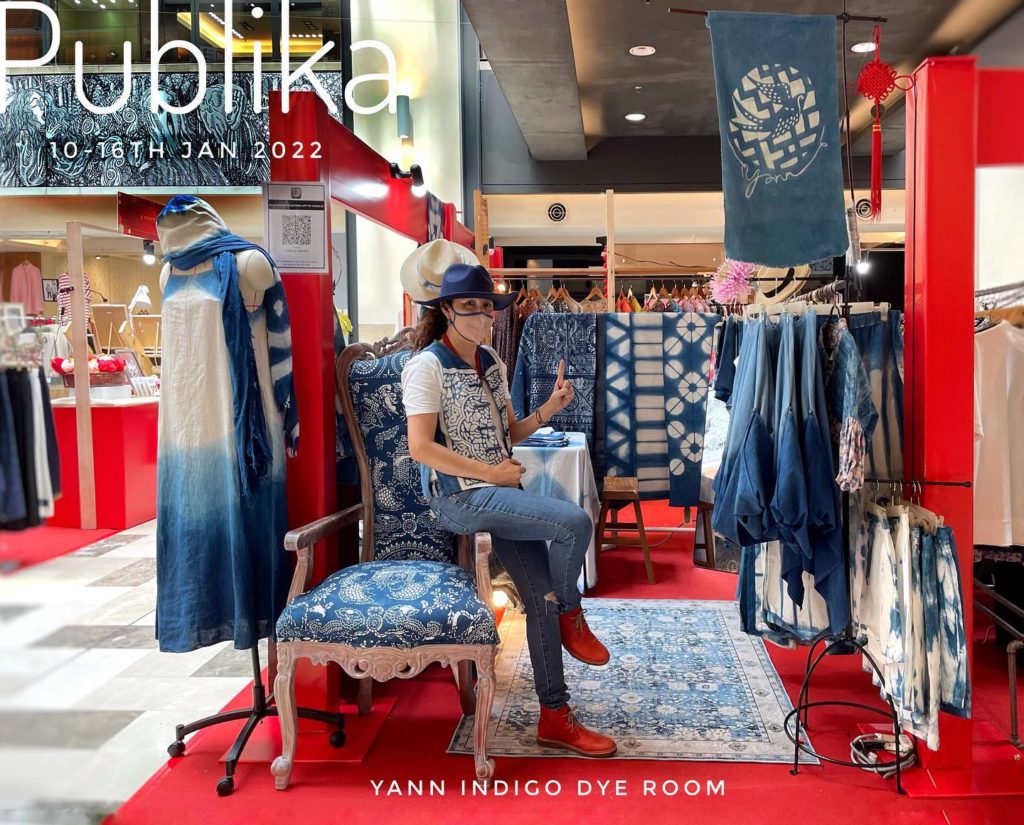 While Shibori is laborious and making these works requires a lot of attention and time, Yann is overjoyed at being able to create her own designs and home decor.
"I guess I love what I do and I am a perfectionist. If I do something I am interested in, I will do it with maximum effort. All this, I believe, can be traced back to my early athletics training," says Yann. From 1988 to 1991, Yann was a full-time national runner and relay athlete. "I was trained and moulded in such a way!"
She laughingly adds that while her mind is usually "running at sprinter speed" with so many ideas all the time, her handmade production business helps to pace her at "marathon speed" instead.
What does the future hold? "I am definitely working towards my very own designs in Shibori in the near future and I hope to use concepts from my roots and my own Malaysian heritage."
For more on Yann Indigo Dye Room, its upcoming sales and to shop for Yann's gorgeous handmade designs, check out Yann's FB page or Instagram (@yannindigodyeroom). Upcoming workshops include "Introduction to Shibori and Indigo Dye" on Feb 26 and March 5; as well as "Basic Shibori and Indigo" (the extended workshop for those who have already attended the introduction workshop) on Jan 22. Also look out for her pop-up store at the Seek and Keep Artisan Market from March 17-20 at Bangsar Shopping Centre.
Video by Rizza Zunaidi + editing by Hasbullah Idris