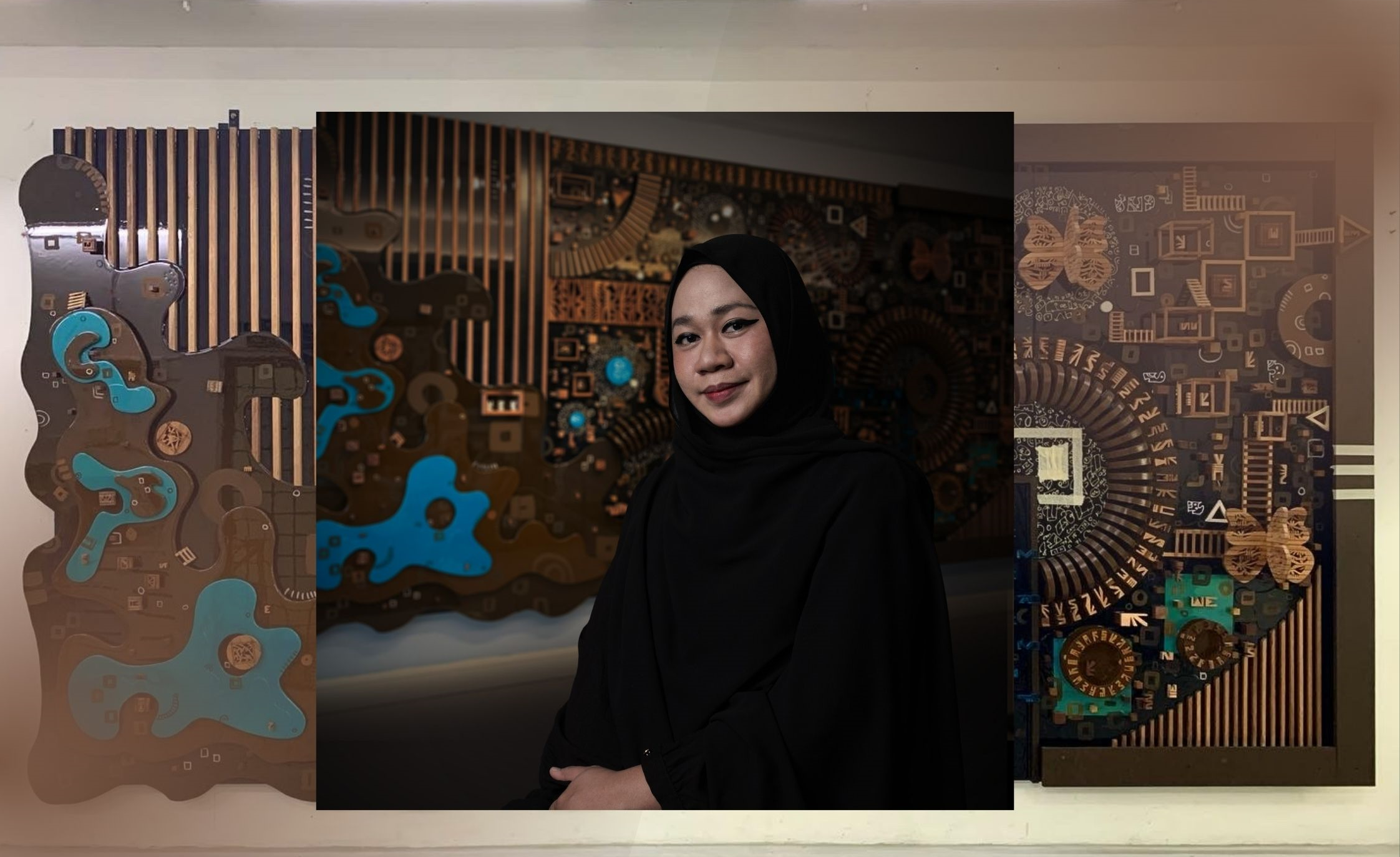 The Kuching-born artist reflects on her past, present and ongoing work in this interview with BASKL.
By NABILA AZLAN
Anniketyni Madian's sculptures are in a league of their own. Blocks of wood, put together with an array of different materials throughout her career, have been transformed into intricate, soulful and polished forms of art – occasionally in monumental scale. Her creations have been part of international accolades and grand sights at exhibitions (like the ongoing Indian Ocean Craft Triennial [IOTA 2021] in Australia), as well as the centre of large-corporation headquarters and hotels. The artist's recent commissioned projects are with Swiss Watch Gallery and Sapura Energy Berhad!
Weaving her Borneo roots into the new and noteworthy, Anniketyni's artistic visions are driven by her ode to the ceremonial Pua Kumbu textiles signifying years of Iban heritage. With over a decade of journeying into carving and sculpting, she discusses the importance of sticking to what you're striving for yourself in order to take your art to the next level.
Notes on pursuing one's passion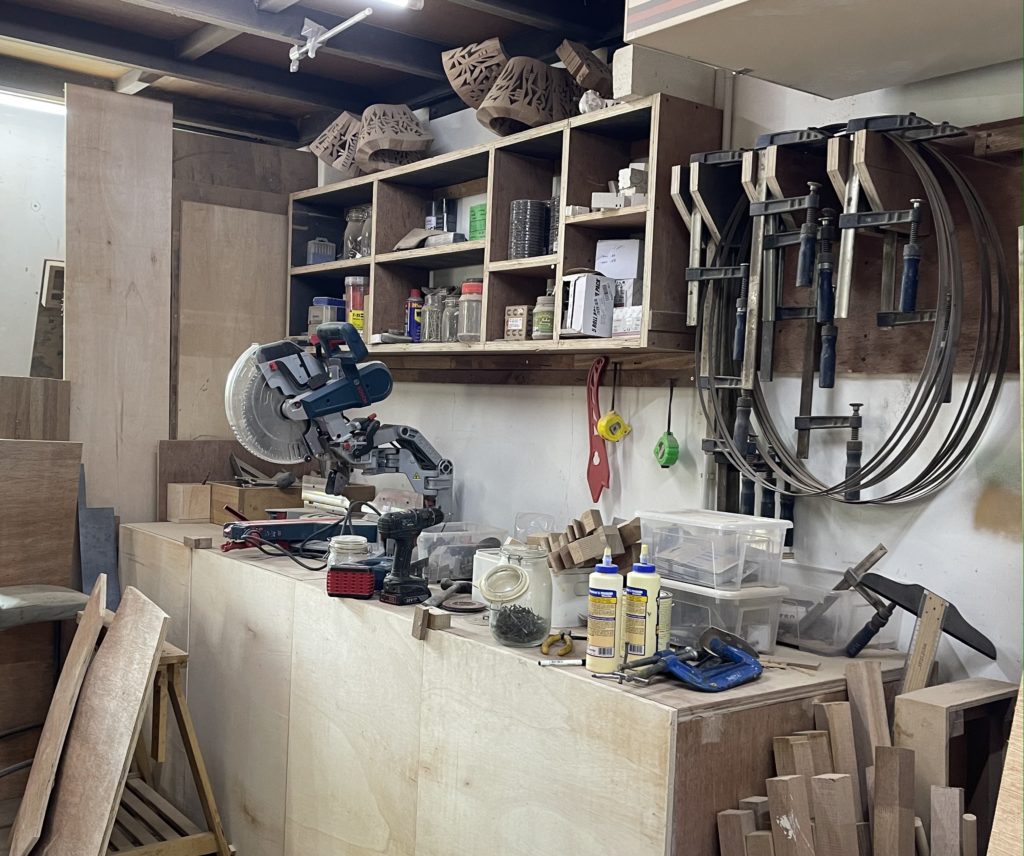 Currently based in Selangor, Anniketyni travelled to and fro Kuching, Sarawak and Peninsular Malaysia in the early 2000s for her secondary and tertiary education. The UiTM grad in Fine Arts and Sculpture was born in a close-knit family with six female siblings. Back in the day, they used to help their policeman-carpenter father with a number of at-home construction projects. From very early on, the artist says, "I was exposed to grinding machines. My father was the person who gave me exposure to different materials."
"After finishing my STPM, I worked as a draftsman. I wanted to be in the real working world," she continues. While none of her other sisters pursued a career related to the arts, Anniketyni decided to go against the current. A decade before her artistic journey took place, she secretly declined a university's offer to study Civil Engineering, which initially gave rise to her father's scorn. "When my mother found the offer letter under my bed, war broke out! Deep down, I knew I did not want to spend four years doing something I totally didn't enjoy," she says. "I did not want to finish anything feeling frustrated. My father was not in sync with me then – which was why I was willing to work to save up. The savings was important to support my art studies in uni."
Telling the story of her milestones, she says that nothing has ever been set in stone except for her interest in the arts. "I can't really say that everything was planned. Instead, I built myself up as I went along."
Notes on collecting positive energy
It's not every day that you get to hear from a Malaysian sculptor, let alone one who crafts with wood. As we go into the topic of the base, she notes, "I don't brand myself as a woodworker. I love experimenting with different materials too." But as wood was her first love and go-to ingredient in creating art, she says, "Maybe because I grew up in Kuching surrounded by a large dose of nature. When working with wood, no matter how tough the task at hand can get, I would always push through – it's like I have this 'aura' when working with selected materials, and wood is one of them." It's true, only skillful hands and determination could shapeshift the natural material into unlikely twists and turns, taking into consideration the energy needed to handle heavy machinery needed to sculpt with. For this, Anniketyni turns to Muay Thai. "I am used to working out to build up stamina; this line of work needs it. I prefer working out before I reach the studio so I can begin work fresh from the energy I get from exercising," she says.
"It's important for you to understand your energy with all sorts of materials."
Despite it being a challenge having to learn the traits of all the different types of wood available in the market, she has committed this knowledge to memory, with a little help from a trusted advisor – her father. "He was sceptical about my choice in the past, as would any parent who wants only the best for their children," Anniketyni continues. But seeing how she carries herself to this day, "He conveys his blessings by helping me through, along with eager questions like 'What would your next project be?'" He teaches her everything he knows about wood, especially the skill of telling disguised from authentic cuts – which appears more often than one would think.
"He knows supplies and materials like the back of his hand," she says, acknowledging the effortless passing-down of tips and tricks as she collects sources from countries like Vietnam and Myanmar. When she works with wooden resources such as belian, cendana and cengal, she consults him regularly. "I don't have favourites, instead I work with a mix of everything – balau, merbau, meranti merah included," she says.
As to her work flow, Anniketyni says: "Wherever I go, I never leave my sketchbook. The bigger my handbag, the better; the thicker the sketchbook I can stash." Sketching is most important, and oftentimes the longest step of her process. "I love to sketch during my downtime late at night, when my imagination roams like no other time."
While the initial sketch can take up to two weeks, she begins sculpting and snapping photos of progress in order to sketch potential add-ons. "Sometimes it takes a while until I can finalise a design. Even with a finished product, I often take it to the studio to develop it further," she says.
Notes on exploring your potential
"New travels and conversations would always have something to offer."
According to Anniketyni, what a contemporary artist does is to reimagine what is considered straightforward. Nothing is new under the sun, and almost none of the materials accessible are novel. "But you must find uniqueness in the way you stylise your work. Get in touch with people from various backgrounds who would perceive things differently," she says, in order to keep things interesting, but always add your personal flair. "In visual arts, it makes sense to produce an intentionally indirect copy of an idea or content. I am always open to new experiences."
She is fond of the work of many, among them sculptors Reuben Margolin and Louise Nevelson plus renowned architect, Zaha Hadid. "I can never claim that I am an expert in this line of art. Travelling takes me to see levels of work beyond my own; meet people who have been in the industry for decades," she says.
The artist celebrates the different avenues visual arts could flourish in, including corporate collaborations and additions in public institutions like hospitals. "I believe that if you are passionate, you will do whatever it takes to remain in the industry. Fame is short-lived, don't do it for that. Escape your safe zone. Whenever you reach a higher point, keep asking yourself where to go next," she advises.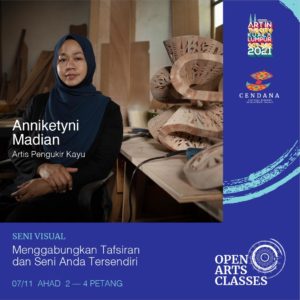 If you're an aspiring visual artist or simply someone who would like to engage with the arts, we've got great news for you: Anniketyni will be hosting her own Open Arts Class this November (in Malay) as a part of Art In The City! RSVP to delve into her working processes or go here to learn more about the other OACs in store.