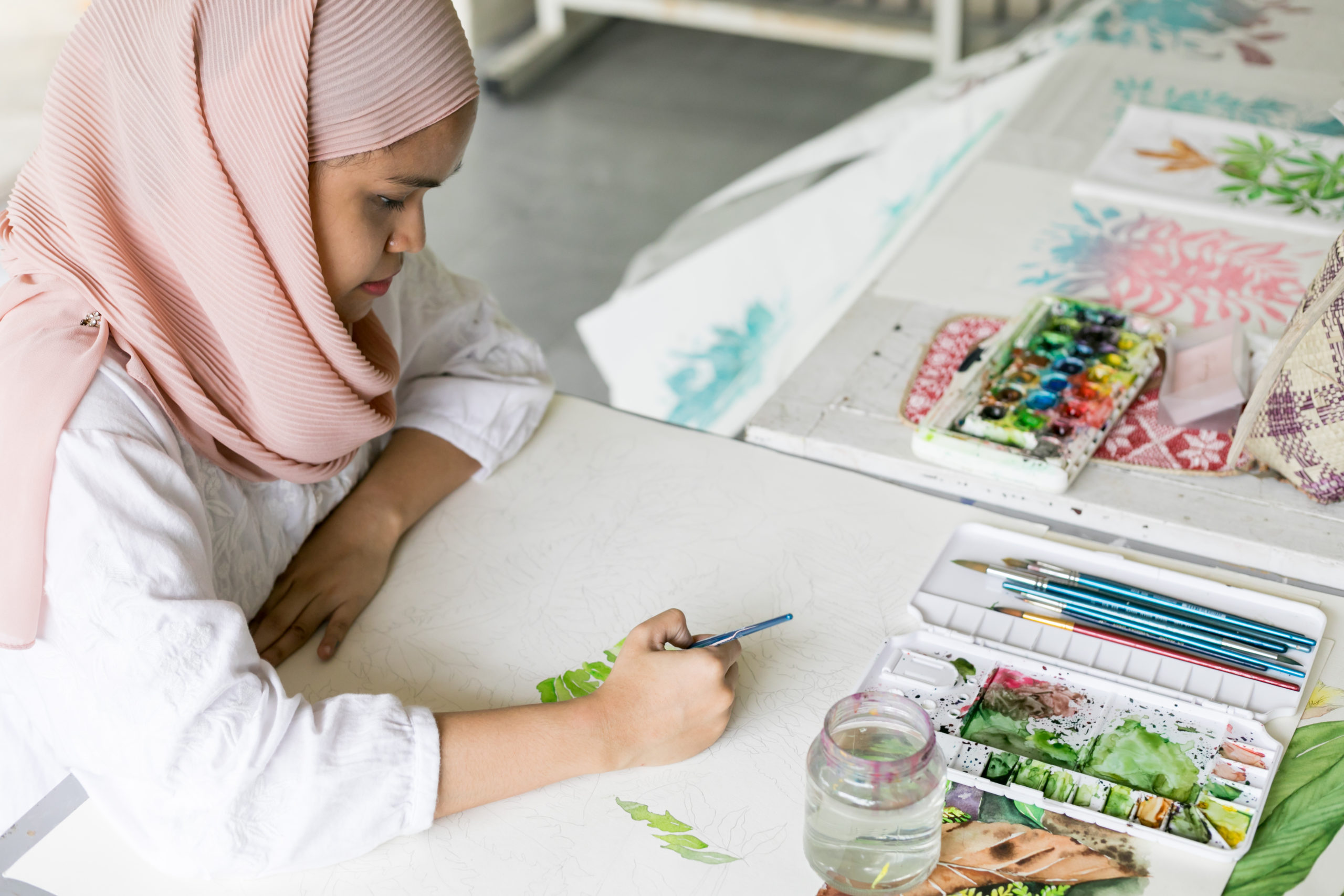 We follow an artist's brave, humble forage to uncommon food pairings as a way of cherishing and uncovering an indigenous community's heritage.
By NABILA AZLAN
American painter-instructor and Internet sensation Bob Ross once said, "We don't make mistakes, just happy accidents." I believe this venturing spirit aligns with Syarifah Nadhirah Syed Abdul Rahman, a KL based writer-illustrator turned textile designer who successfully published her first book, Recalling Forgotten Tastes last year. With it, she sheds light onto indigenous communities' environmental know-how and as an added bonus, there are notes on food and survival.
During this chat with BASKL, Nadhirah speaks about the journey that led her to writing and sketching for the book. Nadhirah is an architecture grad who made the move to pursue her passion in the visual arts. Prior to setting up her design house Paperweight Studio, she followed the process and worked at an architecture firm. "Four years ago, I quit my job and started this small (design) business from the ground up. Although architecture was not what I wanted to do, it did help me pave the way to everything that I'm doing now," she says.
Nadhirah recalls a period between completing her foundation studies and the start of her university years. "During the gap, I drowned myself in paints. At the time, a lot of people had started to showcase tutorials online, so I filled up my time learning how to draw portraits. Of course, during uni it was mostly me drawing buildings and such," she says. The artist was keen on putting numerous subjects on paper – figures, landscapes, plants, you name it. At one point, she thought about finding direction in her work. When Nadhirah decided to take in visual creation full-time, her creations began to centre around botanical appreciation. "Working on the subject of plants just came naturally," she says, admitting her skew towards linocut and watercolours.
The 28-year-old artist shares how much her residency at the private art centre, Rimbun Dahan propeled her to begin the initial plans Recalling Forgotten Tastes. "That was actually my first taste of the world of fine art. I was exposed to the different avenues of what art had to offer," she says. "The whole setting (of Rimbun Dahan) was the perfect environment for me to start working on the book. Gradually, I began my research and conversed with (quite a list of) people."
She admires those who champion both art and advocacy, naming visual artists Charis Loke and Sharon Chin as inspirations, as well as indigenous artist and activist Shaq Koyok, who later played a role in Nadhirah's research venture.
"Already drawn into plants, I got to know a close friend and (Social Sciences) senior lecturer from Universiti Malaya, Dr. Rusaslina Idrus," she says. The anthropologist was the one who first planted the idea of talking to the indigenous in pursuit of extensive ecological knowledge. "She has worked with the Orang Asli for decades, and was the one to introduce me to an indigenous family in Labu (Seremban, Negri Sembilan). Initially it started out as us going for a visit, but this was how it all began." Little did she know, it was the beginning of many forest excursions.
Fate brings led her to meet Shaq Koyok and her guide to Kampung Batu 12 in Gombak, Raman Bah Tuin, multiple times at different events, given them opportunity have lengthy conversations. On the topic of choosing foraging locations for her studies, she says, "I immediately thought about Gombak because it's the closest to me and I already knew Encik Raman at the time. I wanted to explore different forests – and figured it would be great to get to know the community in the way."
For Recalling Forgotten Tastes, Nadhirah engaged with the Semai and Temuan subgroups around Selangor and Negri Sembilan. In addition to Kampung Batu 12 in Gombak, she recorded her findings – in delicate illustrations – in Kampung Busut Baru, Kampung Tohor and Kampung Pulau Kempas.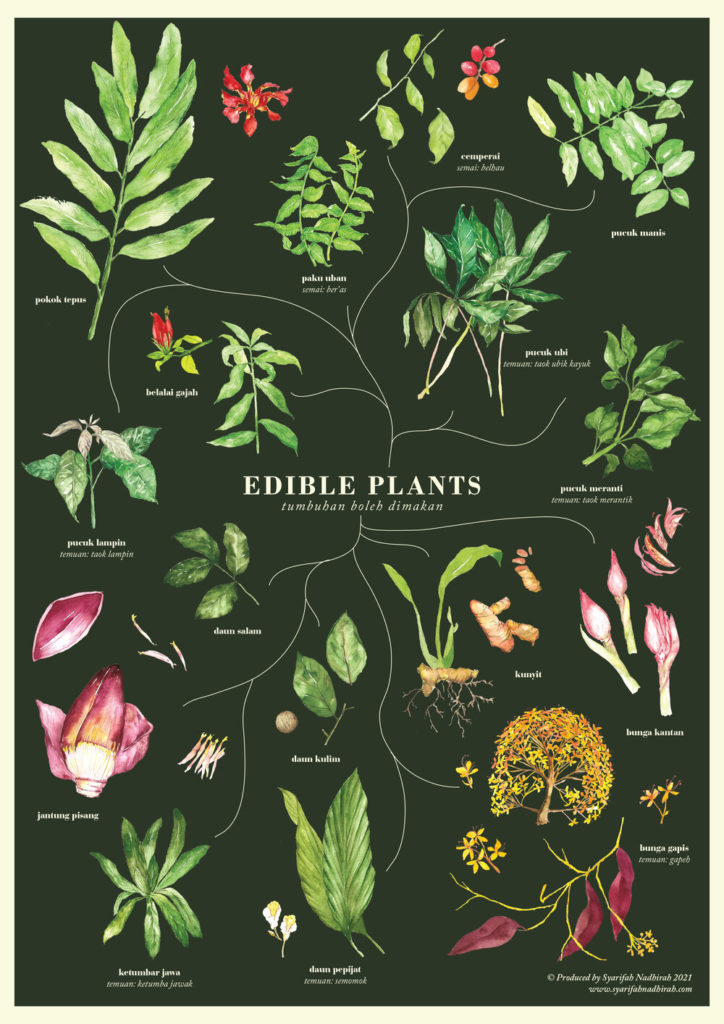 Her year into the restrictions of the pandemic was occupied with field notes and on-site sketches. "It took me about eight months just working on the book, apart from research. From the time I began writing to now, the research never stopped!" she says.
On each excursion, there was first and foremost an introduction to the forest in order to understand the purpose of the forage. After a day's work in nature, she would prepare and cook meals with the members of the community. Through such observations and instructions, she learned the way they preserve heritage through food, and that the incorporation of edible, sometimes foreign greens, has been a part of life for generations.
For example, the Temuan women in Kampung Tohor season their food with Semomok shoots for enhanced aroma, and pair meals with the flower-like Gapeh, the latter eaten raw; while those of the Semai community in Kampung Batu 12 wrap food with Lerek leaves before cooking them in direct fire. These unusual, perhaps unheard-of selections are done for better flavour, palette variety, to ease certain preparation methods and so on.
In a way, these experiences reminded Nadhirah of home. Her maternal side of the family, being from Muar, frequently cooks Johorean faves like asam pedas, mi rebus and nasi beriani. "In my household, we value homecooked meals. My mom cooks every single day – without the appreciation and love for food that she put in me, I wouldn't appreciate plants or food as much. I owe it to her and those who came before her, like my grandmom. It's the whole idea of passing down recipes, a way putting down unwritten family histories."
According to her, if she could, she would have added more indigenous plants into her book, but refrained from doing so based on advice from the Orang Asli. "Some of the plants might be at the brink of extinction; it's also to avoid the exploitation of information. I respected their wishes, and proceeded to only include a handful of plants in my book," she notes.
Nadhirah describes the whole experience as a humbling one. Among the things that stuck with her long after her visits, she says, was "To only take what you need. Whatever they take, they replenish. The life philosophy of the Orang Asli, their worldview in regards to something crucial and complex like food security and forest management have long been put into practice."
A challenge that Recalling Forgotten Tastes brings may lie in representation. Nadhirah has been careful to ask for consent while exploring this mode of sharing. Although unrelated to the Semai nor Temuan through blood, her curiosity and quest for knowledge has turned into this wonderful guide of sorts. "It's how you find your position in the whole process," she says. "In this particular project, it is important to establish good communication; respect their space and time. It has been a learning process for me too."
Nadhirah's ecological discoveries are further laid out in her ongoing project, Sights and Sounds. Embark on this journey with her and read more at syarifahnadhirah.com.