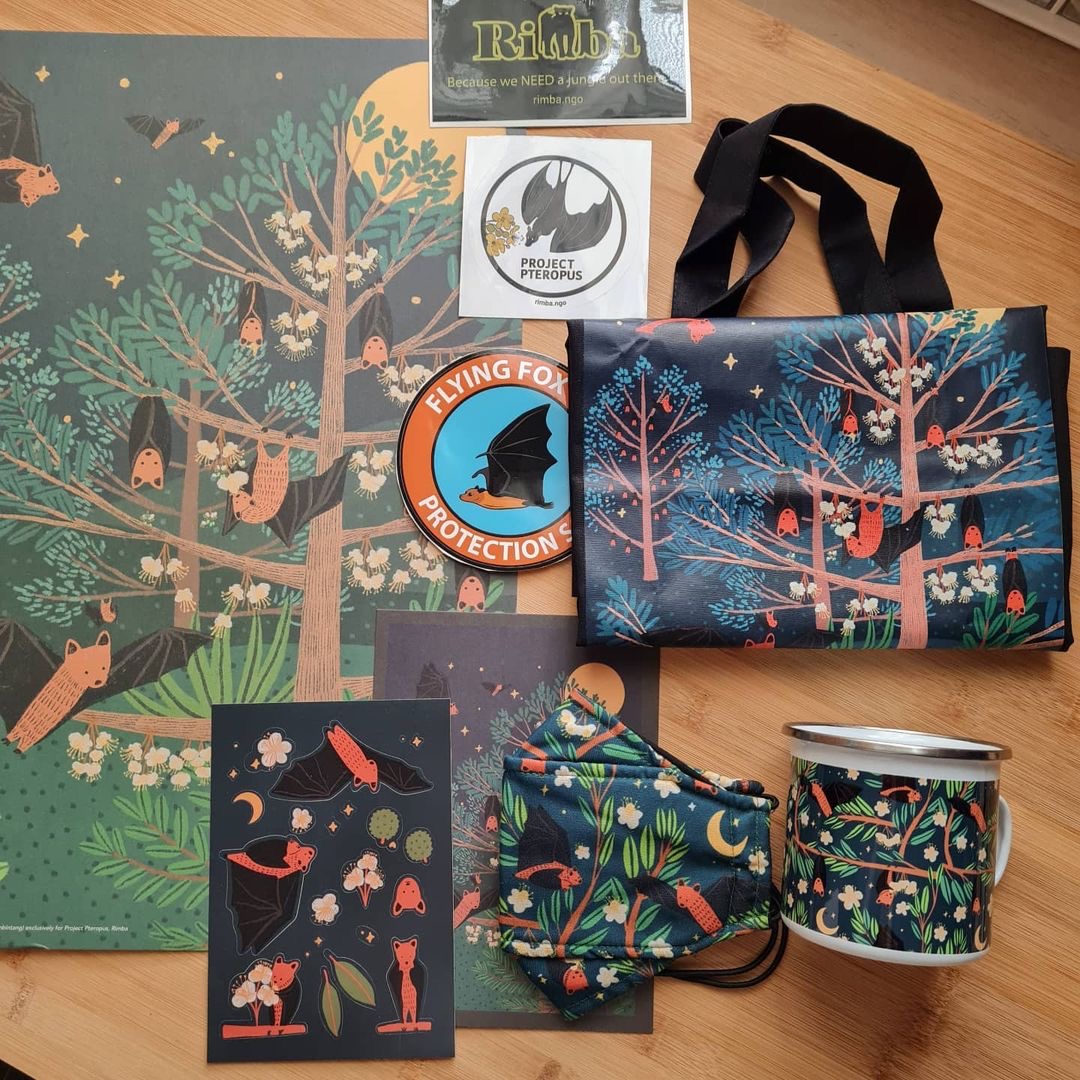 Founded and led by Kirin Sharom, Bunga dan Bintang is an art studio specialising in adorable illustrations and wearable art merchandise.
Story and pictures by AQILAH AMINUDDIN
Throughout her artistic career, Kirin Sharom has been waiting to work on awareness projects, hoping to create a positive impact. An exciting one like Project Pteropus by Rimba Research isn't something that comes along often.
Kirin's artwork, beautifully imaginative with a distinct aesthetic of natural subjects and a subtle colour palette, is named Whimsical Night. She illustrates her subjects actively roaming at night, accompanied by the bright moon from above, flying from one blooming durian tree to another. Beautiful and immersive.
And Whimsical Night was exactly what Rimba Research was looking for when it engaged Bunga dan Bintang.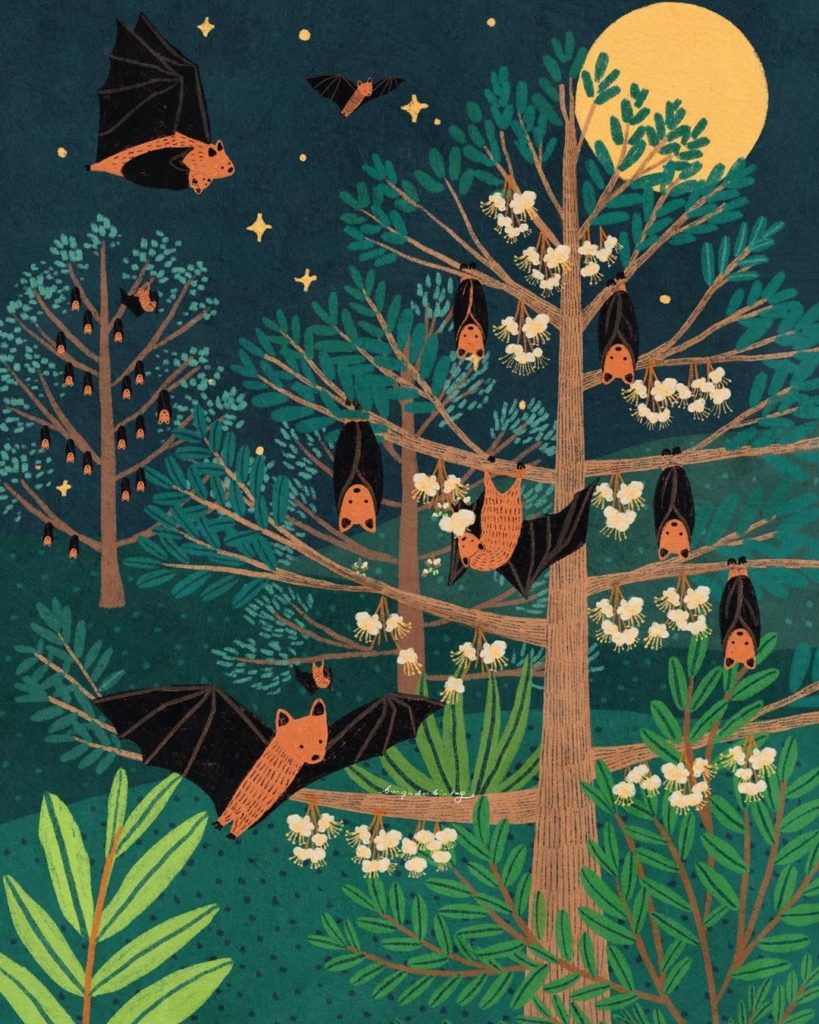 Of Rimba Research, Project Pteropus and oh, what have we (not) done?
Rimba Research is a non-profit research group focused on conducting conservation science based in Peninsular Malaysia. Project Pteropus is its latest initiative – the group is attempting to draw the limelight to our local fruit bats.
Rimba Research and Bunga dan Bintang's first collaboration together has been quite successful one. Both parties are pleased with the outcome of Whimsical Night, from the original illustration to the merchandise produced.
Kirin is grateful for this opportunity, that she had the most fun creating this piece. Inspired by childhood memories and her father's tales of his childhood, when he remembered fruit bats roaming around the house at night. Kirin used her grandmother's durian orchard as the backdrop to Whimsical Night.
Today, fruit bats are not seen anywhere as often, anymore.
Kirin shared that the most popular misconception she learnt throughout this process is that fruit bats are the cause of infectious diseases, but in reality – human activities are the real culprit. Deforestation, the consumption and trade of these animals are the cause of outbreaks instead.
Paint a better picture, why don't we?
In creating awareness of the existence and important role fruit bats have in our ecosystem, Bunga dan Bintang was given a simple brief.
Its main objective was to literally "paint a better picture" of fruit bats, highlighting the fact that they are not as terrifying as people think.
Bunga dan Bintang was asked to make it known that these fruit bats are our gardeners at night. They consume plants, flowers and fruits, pollinating the seeds in the process – and their favourite fruit is the durian, yum!
With Bunga dan Bintang's magic sprinkled all over – then came Whimsical Night in the form of A3 art prints, postcards, stickers, washi tape, enamel mug, tote bag and face mask.
As adorable and mesmerizing as Whimsical Night turned out to be, Kirin originally imagined differently what she would bring to this piece. Initially, she was weighing the idea of being more playful and metaphorical. She wanted to dress up the fruit bats in a gardener's outfit but decided not to. Instead she painted them as close to their natural form as possible.
Though it may look like Rimba Research benefits the most from this collaboration, Kirin felt that she benefited just as much, in fact, maybe more. To learn about fruit bats closely and to contribute to such an important awareness campaign are some of the highlights of her experience.
Having her own personal experience in spreading awareness using her artistic expertise, Kirin calls out to other artists to do the same. Artistic talents when paired with thorough and meaningful research, gets you the best for both worlds – for society and for any cause we are fighting for.
Luckily for Bunga dan Bintang, Rimba Research understands how this process should work and after its brief and initial discussion, it trusted Bunga dan Bintang to come up with an artwork that would best reflect the message of Project Pteropus.
Get to know our fruit bats; Be proud of them; Spread the message by wearing them.
What's next for Rimba Research and Bunga dan Bintang?
Following the success of its first collaboration, Bunga dan Bintang teases on its next project together – this time, for another exotic animal that needs our help, Rimau!
The Fruit Bat Fundraiser showcased an array of fruit bat-themes merchandise available on its website – till Dec 31. You can still check out the informative site, however most of the very interesting merchandise has already sold out!
Aqilah Aminuddin is a participant in the CENDANA ARTS WRITING MASTERCLASS & MENTORSHIP PROGRAMME 2021