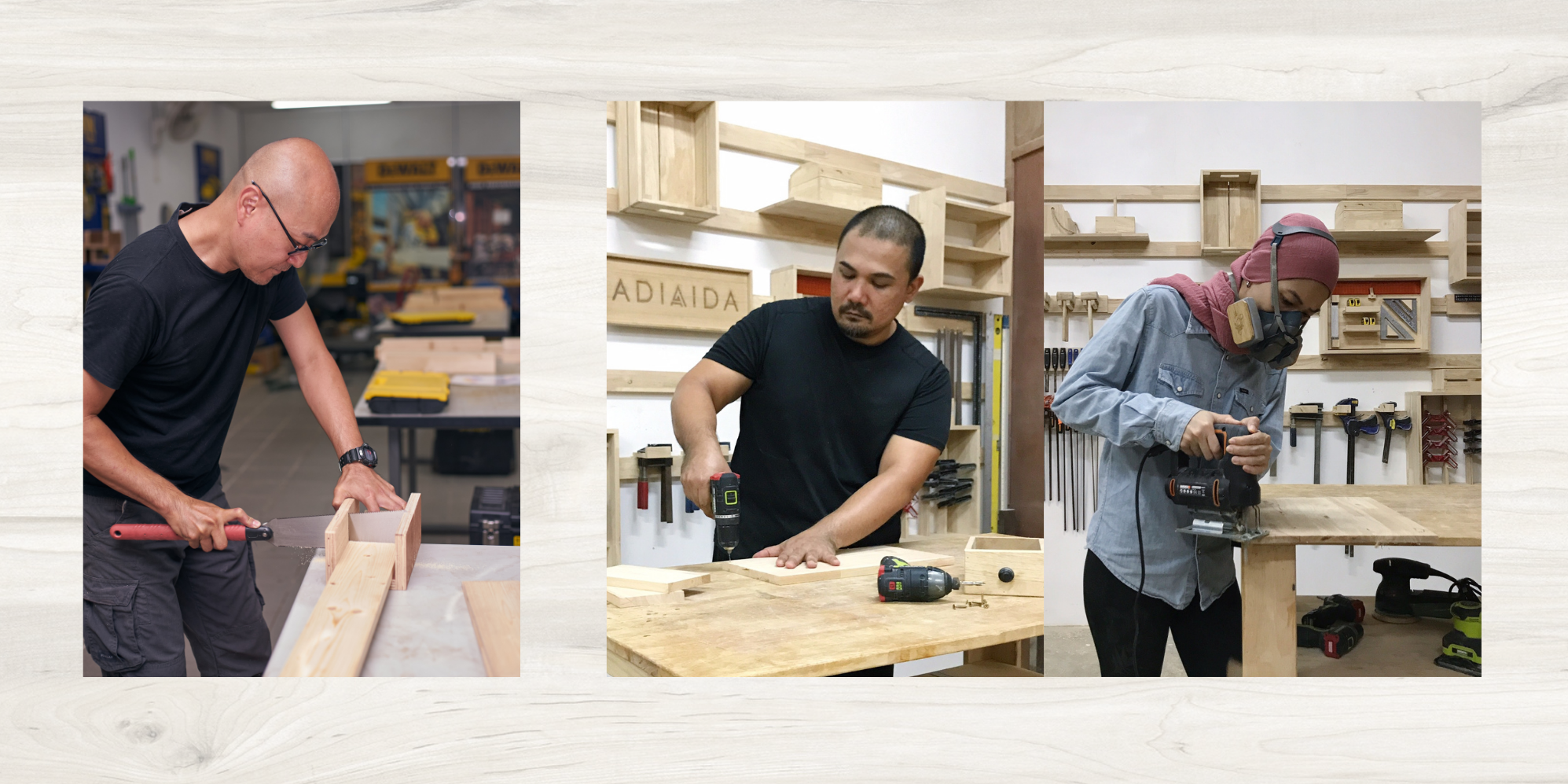 BASKL talks to three self-taught, entrepreneurial carpenters: Kevin Yeoh, Adi Kamal and Aida Ihsani and on the joys and challenges of woodworking – plus reasons more people should experience the art form.
By NABILA AZLAN
How old were you when you first used sandpaper? Ever built something using wood and nails? While carpentry may not be a dying art, it sure seems a skill that's fading, especially among today's youth. You need to know your tools, have patience while building, not to mention have a creative vision in order to produce something you can be proud of. Lot of expertise involved, surely and why bother when you can just go to the store and buy what you need.
Instructor/carpenter Kevin Yeoh (45) of of Kevin Build, and husband-wife duo Shafril Hadi 'Adi' Kamal (42) and Aida Ihsani (32) of ADIAIDA have a different point of view. For them, carpentry is a labour of love, and something anyone can aspire to learning.
The carpenters before carpentry
Earlier in life, Yeoh grew up watching his grandfather build things with a line-up of woodworking hand tools. He said although its benefits did not come to mind at first, he had plenty of time playing with the tools and eventually even built items of his own.
Before his career in carpentry coaching and building, Yeoh was a digital content developer in charge of digital consoles and multimedia displays – "Nothing tangible," he said. It wasn't until he had to move house that he realised how precious a skill drilling and installing is; it wasn't long before friends started seeking his help to do the same for their new homes.
Five years ago, Yeoh founded his own series of children's carpentry workshops, prompted by a friend who saw a fun yet fulfilling afterschool activity for her child. Adult workshops follow suited, and the rest is history.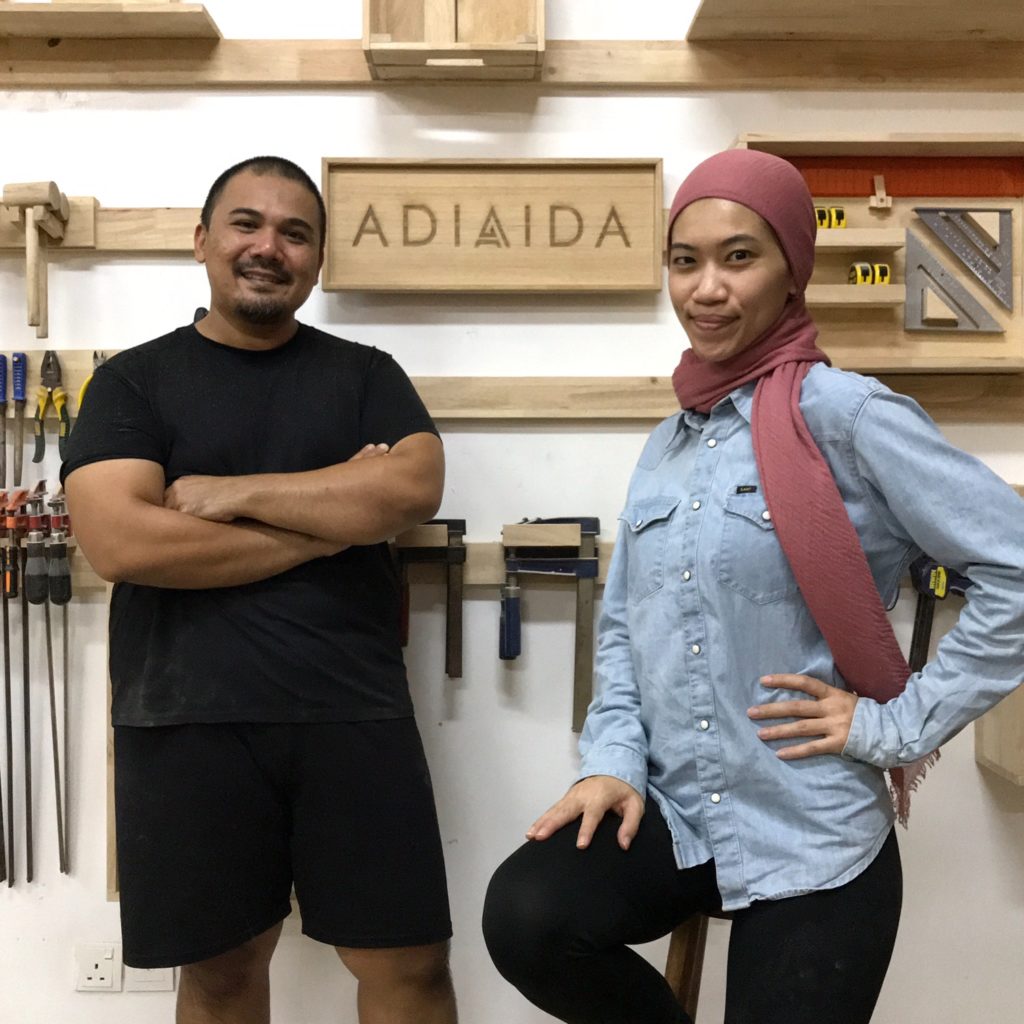 While Adi has been in the Klang Valley for as long as he can remember, he was born in Penang and spent the first six years of his life there. His father was an economist turned businessman while his mother worked in human resources. Similar to Yeoh, one of Adi's earliest influences in carpentry was his late paternal grandfather from Kampung Panchor in Pantai Remis, Perak. Adi's corporate career spanned many sectors – IT, Oil & Gas, education, even advertising. Veering off-course one time with NGO Epic Homes to build homes for the Orang Asli, he realised his penchant for carpentry. Then fate stepped in – the volunteering programme was where Adi met Aida.
A law graduate, Aida grew up in Subang Jaya with seven siblings – six sisters and a brother. She says that many of her immediate family members are "the hands-on type" – her mother takes an interest in sewing and gardening while her siblings delve into cooking as well as arts and crafts. Yet she admits that she has not been "very good at making stuff with her hands".
Aida developed a liking to DIY while she was in her 20s. Passionate and skillful in her newfound vocation, Aida went across the grain to make woodworking her career, inspiring other women to do the same. She, with Adi, began building custom furniture back in 2016 before also launching a woodworking workshop for children as requested by a homeschooling mother. They launched Malaysia's first Women's Woodworking Workshop in 2019 following a pilot workshop in 2017.
First builds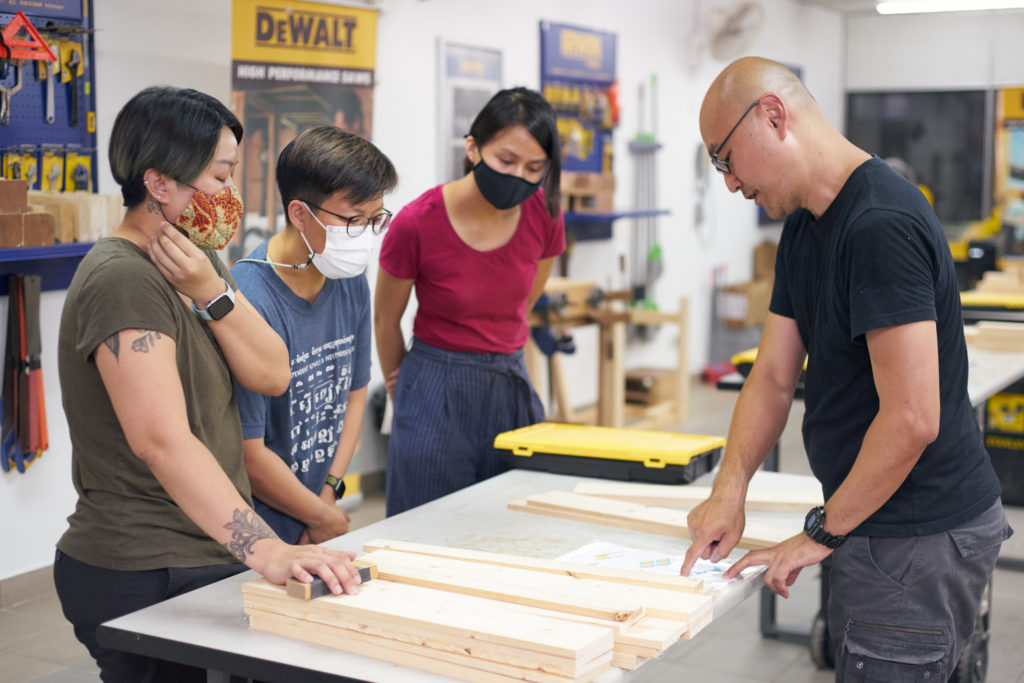 Kevin Build (KB): Countless wooden toys have been built – I honestly can't remember my first! Some failures, some successes. As a kid, I did what I could to use everything in the house and around me. We would always have paper, Manila cards and cardboard too. As an adult, I jumped straight to wood as my primary material as I had become familiar with it during my attraction towards hand tools. I wanted to understand the natural material's difficulty and challenges.
ADIAIDA (AA): Adi built a medicine cabinet he gifted to a family whom he had helped build a new home – the son's medical conditions required a cabinet of meds, so it was an honour to personally help them. Aida built some wooden parallettes when she dove into yoga – making them with her own hands gives rise to a different feeling while working out!
"I aspire to be like New York-based designer, maker and YouTuber Jimmy DiResta – having watched him in action got me started in carpentry. In the local scene, there are so many remarkable and utterly talented peers; to name one or two would do injustice to the rest!"

Adi on his inspirations
Personal projects
KB: I personally like mid-century modern furniture, but when I design furniture or decide on a design, they have to complement the existing set-up. I wouldn't build funky furniture or a classical piece in the middle of the room to go with other modern furniture. Everything has to fit in a way, unless it is a very specific request from a client which I would often base on specific looks or visuals.
"There's that proverbial saying: The shoemaker's son always goes barefoot! People have asked me this and thought my home is filled with homemade furniture, in fact, I still have loads of IKEA pieces around. At the start of the year, I have been working on an upgrade to my kitchen – something I have wanted to do for a long time. I should give myself a pat on the back because if I don't make time for myself, these kinds of projects, like my new wall shelf, would never happen."

Yeoh on whether or not his home is filled with DIY furniture
AA: With personal projects, they would often come out of necessity – say we need something for a specific spot or space or even function. After determining the type of project, we draw inspirations from many sources – YouTube, Pinterest, Instagram or even something we saw in passing at a shop. Sometimes, it may just be something that just springs into our minds out of the blue. We would bounce ideas of each other and it makes the piece so much better when we combine both our ideas.
Adi would try, whenever possible or applicable, to incorporate techniques seen on YouTube and test them out. If successful, it may then be replicated onto a commissioned piece. He too has an affinity towards furniture with mid-century aesthetics. His general design principle: "Form follows function; the intended function of the piece dictates or guides the form it takes – but it must also be pretty!"
(Some) people's reservations towards carpentry
KB: There is the general perception about woodworking being dirty, dark and old-fashioned. I'm trying to paint a picture to the younger generation how it can be very cool using modern tech; it could be very interesting and fun, also safe. A lot of people think it is not safe and I have no idea where they get this from – could it be through parents who over-guard their children, saying "Don't touch this or that" or "The tools may hurt them" and this is passed down the line? My goal is to change the perception beginning from the Kemahiran Hidup (Life Skills) classes in school as some might have found it not so pleasant an experience.
AA: Adults, on the other hand, have different reservations. Some, with no experience or background, have found themselves doubtful about being able to take on the project and the tools, let alone finish it during the stipulated hours. This slowly diminishes as they progress through the session. All our workshops are beginner friendly and no experience is needed. Think of it like kids trying something new, we as adults have to bring out our inner child to explore and enjoy something new.
Personality building
KB: When I design a workshop, I design it with the participants in mind. I tend to make those that are easy for them to replicate at home, that means everything they are going to use can be easily sourced from DIY shops. Woodworking happens to be a good activity for self-expression; it involves physical activity and creativity. I have classes for everyone but honestly, the most challenging age group is teens. The transition from childhood to adulthood is filled with internal conflict and confusion, so this could be a chance to express their inner feelings.
AA: We reinforce the fact that everyone progresses or undertakes projects at their own pace. The general workshop structure is just an outline of the mechanics of the session and the timing are again mere reference points. We even embrace mistakes during our sessions – we rectify things whenever possible, but if all fails, we welcome them as unique features that set some pieces apart. We teach participants to fix mishaps so they can learn and apply the same methods if they were to take on their own projects or DIY at home. We want them to revel in the satisfaction and pride of having built the project with their own hands, mistakes and all. It is truly a feat to celebrate, that having started with possibly some reservations and maybe no experience, they end the day with a completed piece they can call their own!
Should you be interested in joining their carpentry workshops for all ages: Schedule one with Kevin Build in Subang Jaya (here's his Instagram) or ADIAIDA in Petaling Jaya (and here's their Instagram).