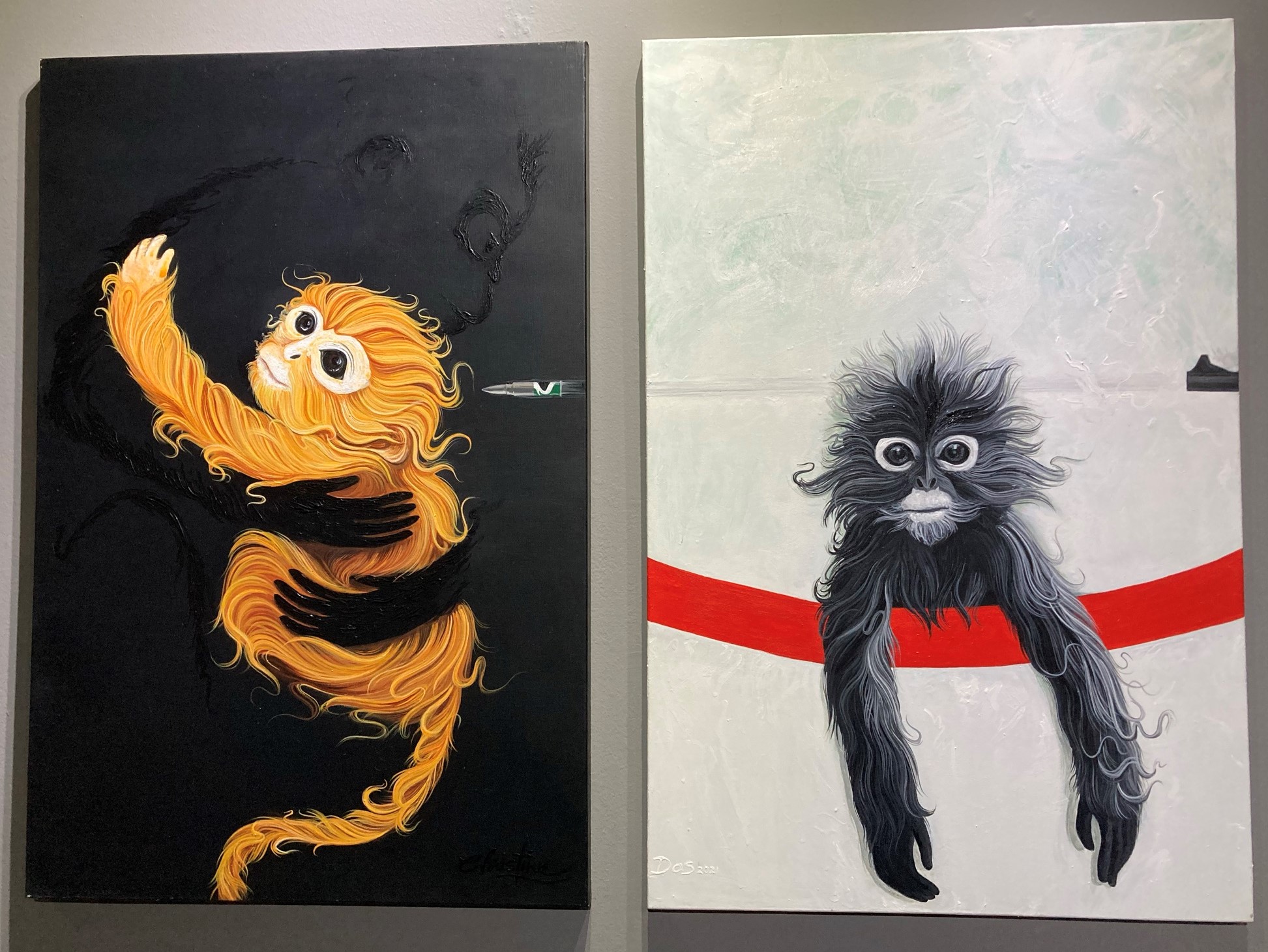 LangUR takes us through the narrative of our dusky leaf monkeys, bridging many worlds through art, storytelling, awareness, and education.
Story and photos by MIRIAM DEVAPRASANA for Lensa Seni
For years I have relished the presence of dusky leaf monkeys in the centre of George Town, Penang, basking in the glory of Eden as the adults feast on our trees while their young terrorise our dogs. Yet wonder became plagued with guilt when my family's first encounter resulted in the unwarranted shooting of an adult langur. For days, mother and child langurs would return, calling out for partner and parent, slain because our laws (or lack of) have failed them. Ours was no isolated incident; too many have fallen victim to the aftermath when both worlds collide.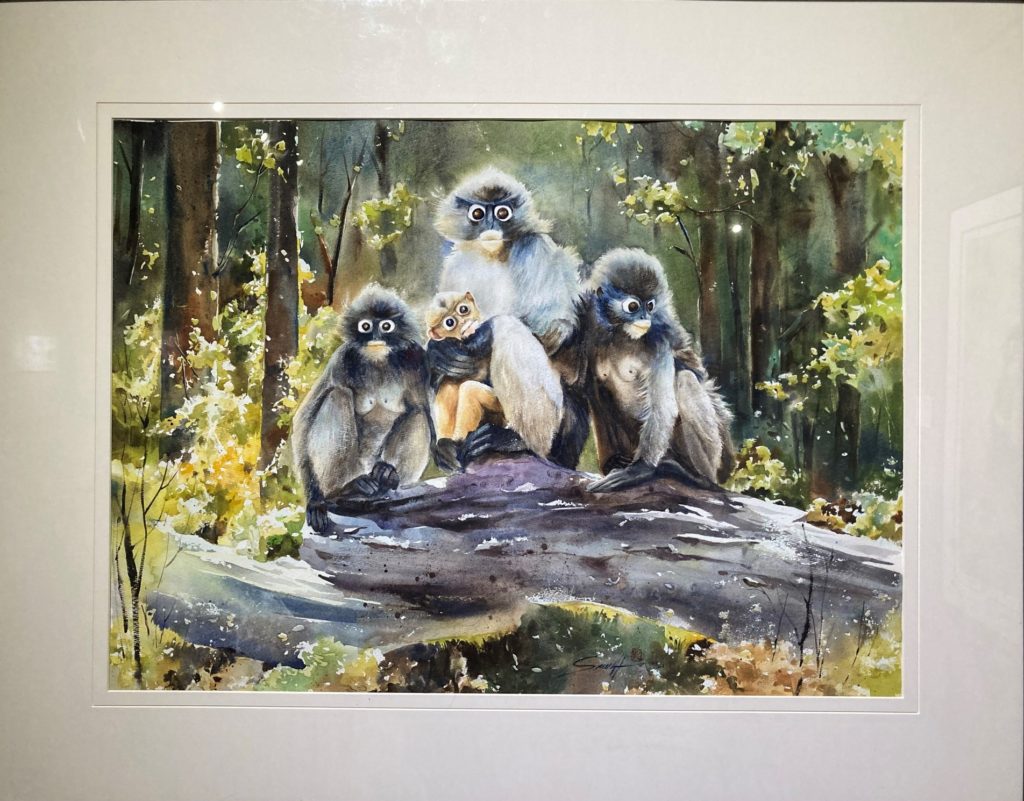 Moved by the plight of the dusky leaf monkeys is the culmination of "LangUR: Building Bridge Between Our Worlds", to raise awareness and education about this endangered species. The exhibition has been a long time coming with the idea planted by local champion for the langurs Jo Leen Yap back in 2017. Four years later, curator Ivan Gabriel brought it to fruition by collaborating with 60 artists to introduce the story of our dusky leaf monkeys through art. The pluralisation of 'world' is significant, bearing the notion of a fine line between wildlife and humans, and our inability neither to co-exist nor to protect the spaces in which they belong.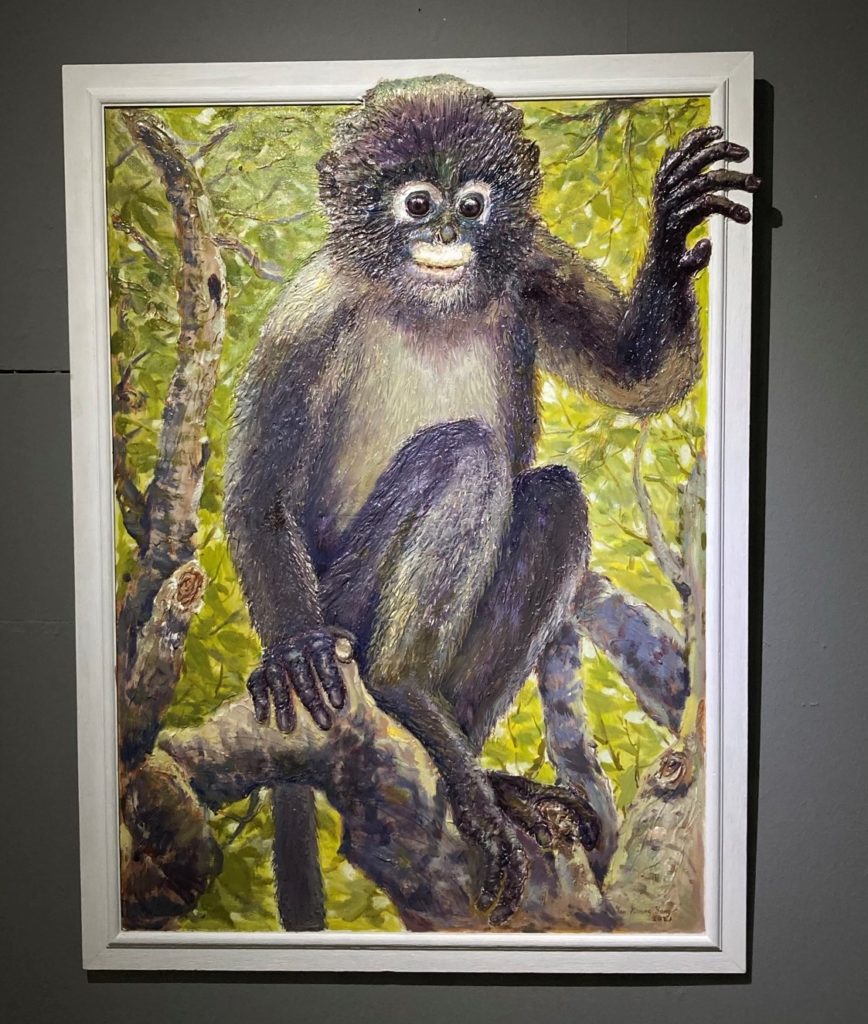 The premise is simple – 60 pieces of artwork emerging from the contrast of dove grey walls enabling the senses to travel between the echoes of the expansive Penang State Art Gallery. Yet at first glance, being greeted by the myriad of colours, textures, and assemblages proves to be overwhelming. Though I gravitated towards the collection displayed at the entrance, I found they are best savoured at the end.
The carefully curated statements and groupings of artwork appears to be an exposition of life to death, better followed from right to left. It begins with representations of langur family-community life, some of which reflect current realities, others the ideal. Several similar mother-infant depictions are portrayed: the protective embrace, intense gaze, curious eyes, and, in particular, the image of infant clinging onto mother signalling a need for protection and security.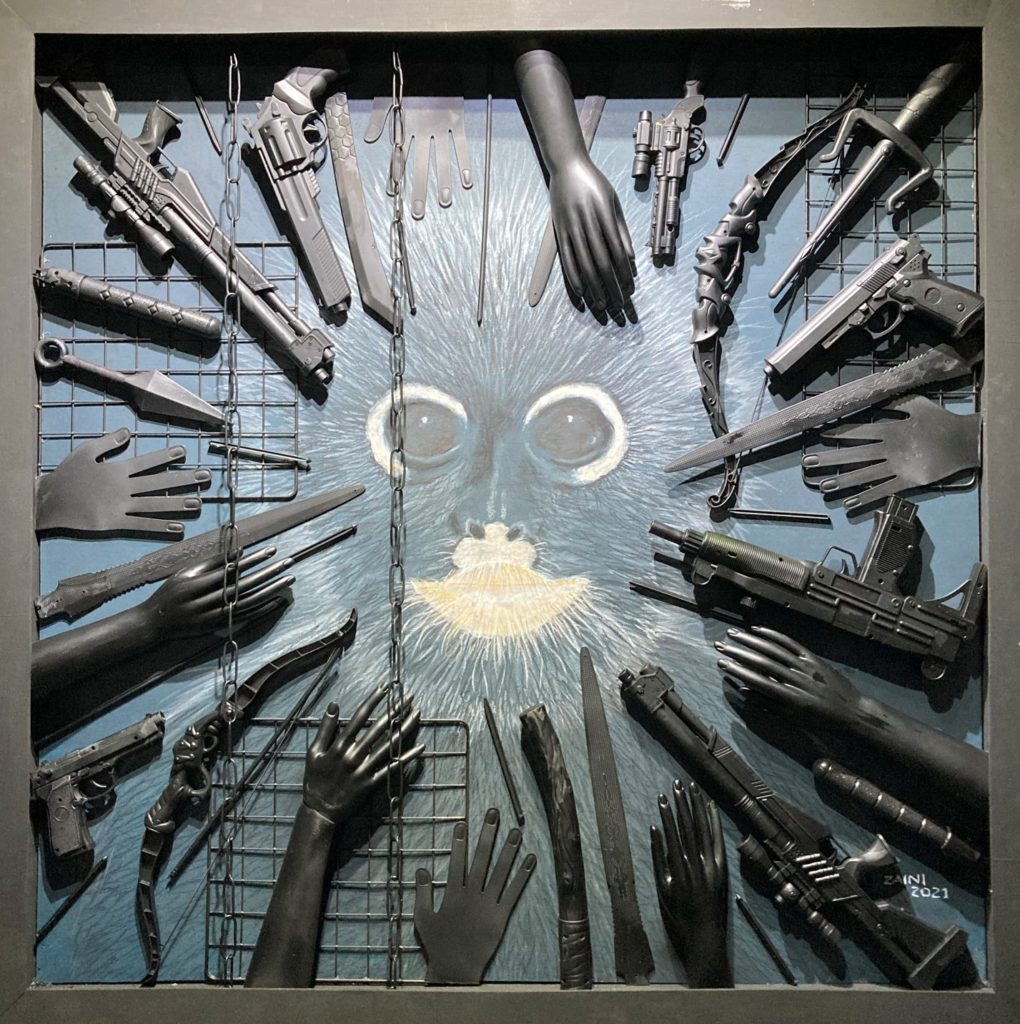 Low Chee Peng's sculptureshines against the backdrop of hues with an unparalleled representation of mother and child. Crafted out of steel, the mother is seen with courage and strength, while her pale orange marble infant symbolises the purity and innocence of life at birth. But the power of "Sayang" radiates through its different perspectives: from a distance she is steadfast, attentive; drawing closer, her parted lips portray a more affectionate side. It is, however, her bare, empty back which captures and amplifies the depth of loss, brokenness, and desolation of her world.
The exhibit continues with portraits and close-ups, where artists draw attention to the langur's gaze, of wide-eyed interest or trepidation. Tan Kuang Yong's oil on canvas titled "Adorable Spectacled Langur" arrests attention with thelangur's position as it emerges from the frame into the spaces of our world. This marks the beginning of what is perhaps the more enthralling and pertinent section of the exhibit.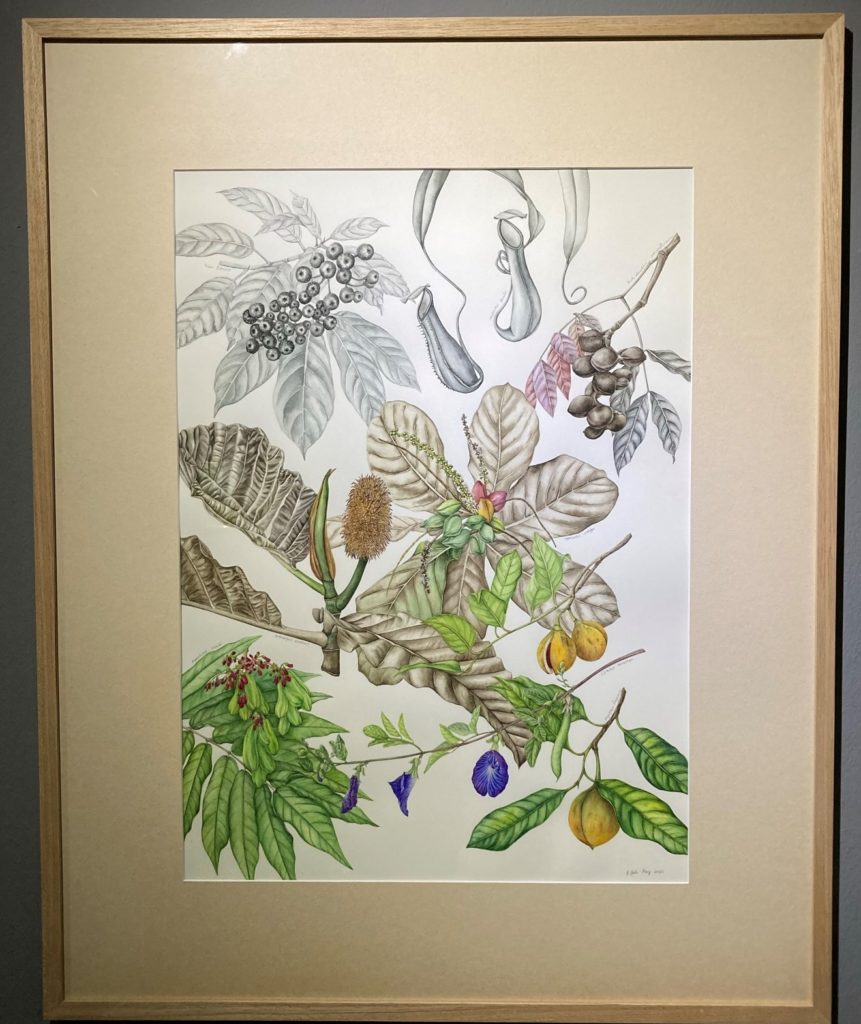 Today, langurs bear a blood-stained identity as a consequence of our greed and selfishness, and the artists featured in this section have certainly been intentional and sensitive towards providing a critique of increased human-primate interaction and carelessly enforced laws.
Zaini Zainul's "Back Off" is a thought-provoking assemblage of human hands, weapons, cages, and chains directed towards a dusky leaf monkey. Whilst the stoicism of the portrait is slightly implausible, the mixed media blends in the cold intrusion of space, stifling movement and freedom to escape.
Christine Das' acrylic diptych reveals the killing of adult langurs and its repercussions on the young, with the canvas in black featuring the striking orange-golden hues of an infant clinging onto the barely visible outline of its mother, and the approaching bullet released from the canvas on the right. "Betrayal" leaves no room for respite as the infant, now mature, dangles in a sea of lost innocence.
What stands out from the grief is Sharon SS Kow's imploration to "Look Deep Into Nature" with an exceptional coloured pencil piece of a young langur at peace in its surroundings. In a world of conflict and fear, the serene and softened mix of green, yellow, and white is a reminder of growing life amidst the chaos – a life that deserves to be fought for.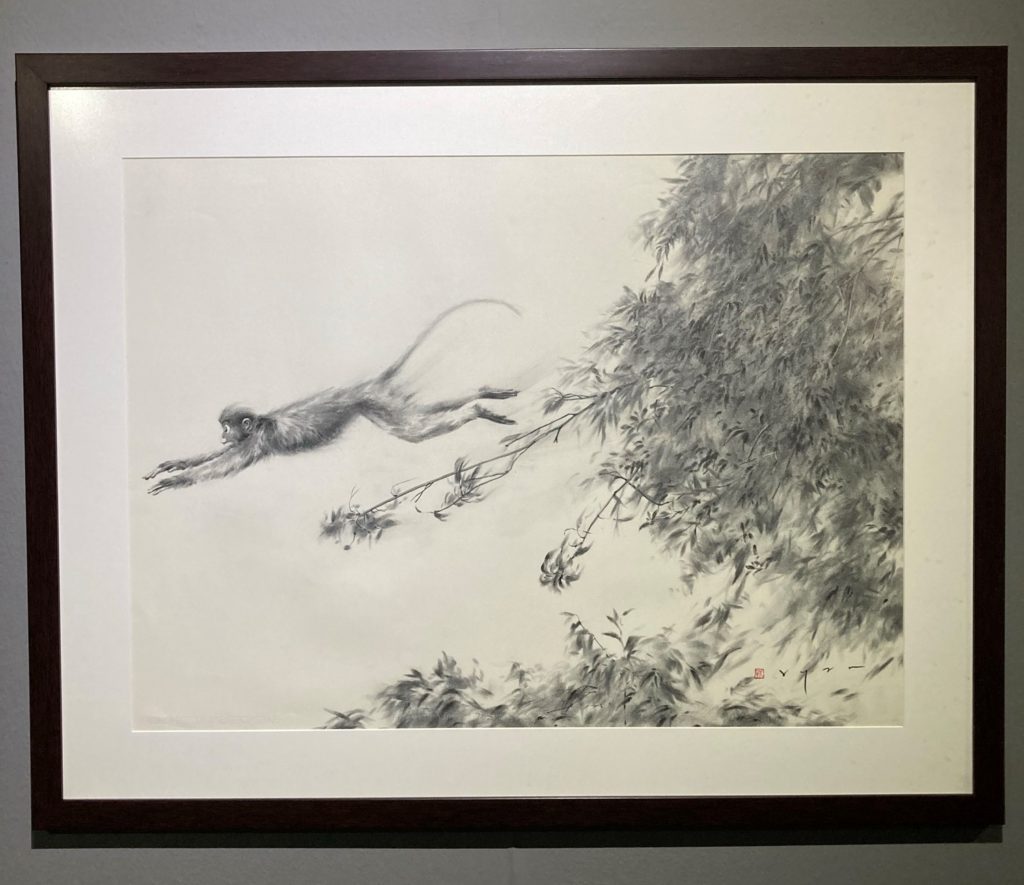 The narrative extends with a collection of black and white pieces memorialising lost langurs. The atmosphere is bleak as they articulate a sense of misplaced hope and longing. Ryan Ng's graphite drawing titled "Escaping Capture", for example, shows the outstretched langur taking flight from an unknown danger, yet between the scarce foliage and the confines of the frame, there is no telling whether the primate attains freedom.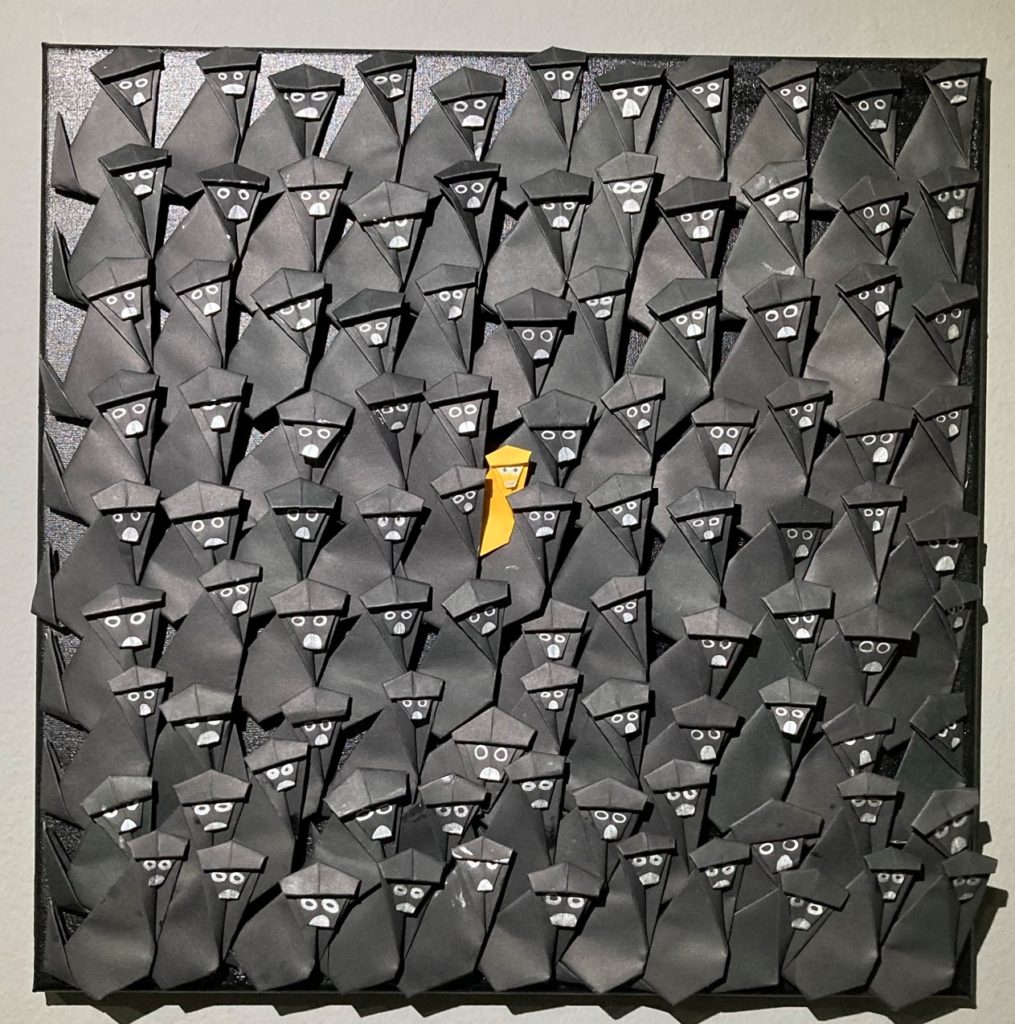 Deforestation and rapid development have also resulted in the loss of food sources, hence the increased presence of langurs in our concrete jungles. Esther Geh's watercolour illustrates various plant species that are gradually disappearing from their natural habitats, seen as colour fades to monochrome. Plant enthusiasts would easily recognise some of these in their own gardens, as well as those available for hefty prices at garden centres. But the beauty of "Adaptation" lies in Geh's sensitivity to space, where the gaps between flora is symbolic of the growing void between our worlds, as well as its impact on wildlife and rural communities, both of which share the same food sources.
Whilst the narrative seems to come to an end, the exhibit continues with a varied display of langur-inspired artwork on porcelain plates, ceramics, wood, origami, and fabric amongst others. These are featured in no particular thematic order, which allows more time and space to fully experience the vast stylistic and medium representations.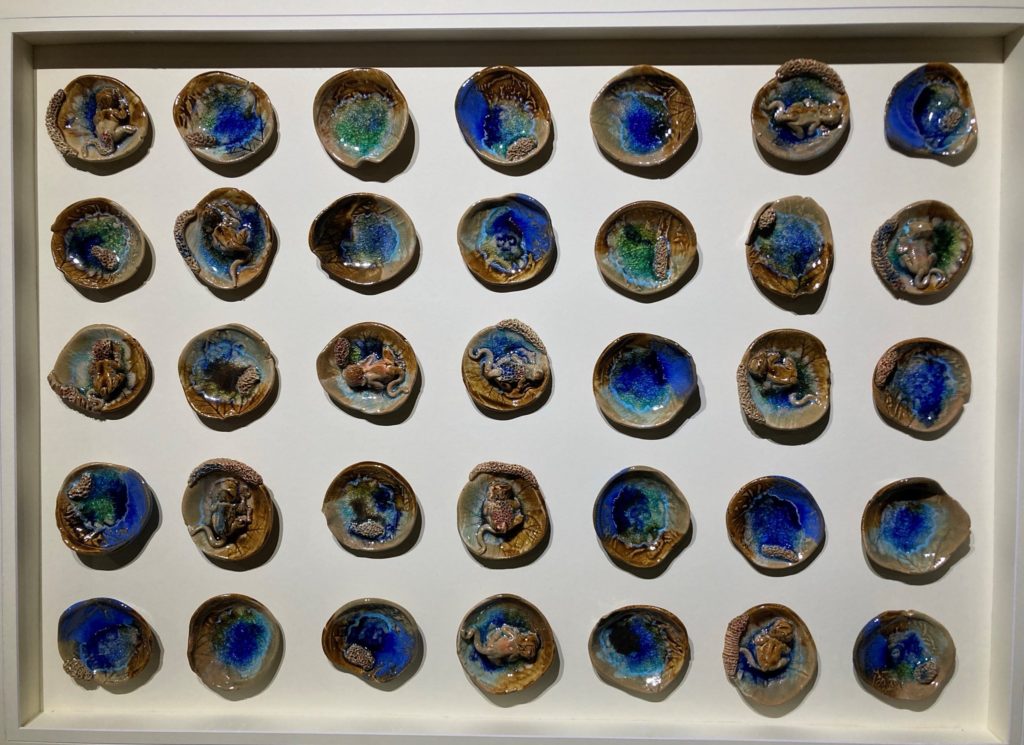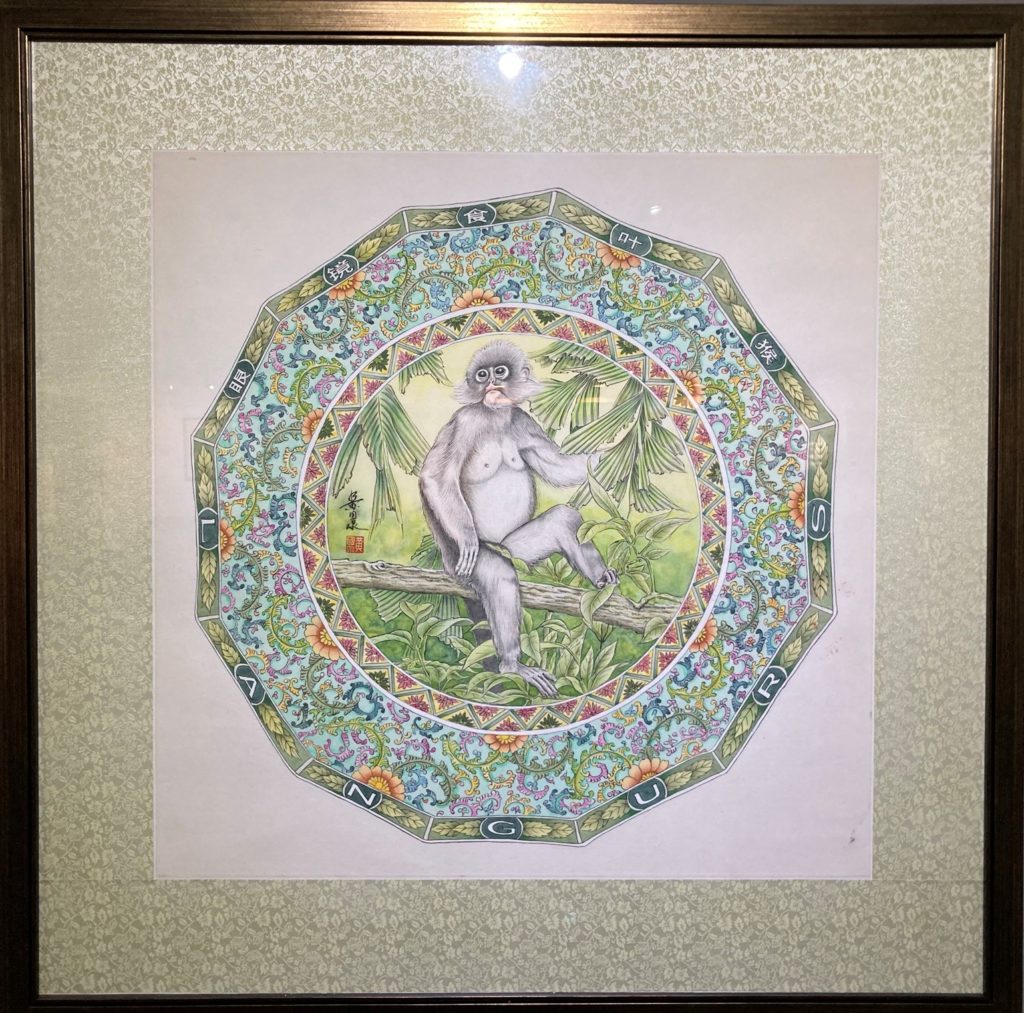 Stepping into the world of "LangUR" was an evocative experience (and certainly worth the three flights of stairs!) What really grips me are the repeated representations of mother and child langur in the different spaces of the artworks, building a perspective of new life coming into a world of tragedy, conflict, separation, and loss. It leaves an indelible impression and facilitates the much-needed discourse surrounding their place in our world today. It would also have been inspiring to delve into a reimagined coexistence to give a sense of hope and knowledge of what this world could be, which art certainly has the power to extend. Perhaps an idea for "LangUR 2.0"?
On the whole, LangUR features a multitude of elements, artistry, and interpretations to educate and raise awareness towards the plight of our dusky leaf monkeys. It is bold, subtle, and moving, persuading us that we are not the only beings on this planet, and to form deeper connections with nature, and each other, constructing multiple bridges between awareness, education, art, and storytelling to build a better world for all.
LangUR was on at the Penang State Museum and Art Gallery in December 2021. For more information, visit its Facebook Page, or check out the virtual exhibition here.
Miriam Devaprasana is a participant in the CENDANA ARTS WRITING MASTERCLASS & MENTORSHIP PROGRAMME 2021