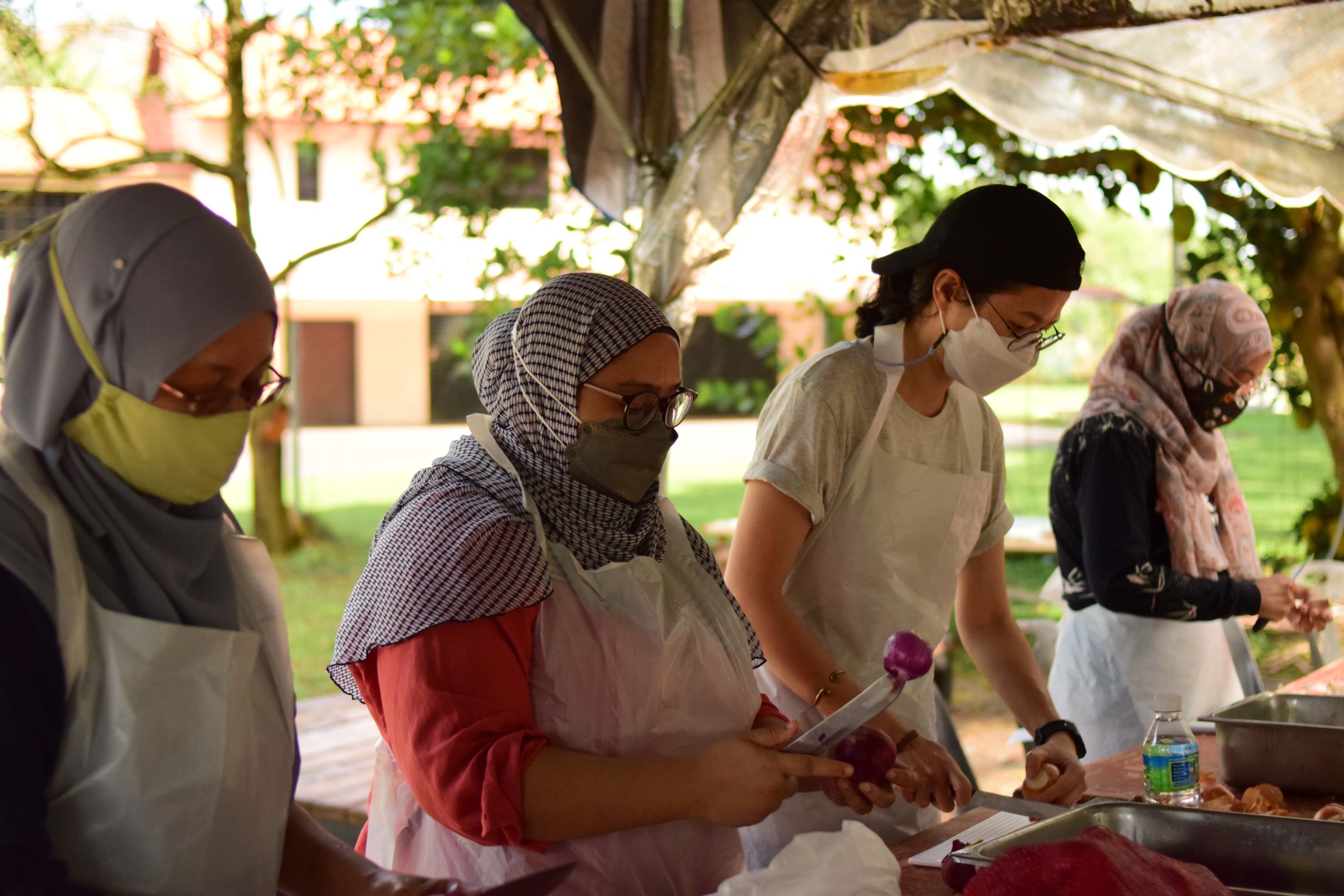 Food has always been an important aspect of culture. It is an expression of cultural identity and history; having the power to bring people together.
By ELIZABETH LOW for Lensa Seni | Photos by P.O.R.T Ipoh and ELIZABETH LOW
The Langkasuka Cookbook Project is an artist-led research project conducted by the late contemporary art legend, Roslisham Ismail, also known as Ise. A documentation and exploration of rare and unique dishes, this project essentially preserves the culinary history of what was once the Langkasuka Kingdom, Northern Peninsular Malaysia and Southern Thailand.
Ise had started his research long before it was commissioned for The 7th Asia Pacific Triennial of Contemporary Art (APT7) held in Queensland Art Gallery, 2012. He first began by documenting his grandmother's recipes and learning them. Native to Kota Bharu, Kelantan, he relocated back home to study and understand the history of food, and its social, political and economic structure of his hometown. The project eventually took him to Pattani in South Thailand, where he interviewed other families, thus expanding the geographical range of his research.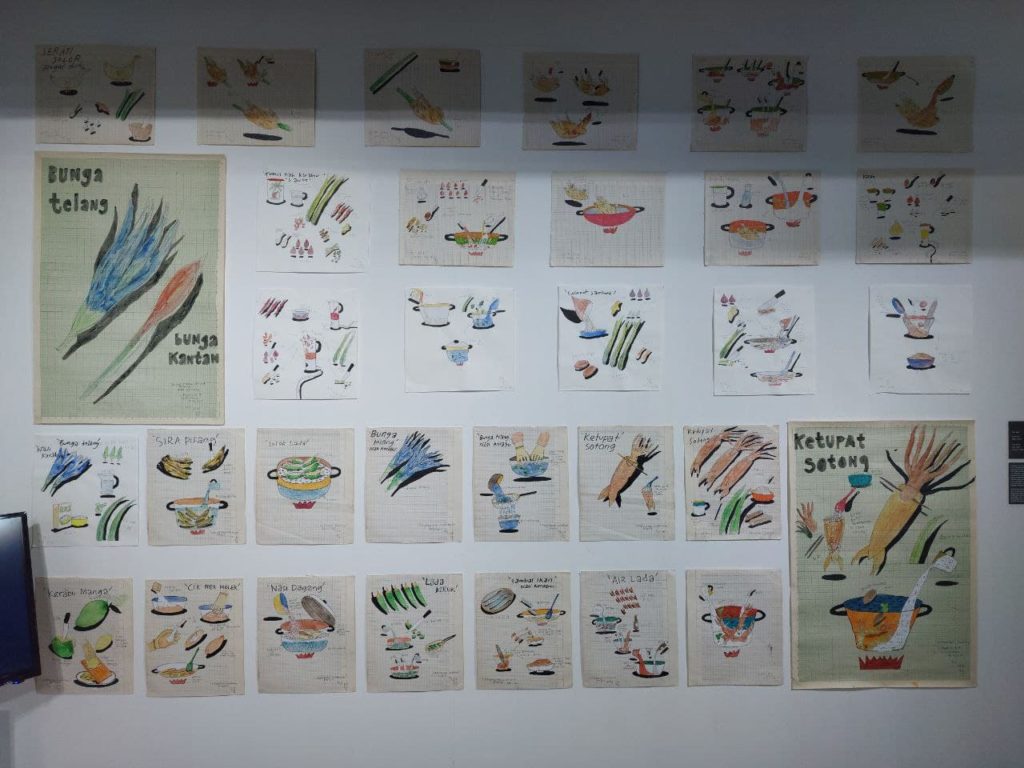 In conjunction with the Ipoh International Art Festival (IIAF) 2021 which took place at P.O.R.T (People of Remarkable Talent) Ipoh from Dec 10 to 26, The Langkasuka Cookbook Project was brought to the public, courtesy of Parking Project – a group of Ise's "super friends" as he used to call them. From installing the work to organising the cooking workshop, Parking Project continues to keep Ise's work alive.
True to much of Ise's artistic practice, this project was not your stereotypical "artwork". To experience the work as a whole involved multiple elements and layers that made up the bigger picture; it was a culmination of research, drawings, paintings, installations and performances.
A selection of Ise's drawings and paintings documenting the recipes were displayed alongside three large, hand-drawn maps of Ise's favourite Kelantanese food spots in Kuala Lumpur at P.O.R.T's Black House gallery. This was accompanied by a performance that took place exclusively on the first day of the festival, on Dec 10.
Consisting of a cooking workshop of selected dishes, the Langkasuka feast prepared was presented as a welcome dinner for artists, VIPs, workshop participants and other invited guests.
A Socially Engaging Practice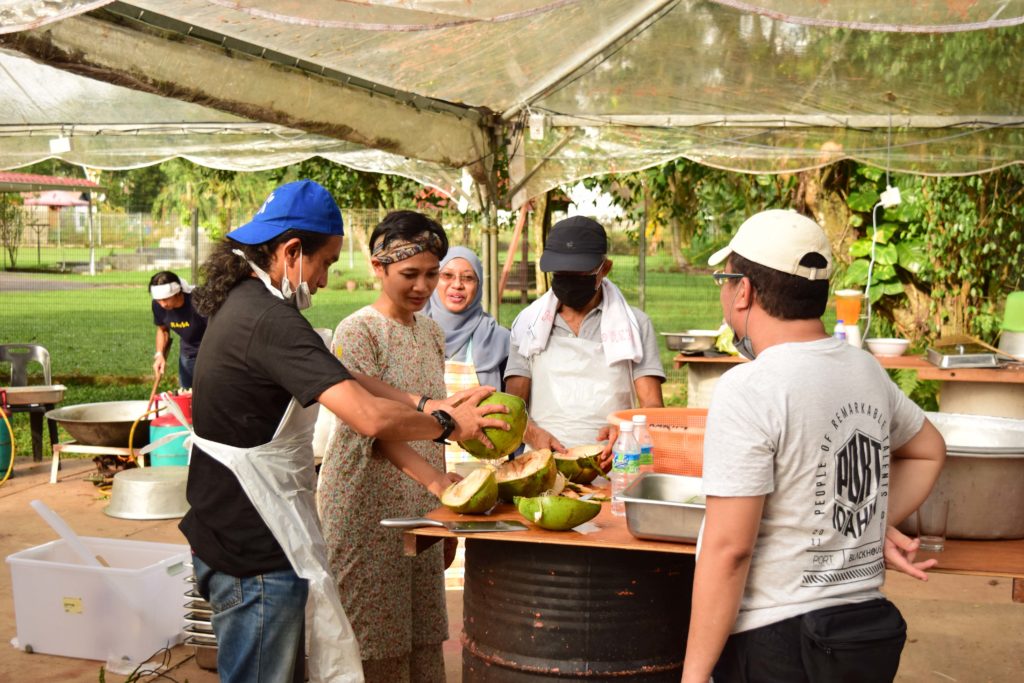 Led by architect and artist Azzaha Ibrahim and assisted by other members of the Parking Project team, the cooking workshop was open to the general public. By inviting members of the public to join the workshop in itself broke down barriers between art and the spectators. It was an opportunity for social interaction and emotional connection to be formed within the space of "art-making".
With 15 participants, an alliance was formed among a mix of strangers, acquaintances and friends to collaborate in the preparation of this feast.
The workshop kicked off with a briefing of the history and background of the project and was followed with mise en place (the preparing of ingredients). Participants were assigned to different stations, peeling garlic and chopping onions then washing and preparing fish, eel, and beef.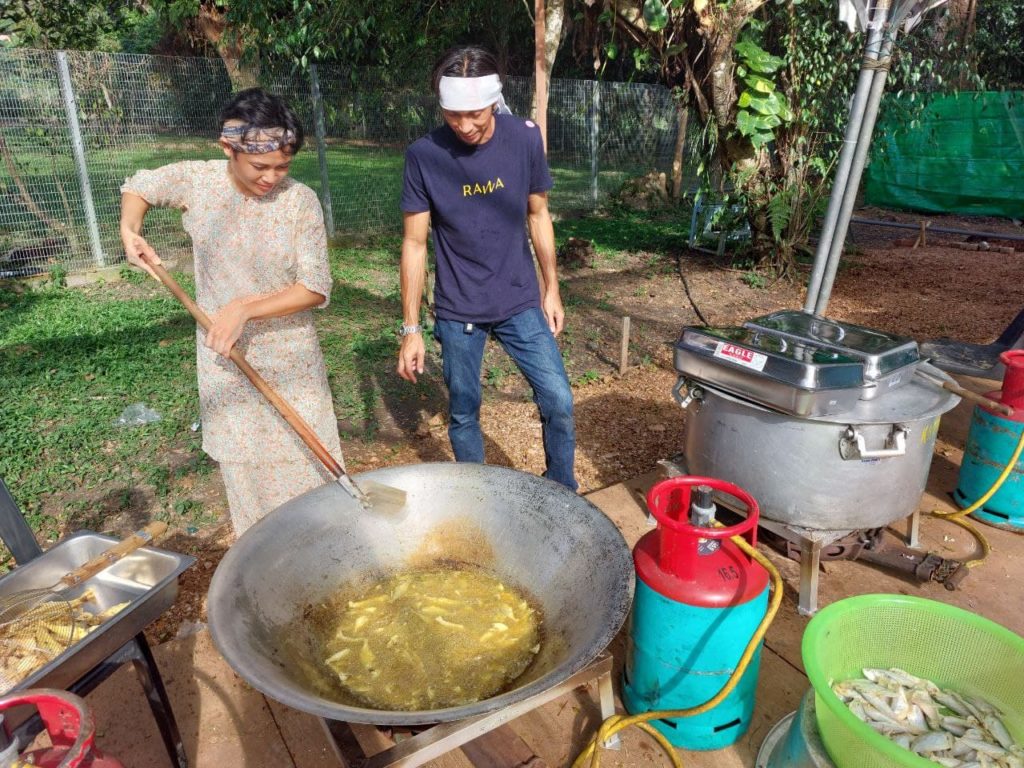 The menu was limited to dishes regularly consumed by the common people during the Langkasuka era. They were singgang tulang, gulai kadol ikan keli, belut goreng lada, sayur terong goreng bilis, ikan kering, budu nyior muda, ulam-ulam and ayam bakar.
The dish Singgang Tulang consists of a broth boiled from beef bones and its tender meat. Complemented with daun kesum  or Vietnamese coriander for flavour, the Gulai Kadol Ikan Keli is a version of Ikan Masak Lemak or fish cooked in coconut milk. The Belut Goreng Lada consisted of fried eel with onions, chilli padi and turmeric, while the Sayur Terong Ikan Bilis is a dish made of eggplant cooked together with blended ikan bilis and red onions.
Washed and prepared with the greatest of care was the ulam-ulam – an assortment of fresh herbs and vegetables to balance out the rich and hearty meal. The selection of fresh vegetables included lemongrass, petai  (broadbean), ulam raja (cosmos), wing bean leaf and cashew nut leaves.
As pots were stirred and delicious aromas wafted through the air, relationships were built and stories were exchanged.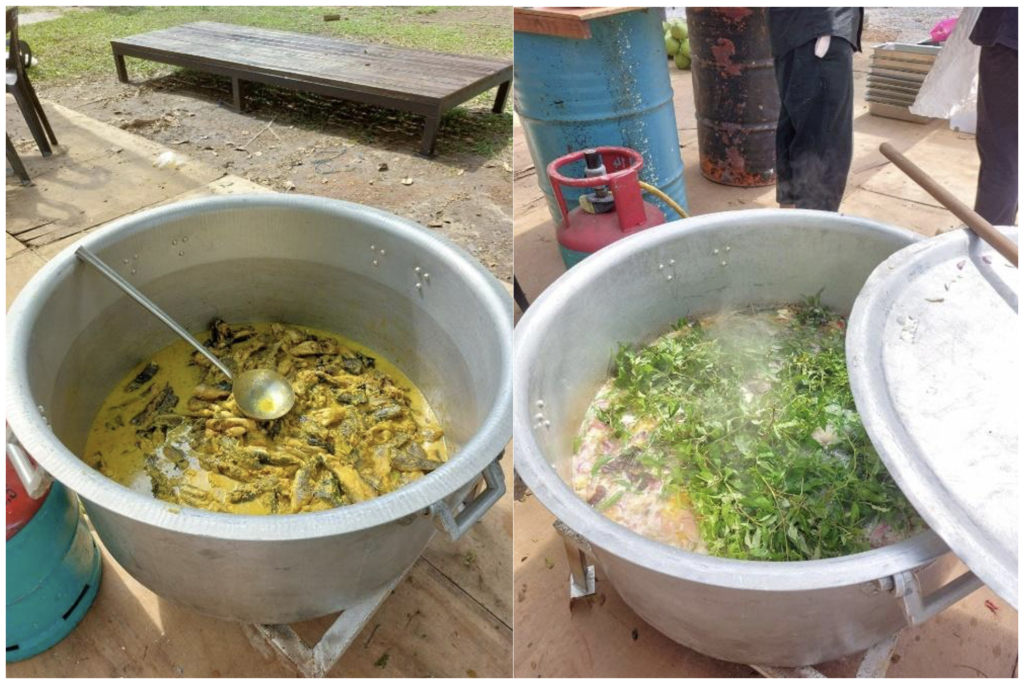 Curating a Gastronomical Experience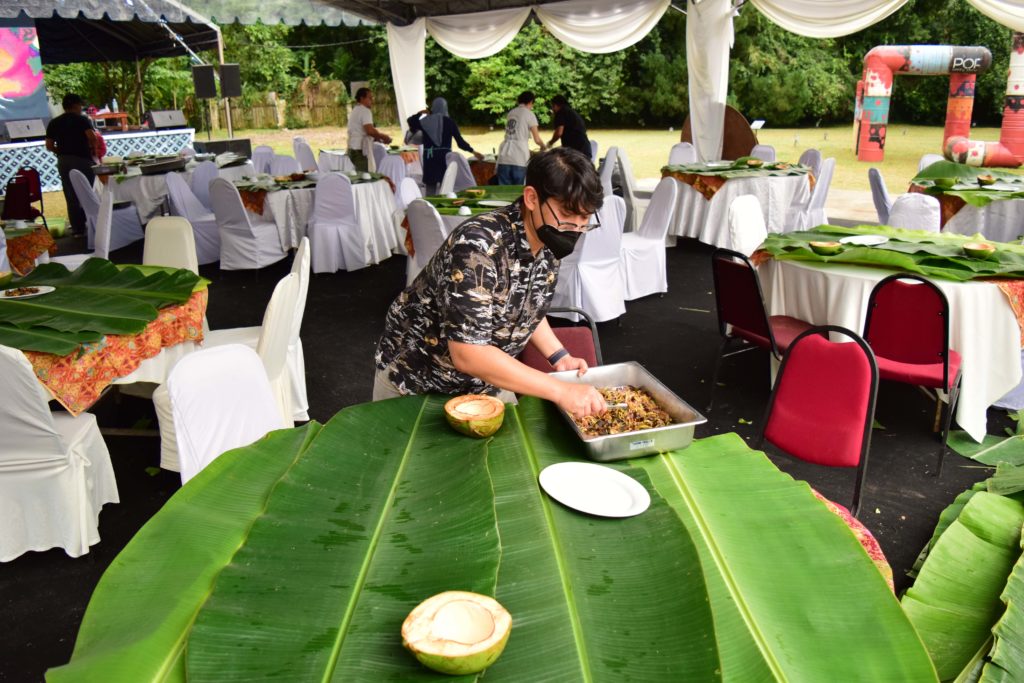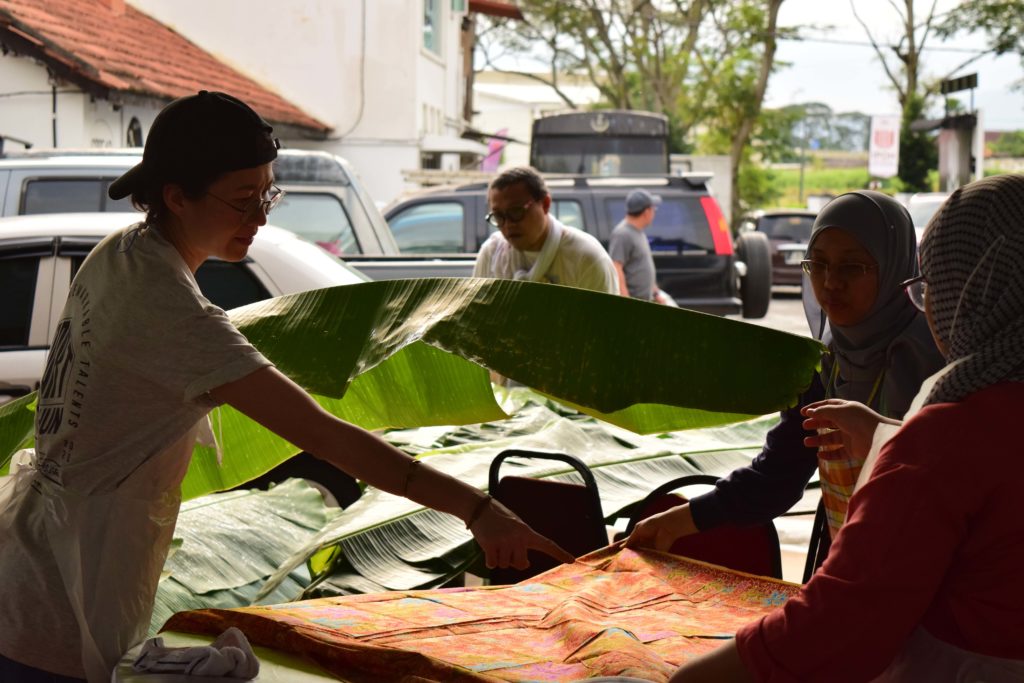 The place setting for the meal was considered art as much as the gallery exhibits and culinary experience. Marching from the outdoor kitchens to the tent where dinner was to be served, the participants carried coconut halves and trays of fresh vegetables.
Tables were lined with white sheets, batik printed fabric and large banana leaves.
After wiping down the banana leaves, the first thing to greet the table was the Budu Nyior Nuda, a salad dressing to complement the ulam-ulam. Placing two halves of coconuts on each table, chopped cili padi or bird's eye chilies were then sprinkled into the husk. Then, bottled fermented anchovy sauce was poured in, and a stick of lemongrass was placed in each husk. Placed on opposite ends of each spread, the fresh vegetables were then arranged around the coconut halves.
As storm clouds rolled in, each dish found its place on the carefully and strategically arranged spread. Several Tapai Pulut, a Malaysian delicacy that consists of fermented rice wrapped up in rubber tree leaves, were set by the fresh vegetables for dessert. Rice domes were placed around the table with small soup bowls and spoons to indicate the designated seating for guests.
Eating Together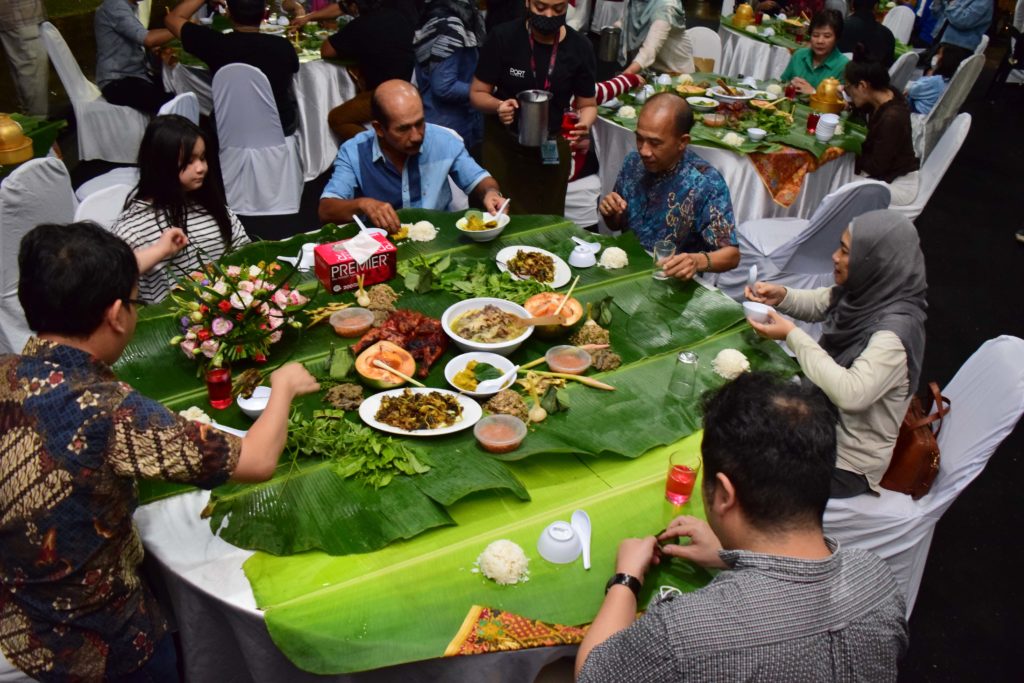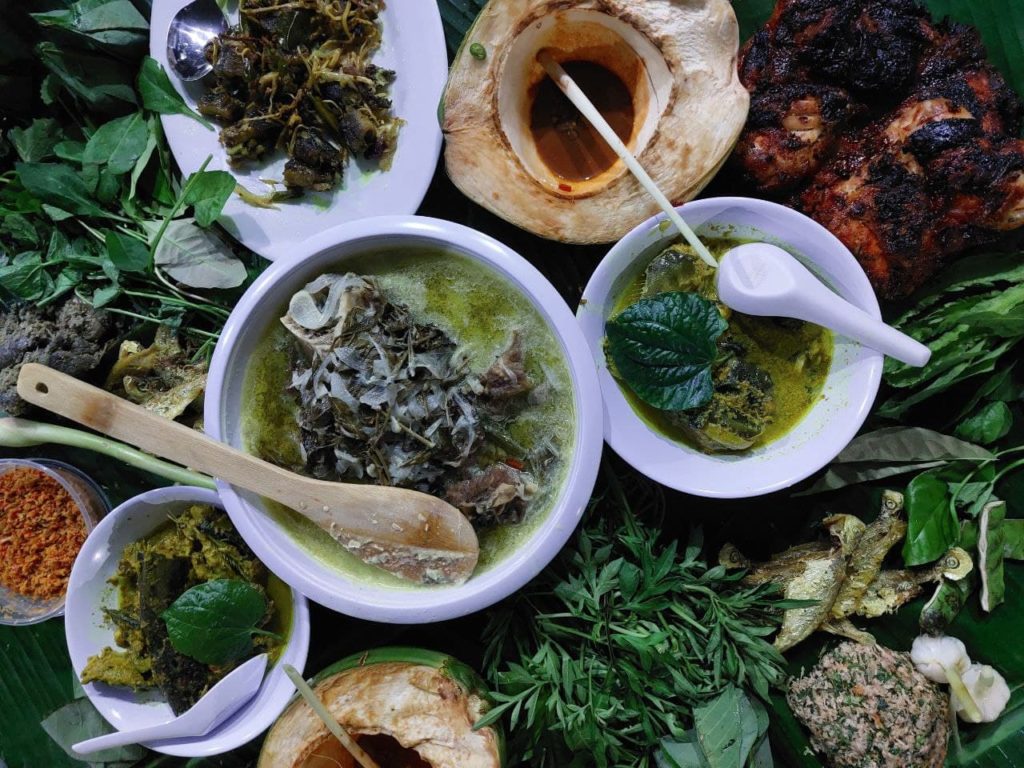 The chatter of old friends catching up over dinner could be heard over the performance of a six-piece traditional Kelantanese band. And if you had looked closely amidst the dizzying excitement of the night, one might have noticed the little details that made it all the more special.
The banana leaves that stretched across the table functioned as a single large plate to be shared. It was intimate in the sense that it emphasised how the table was a shared space, and the dinner, a shared experience.
The exchange between the guests as they reached across the table to try different dishes, or to dish out food for one another, established a sense of community and harmony. There were displays of kindness, consideration and appreciation for the food, the culture and the people present.
Ise's love for food had led him to employ the act of preparing, cooking and consuming food as a socially engaging creative practice. Inviting the audience to be a part of the process of his art-making he facilitated room for storytelling, conversations and connections. Though he is no longer with us, the heart of his art lives on.
Elizabeth Low is a participant in the CENDANA ARTS WRITING MASTERCLASS & MENTORSHIP PROGRAMME 2021
The views and opinions expressed in this article are strictly the author's own and do not reflect those of CENDANA. CENDANA reserves the right to be excluded from any liabilities, losses, damages, defaults, and/or intellectual property infringements caused by the views and opinions expressed by the author in this article at all times, during or after publication, whether on this website or any other platforms hosted by CENDANA or if said opinions/views are republished on third-party platforms.