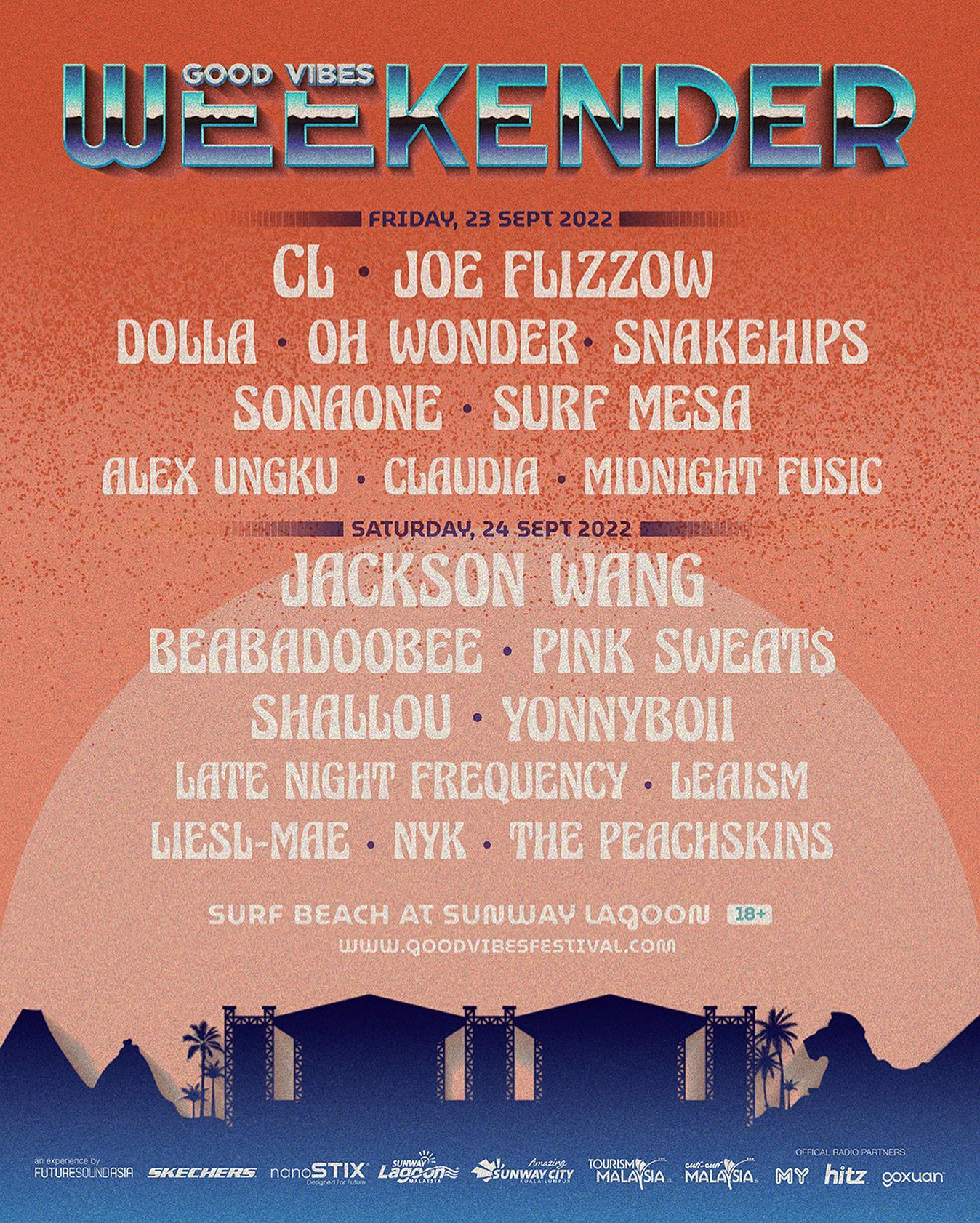 Shake and swirl at the Surf Beach at Sunway Lagoon this weekend, with headliners 2NE1's CL, Beabadobee, Jackson Wang, Joe Flizzow, Midnight Fusic, DOLLA and Pink Sweat$!
By NABILA AZLAN
Since word got out in August that the Good Vibes Festival is back for a bang at the end of the year, people flocked over to the site to get a hold of tickets!
Surely, fest-goers can wait to return to Good Vibes for a great time – especially after having the 2020 edition cancelled due to COVID-19 surge. Featuring a mix of internationally-acclaimed performers and awesome local acts, this time the team over at Future Sound Asia (the organiser) is introducing a new brand called Good Vibes Weekender. The Weekender edition, instead of pooling people over to Genting Highlands, lines everything up in the city – this time at Sunway Lagoon's Surf Beach.
Says Wan Alman Ariffin, Head of Entertainment at Future Sound Asia, "We've always wanted to create a festival for music lovers to share the good times here in the city and with the restart of live events, we finally have a chance to do so! Good Vibes has always been ahead of the curve for music trends, and with more Asian acts making waves with a bigger audience, we would also like the inaugural Good Vibes Weekender to reflect that."
Good Vibes Weekender will rock the Surf Beach this Sept 23 and 24!
Judging from the line-up, fest-goers will most likely sway to a feast of sultry bedroom pop, homegrown electronica and punk pop, synth-pop, alternative rock, as well as contemporary hip hop and K-Pop! Together with beloved local names like Joe Flizzow, SonaOne, Midnight Fusic, NYK and Alex Ungku to cite a few, international acts like Jackson Wang, 2NE1's CL, Pink Sweat$, Oh Wonder and beabadobee will be serving up hits.
If you're wondering about what to expect from the performances, well, we asked some rapid-fire questions to some of the headliners and here is what they say:
One word to sum up your prep, energy and feelings for Weekender:
The Peachskins: Euphoric!
Alex Ungku: Exhilarating.
Yonnyboii: Baek!
liesl-mae: Surreal.
What it feels to be a part of this fest:
NYK: It's been half a decade since the last time I was on the Good Vibes stage, as a very different person. Suppose it feels like a milestone or a point of reflection for my career. It feels good.
DOLLA: It's been a dream of ours since our debut in 2020 to perform at a big festival in Malaysia and Good Vibes was the target. It's a huge personal achievement for us and we can't wait. As a group, it's an honour for us and something we can tick off our bucket list!
In anticipation of Good Vibes Weekender, we even created a playlist for the occasion so you too can vibe with us before the show:
It's going to be eclectic like always. If you're going as well, see you there!
This isn't the end of Good Vibes Festival's offerings this year. To know more about its upcoming acts in October and November 2022, go to its Instagram page or official website.