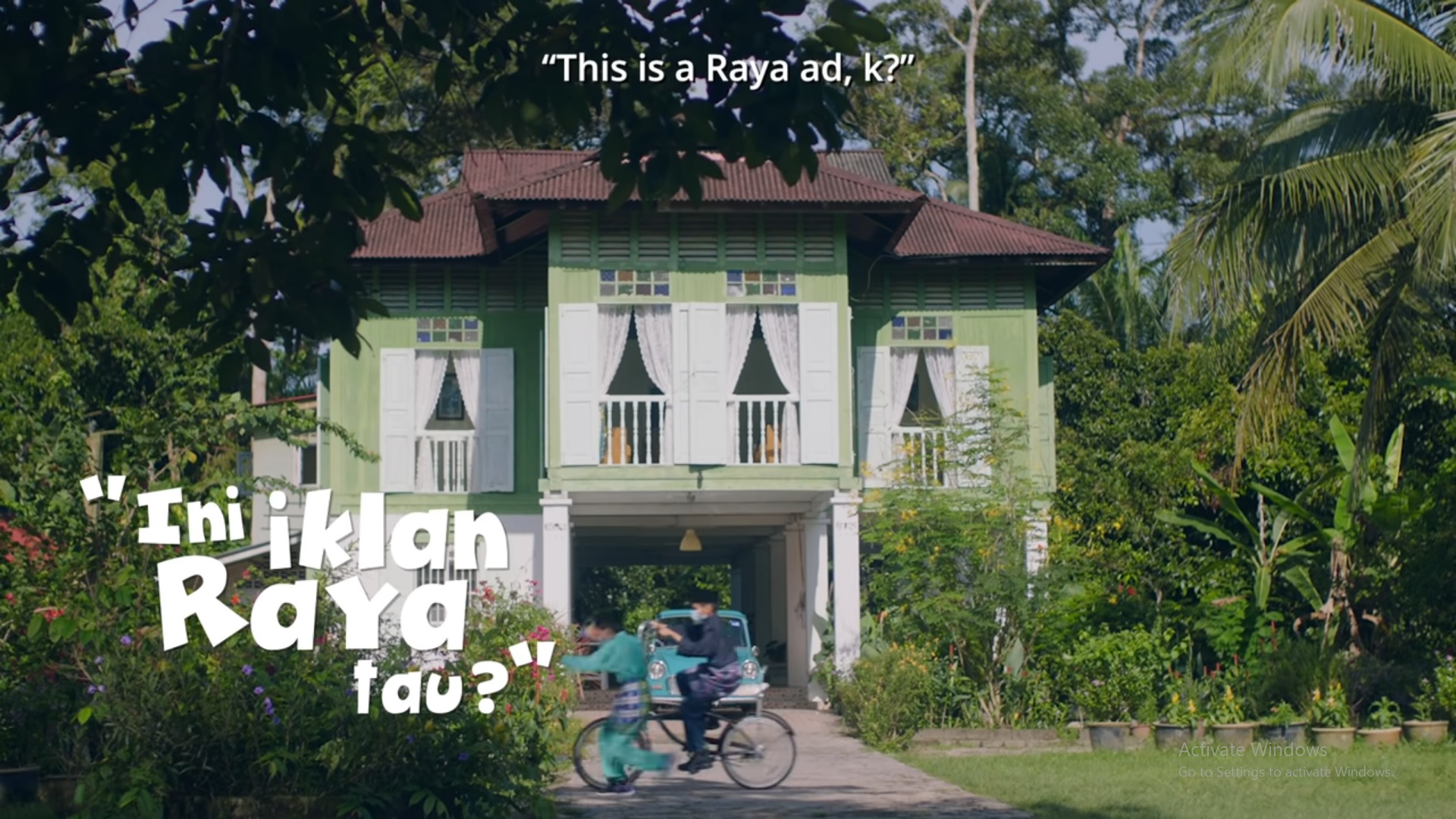 May these Raya commercials take you on the same roller coaster of emotions they took us.
Compiled by CHIN JIAN WEI
One of the best things about the Raya season in Malaysia is the abundance of heartwarming, funny and memorable advertisements. You can tell that many ad agencies pull out all the stops to craft commercials that pull at their viewers' heartstrings or lodge themselves in their minds. We at BASKL already have our favourites picked out, but because we tried to limit our selections to one per person, that meant we had to leave out some interesting ones, such as this one by Darlie that celebrates our solidarity as Malaysians, or this optimistic advertisement by Proton that encourages us to look towards the future with hope.
Now, on to the list, hope you enjoy them as much as we did!
Joget Abah by KFC
Ann Marie Chandy: It's all about traditions that bind a family together. This 2017 KFC is a real tear-jerker, but so effectively carries the message that during festivities, memories of loved ones lost remain strong. And traditions – be they gifts, songs, dance or food – bind everyone together with love and laughter! Selamat Hari Raya all!
Ikan Dilaut, Asam Didarat by Petronas
Wan Nor Alia: Menariknya tentang iklan Deepa Raya TV3 ini, ia merupakan gabungan iklan perayaan Hari Raya dan Deepavali. Banyak pengajaran dan penerapan emosi yang telah di curah ke dalam hasil karya ini membuatkan iklan ini antara iklan kegemaran penulis. Iklan tahun 2005 ini membawa unsur persahabatan antara Raju dan Suparjo, dua sahabat yang berkawan akrab sejak kecil, walaupun berasal daripada latar belakang kaum dan agama yang berbeza.
Tidak dilupakan, gabungan nyanyian semula lagu Ikan Di Laut, Asam Di Darat (nyanyian asal oleh A. Talib dan Norlela Nasir) sememangnya memberi impak yang cukup mendalam dalam penghayatan kisah ini. Itulah hebatnya karya Yasmin Ahmad, sehingga memberi kesan terhadap penonton.
Pengacau Raya by BSN
Nabila Azlan: This (by the agency Fisherman Integrated for BSN) has it all – cheesy love, family ties and unity in one fluffy short story! It went viral in 2015, so much that it got a sequel the next year and a Chinese New Year ad too. Still brings a smile whenever it resurfaces. Happy Raya!
Sadaqah by Taylor's University
Chin Jian Wei: Taylor's has managed to craft a short film that is both original and sincere this year. This advertisement illustrates the transformative effect kindness can have on the people around us and shows us that life-changing opportunities may not always be apparent at first glance. As the saying goes, teach a man how to fish, and you feed him for a lifetime. Selamat Hari Raya, and let's remember to always be good to our fellow human beings!
Iklan Raya Janda 7 Anak Dan Lembu Raya by Petronas
Danial Fuad: Iklan arahan Allahyarham Yasmin Ahmad daripada tahun 2003 ini masih segar di ingatan walaupun sudah 17 tahun berlalu. Kasih sayang anak-anak terhadap ibunya ditunjuk dengan baik kerana biarpun mereka terlupa membeli daging, hati dan limpa mereka berusaha sedaya upaya untuk mendapatkan apa yang dipinta ibunya.
Suasana kelam-kabut sehari sebelum raya seperti persiapan masak dan suasana di pasar itu digambarkan dengan baik sekali membuatkan iklan ini malar segar (evergreen) kerana ramai yang melalui perkara yang sama. Malahan perihal adik bongsu yang selalu ditinggalkan itu juga merupakan kebiasaan dalam kehidupan beradik-beradik.
Selamat Hari Raya!
Ini Iklan Raya, tau? by Julie's Biscuits
Azuwan Ahmad: Iklan raya Julie's yang diterbitkan pada tahun lepas (2021) ini diarahkan oleh anak saudara kepada pengarah tersohor tanah air, Allahyarham Mamat Khalid iaitu Junad M. Noor. Iklan raya jenama biskut terkenal ini lain daripada yang lain kerana tidak keterlaluan kalau dikatakan ia mengkritik iklan raya setiap tahun yang agak klise. Adegan tangisan seorang ibu di pagi raya sehingga lah kritikan halus dalam adegan "mak cik bawang" yang sentiasa menjaga tepi kain orang dengan pertanyaan peribadi. 
Lebih daripada itu, ia sebenarnya iklan yang mengangkat nilai wanita sebagai tonggak utama di hari-hari perayaan seperti Hari Raya. Lakonan mantap daripada pelakon berbakat seperti Amirul Affendi, Fauziah Nawi dan Sharifah Shahiera membuatkan iklan ni nampak lebih hidup dan tidak terlihat terlalu menonjol jenama produk biskut yang ingin diiklankan. Konsep lakonan dalam lakonan ini sememangnya membuatkan iklan raya ini sebagai sebuah iklan yang wajar mendapat pujian di tahun 2021. 
Raya Tak Lengkap by Jalen
Shafique Danial: Kadang kala, kita perlukan kehilangan kecil untuk mengingatkan kita tentang kasih sayang yang lebih besar. Itulah erti sebuah kesyukuran. Lebih banyak kita bersyukur maka lebih bermaknalah raya kita. Selamat Hari Raya Aidilfitri, Maaf Zahir & Batin.