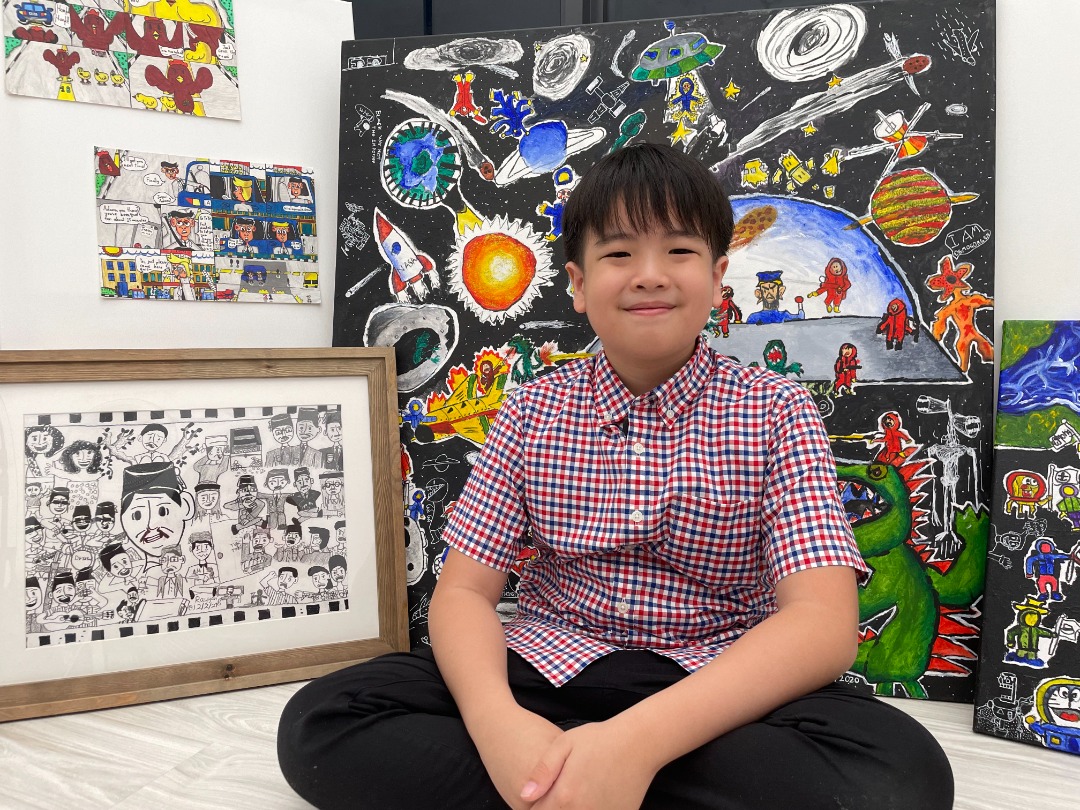 Meet Seni Rayyan, a little artist with a big imagination!
By MARIA MURUGIAH
If you've been paying attention to the latest happenings in the Malaysian visual art scene, you may have heard of our next BASKL Seni Cilik guest: a young artist who went viral on social media this year for his captivating artwork tribute to the late, great Tan Sri P. Ramlee.
Only nine years old, Rayyan Irfan Chai, also known as Seni Rayyan, is slowly and steadily making his presence felt – supported ably by his mother and fellow artist, Noor Sarah Reza, who goes by the professional moniker Seni Sara. It was Sarah who was responsible for the Twitter post depicting Rayyan's P. Ramlee masterpiece which garnered thousands of likes and retweets followed by tons of encouraging comments from Malaysian netizens.
Rayyan, who goes to Sekolah Tinta in Shah Alam, first discovered art as a way to express his imagination, emotions and interests at the tender age of four, drawing cartoons of whatever that piqued his curiosity. Over time, Rayyan developed a wild and whimsical world of his own which today includes quirky characters, mythical creatures, aliens and spaceships!
Previously driven by his own imagination, Rayyan has since attended several art classes with his mother and is now studying under the tutelage of architectural artist Khalid Mohd Sapari, who runs the Artists' Corner in Amcorp Mall, a store in Petaling Jaya that showcases and sells artwork by various Malaysian artists including Rayyan and Sarah.
Currently, Rayyan is working on a comic series entitled Life in KL, taking inspiration from "his life experiences through his own observations" as a kid born and raised in Kuala Lumpur.
In this episode of Seni Cilik, Mari Melukis Bersama Rayyan, Rayyan teaches us how to draw one of his most prominent characters in the comic series, Adam. For those of us who aren't as artistically inclined, creating a cartoon character may seem complex but Rayyan brings us back to the basics. Armed with only a pen and A3-size paper, he takes us through his process, step by step. According to him, Adam wears a suit because he works at an insurance company.
"I'm not sure what the company actually does but I do know that it's important. That's why Adam has to look professional."
Drawing for quite a few years now, Rayyan has explored several different mediums to develop his style, which he describes as "mostly cartoonish."
He says: "I've tried making art with acrylic paint, watercolours, marker pens, regular pens, pencils, crayons, and colour pencils just to mention a few but my most preferred medium for now is pen."
Rayyan lists his mother, Sarah, as his biggest source of inspiration, mentor and role model. Following in her footsteps has allowed him to bond with mum, collaborate and earn an income together – both artists producing art prints, phone cases and notebooks with many other upcoming projects in the works. Sarah's mother, Sharifah Rokaiyah acts as a manager for her increasingly busy grandson – overseeing all of his work, including projects and commissions.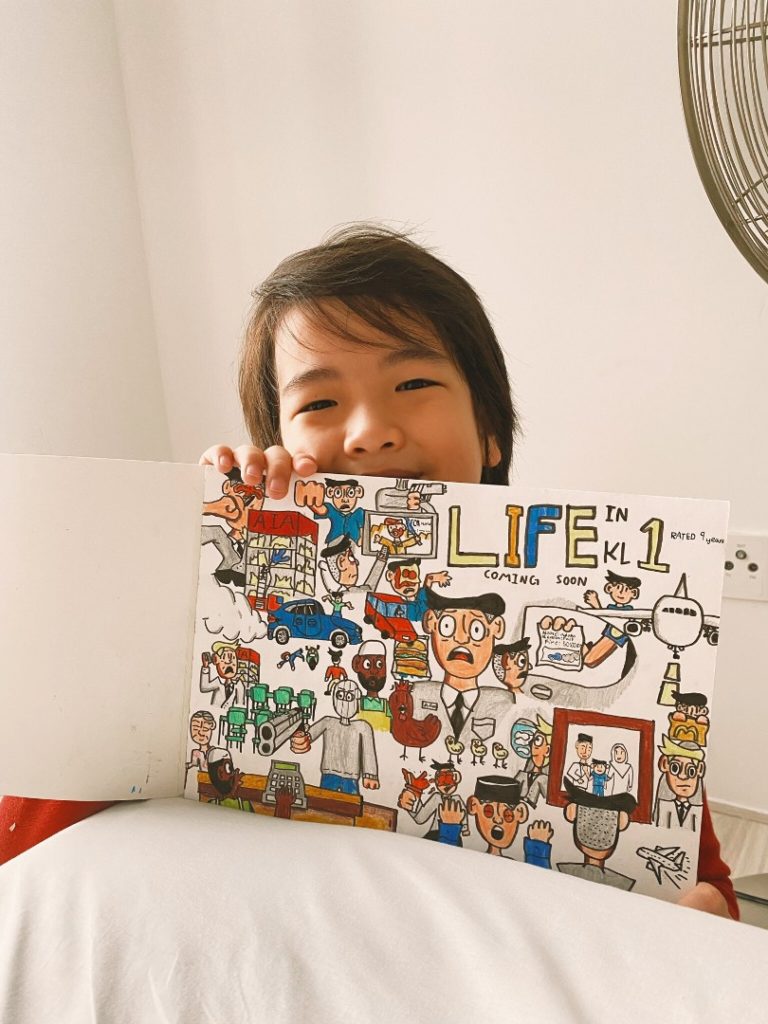 To Rayyan, the best part about being an artist is the ability to bring his imagination to life. "Right now, I would really like to focus on my comic series as well as sharpening my skills in watercolours," he says. When asked about some of his biggest achievements so far, this budding artist says that there are too many to count!
"I'm equally proud of all of my accomplishments whether big or small, because they have all helped make me who I am today."
Check out all our BASKL Seni Cilik episodes. Then, don't forget to post your own artwork, too! Tag us at @cendanamalaysia and include the hashtags #BASKLSeniCilik #BASKL #CENDANAMalaysia in your caption.