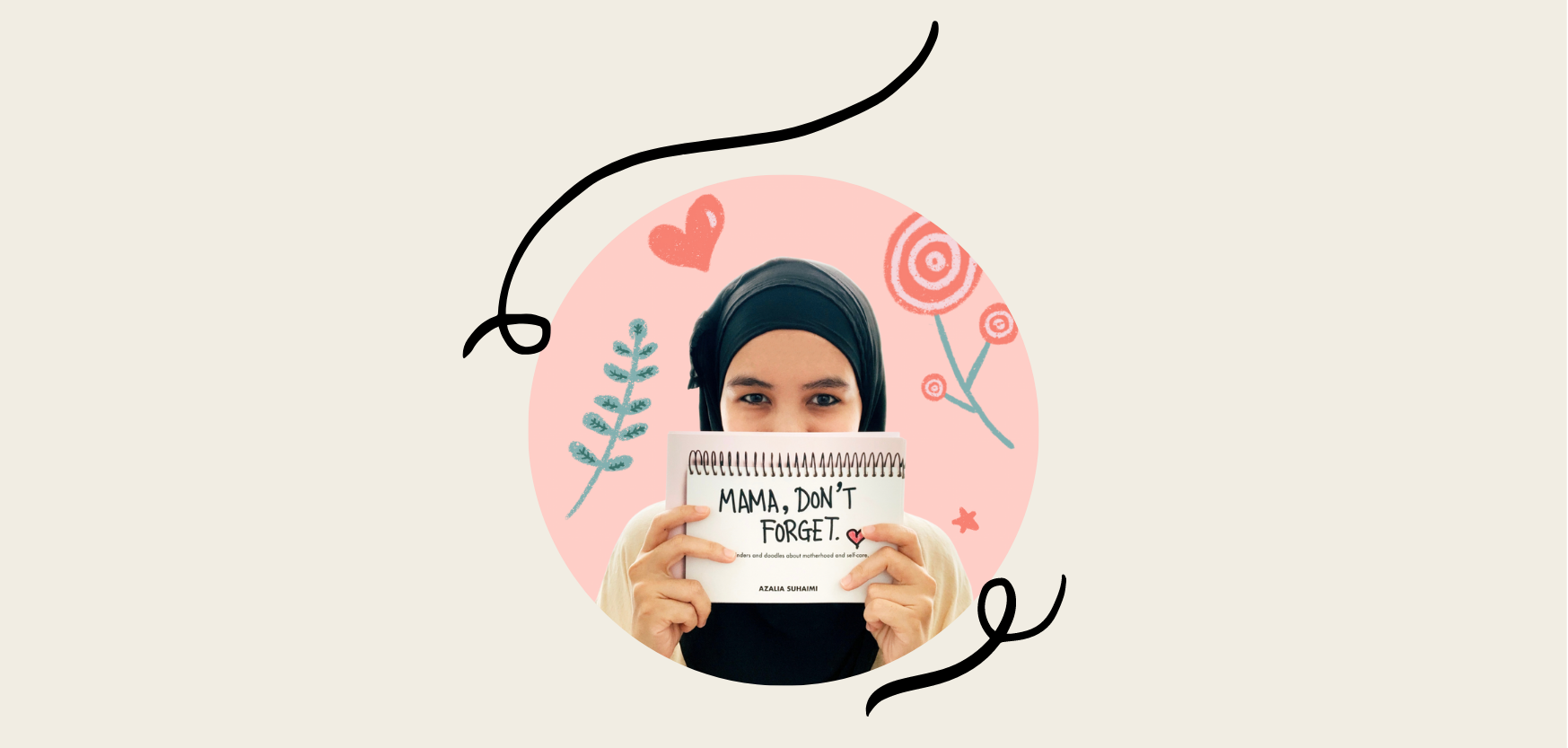 Being a mom means you have to wear many different hats on a daily basis. BASKL checks in on digital artist Azalia Suhaimi, and learns the common challenges mom artists face.
By NABILA AZLAN
Different art disciplines equate to different challenges. But when you're a mom, channelling artistic zeal probably entails a whole bunch of other challenges that your peers probably don't have to face.
"A day in my life is often unpredictable," says 37-year-old Azalia Suhaimi. "I often try to spend the earlier parts of the morning in mindfulness, making use of the peaceful after-dawn with some journaling and then tackle the parts in my work in need of more focus. Once my children are up, I schedule my work around them – I do not observe the same patterns every day!"
Azalia has been in the local art scene since the early 2000s, manifesting her love for poetry and photography for all. In recent years, she has picked up digital illustration and never looked back, something her 23 thousand followers on Instagram would be familiar with!
Azalia's posts regarding self-love and motherhood have gained traction on Insta not only because they are so relatable, but because they are necessary. Here, she talks about the ups and downs behind her craft, and how she's managed to connect with mums by sharing anecdotes and simple, everyday realities.
Although her true love is poetry, Azalia has always spread her wings and discovered her knack for photography and videography a while ago. Digital illustration has been her latest creative endeavour.
The Shah Alam-based storyteller/content creator began her love for art and writing at the age of 9 or 10. In secondary school, she was inclined towards literature and humanities with the growing hope of seeing and experiencing the world differently – which was why she embraced the offer to study abroad … even if it was for accountancy!
"I guessed it wouldn't hurt, it could help me in the beginning of my career so I did not mind," she says. Prior to getting her Bachelor of Commerce degree from the University of New South Wales (UNSW) in Australia, Azalia took various summer courses – philosophy, photography, and a handful of art-related subjects to keep her art passion alight.
After graduation, she went to work as a finance executive. Balancing career and craft, she slowly ventured into the bustling local art scene. She participated in poetry and spoken word performances plus photography exhibitions, and also pursued side art projects for about eight years, all alongside her corporate role.
In 2017, her seventh year of working full-time, Azalia explored a niche – teaching art to children. She says, "There was a good demand as parents always want something fun yet educational to occupy their children's time." She grew confident in her newfound venture and said goodbye to her executive role. Always keeping an eye on for opportunities to pursue her dream, Azalia says it was just a matter of time when she turned completely to the creative field. It was around this time when she built a connection and network with other mothers, tuning in to her nurturing persona.
Three years prior to the switch, her first daughter Orked was born. A new parent navigating through the world of motherhood, Azalia admitted to loving her art teaching hours but also was starting to get tired as time went by. "I was focusing too much on being a mother that I stopped writing, even though I was still passionate about it," she says.
Born to a musician father and stay-at-home mum who writes and paints (no wonder art came so naturally to her!), Azalia expresses her awe of her mother, who would often disengage from her own hobbies and interests to focus on her children. "I grew up thinking that it was natural for mothers to put everyone else's needs before her own. This seemed to be the base of a happy family and we often connect the term motherhood to 'sacrifice'. But mothers can also break down if they don't take care of themselves. I think it is great how we are much more aware today of how there needs to be some kind of balance. Mothers burn out too," the artist says.
Azalia says that having her second child, Dahlia, was another transition point that she went through. "It was a point when I felt the most difficulty. Managing two children with different needs – I was overwhelmed, even had periods of anxiety and depression, and that is when I realised I needed to take care of myself."
According to Azalia, her journey of figuring out what "self-care" actually is was never straightforward. Having gone through postpartum blues, she began to educate herself on the topic, looking at social media accounts which deliver content on self-care for mothers.
"I also started to seek therapy to keep myself on track. Resources like this are readily available and accessible now," she says. "Gradually, I began to create my own content by honing in on my own experiences, creating art straight from the heart. My focus began to shift towards life stories (as compared to love, kindness and uplifting takeaways in general when I first started)."
Azalia admits that the process of illustrating her content is a satisfying activity, but receiving warm messages from those who are currently "in the same boat" has doubled the joy of being able to do this. "A mom who's not feeling good would say she came across my posts and they helped give her hope. That felt nice, knowing my work speaks to another struggling mom," she says.
On the topic of her art style, she says, "I love pastels – especially pink and purple. My illustration style (the one you see on Instagram right now) however, is something I have newly discovered. Previously, everything was hand-drawn. Only recently did I get an iPad and an Apple Pencil – which happened because my first child wanted to learn how to illustrate on the iPad! We learned together via Skillshare classes and somehow, it became something I did more of afterwards. The crayon-like brush (which I stumbled upon during one of the lessons) combined with my handwriting is something I loved and have ever used since."
Azalia is excited to see how her art will mature and evolve over time. "For now, it's this," she says. "It's a journey; I'm still learning so maybe I'll love the new ways that will come later." Her maternal mental health PSAs are oftentimes collaborations with brands, field experts like clinical psychologists as well as NGOs. As much as she is a creator, she also consumes content in the sphere too – naming accounts like @ginasdrawingclub, @momsfeelscomics and @makchic as go-tos for discussion prompts and topics to keep her in the loop.
She loves contemporary poetry and spoken word artists, citing Sarah Kay and Rudy Francisco as some of her favourites.
…is what she wants moms out there (artists or not) to keep in mind if they should stumble upon this article. "Be kind to yourself, remember that you matter," she notes.
Azalia Suhaimi is the author of Mama, Don't Forget, a compilation of reminders and affirmations for the everyday mom. Scroll through her art on Instagram or visit her website for more.