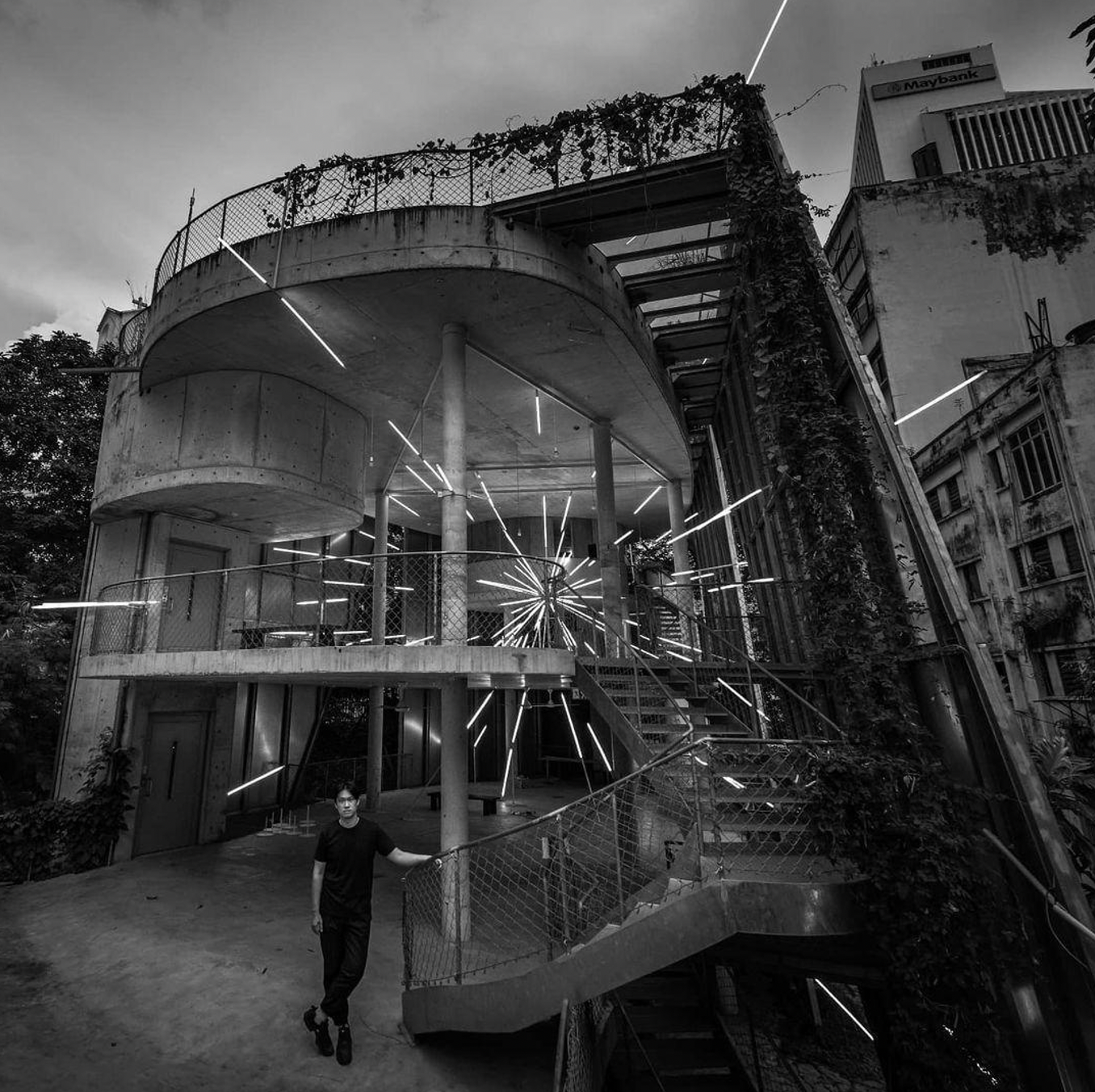 Want to be immersed in an art installation that makes you ponder your place in the universe? STAR/KL will give you just the space for that.
Story and photos by IZELEA IZHAM for Lensa Seni
If you've been around KL's city centre and come across rays of fluorescent lights that pierce through a building as pictured above, that is Jun Ong's STAR/KL installation.
It is made up of 111 individualistic fragments of steel, acrylic tubes and LED ropes, which were carefully set in place within the walls of The Godown, designed to resemble a huge shining star from afar. While the arrangements may just look like simple pieces of fluorescent lights hanging on the walls, it is more meticulous and profound than you may think.
Ong is a light artist and co-founder of POW Ideas, a spatial design studio. He initially trained in architecture and eventually gained interest in the manipulation of artificial light and how it affects the way we experience the built form.
One of the more fascinating parts of this installation is the incorporation of sound. Ong worked closely with Reza Othman of the experimental electronic and jazz project RAO, who designed the installation's soundscape and field recordings. These sounds were used to complement STAR/KL and its programmed light play.
This incorporation of recordings of his surroundings adds even more depth to Ong's study of space and time. Blending together sounds you've heard and collected around you and pairing that with the idea of space is an extraordinary experience. These sounds flicker and flash and move in rhythm with the light, representing a star twinkling in the night.
While Ong's star is miniature in scale compared to the Sun and stars in the vast expanse of outer space, this star is monumental to the average human. Being up close with this star in the building gives you an idea of all the work and little pieces required to bring this together. Just like our lives and outer space, we are just one tiny piece of the puzzle, making up the bigger picture which is the entire universe.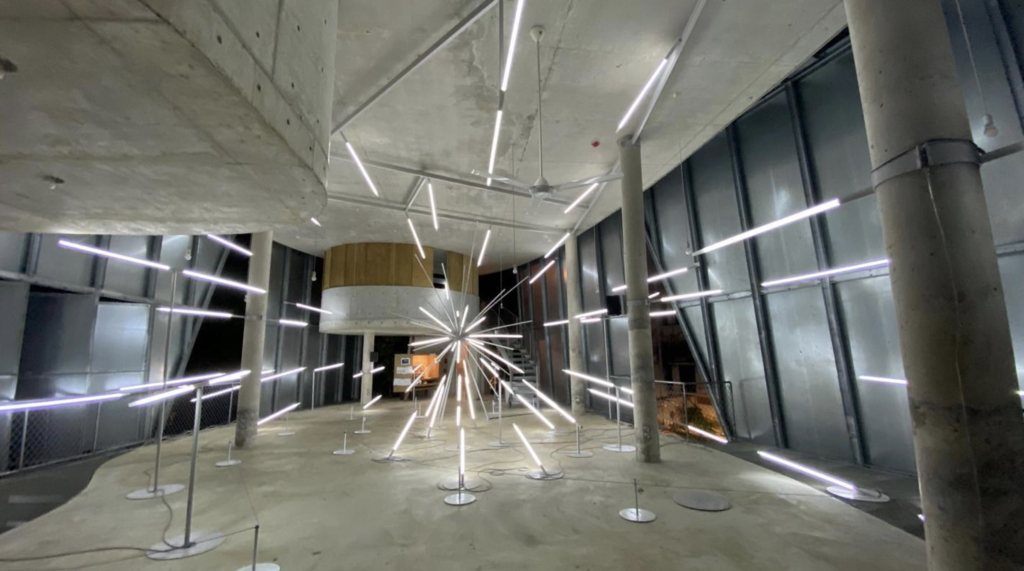 As you're observing the roots of the star up close in The Godown's Air Building, it may seem like you're in hyperspace. Star Wars fans may have that first impression and know the scene all too well. In hyperspace, everything travels fast. There are no borders. It parallels our modern world of data, social media, the Internet and all the infinite space it accumulates, as stated in the artist's manifesto.
Just like any other star in space whose existence is made to be brief, Ong's star has a lifespan of just 121 days until its light gradually dims. The artist's manifesto, as stated in the programme leaflet, is that the star "will live on only as reproductions in what he calls 'hyperspace', the created worlds of the Internet and social media, until its life force reincarnates in a new host."
Everything moves fast in this hyperspace. Not to mention the volume and noise associated with it. It makes you question your realities and perceptions and all the experiences you've gone through in your life. It makes you think about connection while simultaneously being disconnected at the same time. Experiences of the present, the past and the future, are all within one space and time. It is the universe that holds these together in a little bubble.
The artist also closely studies growth and decay with STAR/KL. His statement in the programme leaflet mentions sabireru, meaning the art of decline, the "material and immaterial liberation that allows for generic materials to become ephemeral".
The seeds of STAR/KL were first planted at Butterworth, Penang in 2015 and six years later found its way to The Godown's Air Building. STAR/KL, which is a temporary installation for the Cultural Economy Development Agency (CENDANA)'s Art in the City 2021 programme, will be shining there until March 26, 2022.
He's also had a hand in multiple light installations at major art festivals such as iLight Singapore, Live the City Festival Bangkok and Art Central Hong Kong. His myriad of experiences led him to the first "Star" in Penang, which was nominated for the World's Best in Spatial Art at the Media Architecture Biennale, Sydney in 2016. To have studied all about space and light and to have it culminate into this big star in KL feels like a full circle moment for Ong.
Stars eventually fade and die – some leave with a bang and create a supernova that births more stars. This parallels the way of the world, and it is only natural for it and its habitants to grow and evolve into the wonderful, complex beings that we are. While the world rises and gets more complex and advanced, so do its people. But it is only natural for these to decay over time. What's left "ephemeral" is our thoughts and reflections of the universe.
STAR/KL makes you look at things at different perspectives, and at a grander scale. This little star in the heart of KL may fade, but one can't help but wonder – what, really, is our place in the universe?
Catch STAR/KL before it's gone at The Godown KL, 7, 11, Jalan Ampang, 50250 Kuala Lumpur. You have till March 26!
Izelea Izham is a participant in the CENDANA ARTS WRITING MASTERCLASS & MENTORSHIP PROGRAMME 2021.
The views and opinions expressed in this article are strictly the author's own and do not reflect those of CENDANA. CENDANA reserves the right to be excluded from any liabilities, losses, damages, defaults, and/or intellectual property infringements caused by the views and opinions expressed by the author in this article at all times, during or after publication, whether on this website or any other platforms hosted by CENDANA or if said opinions/views are republished on third party platforms.