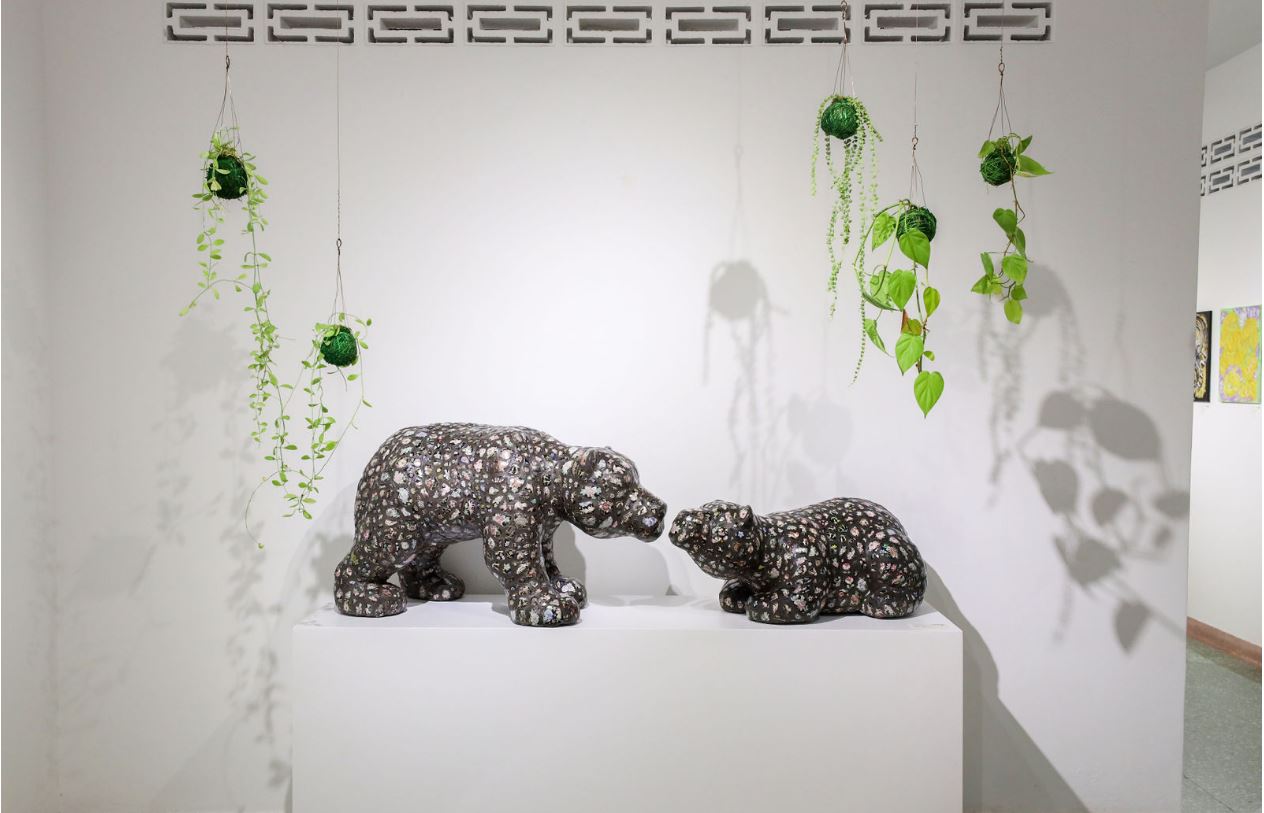 On World Environment Day today, we direct your attention to the 'Healthy Forest, Happy Wildlife' which hopes to raise funds for the Bornean Sun Bear Conservation Centre.
By CHIN JIAN WEI
Until June 11, Lai Lai Art Studio will be hosting the Healthy Forest, Happy Wildlife art exhibition. Featuring sun bear-themed art from 10 artists, 50 percent of the proceeds from all art sold will go to the Bornean Sun Bear Conservation Centre (BSBCC) in Sabah to aid in sun bear conservation efforts.
The sun bear is the smallest bear in the world and can only be found in the tropical forests of South-East Asia. Its cream-coloured chest patch, standing out among its black fur, gives it its name. While the sun bear is an extremely important animal that plays an important role in forest ecology by helping with natural seed dispersal, among other roles, it is also a vulnerable animal that has fallen prey to human activity such as deforestation and poaching. The BSBCC was founded by Dr Wong Siew Te to rescue and rehabilitate sun bears, giving them access to healthcare and a safe environment in which to grow. Other than that, the BSBCC also engages in research on sun bears and promotes ecotourism.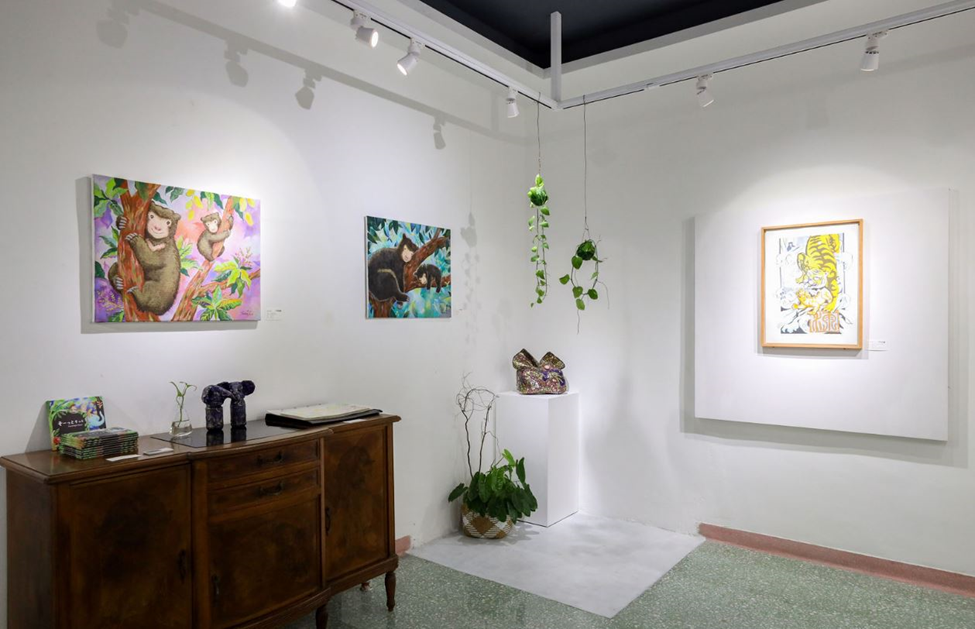 All 10 artists taking part in the exhibition have created a series of artworks that depicts the sun bear in unique art styles and mediums. From Low Khay Hooi's silkscreen art to Hidawati Amin's collages to Wong Siew Lee's woodcut prints, each work oozes creativity and style while still sticking to the theme of sun bears. In the works, the sun bears are playful, charming and expressive, much like the wild animals that they are based on.
BASKL had the chance to speak to Alice Chang, organiser of the exhibition and popular artist in her own right. Her work for this exhibition is Bacio, a pair of flower-patterned mosaic sculptures depicting a mother and child sun bear. "It's not easy to see a sun bear in KL, so I used YouTube to do my research," Chang says, referring to the preparations she made before creating her sculpture. "I used recycled material and wire mesh to tie everything together; then cement to make the shape and stick on the tile pieces."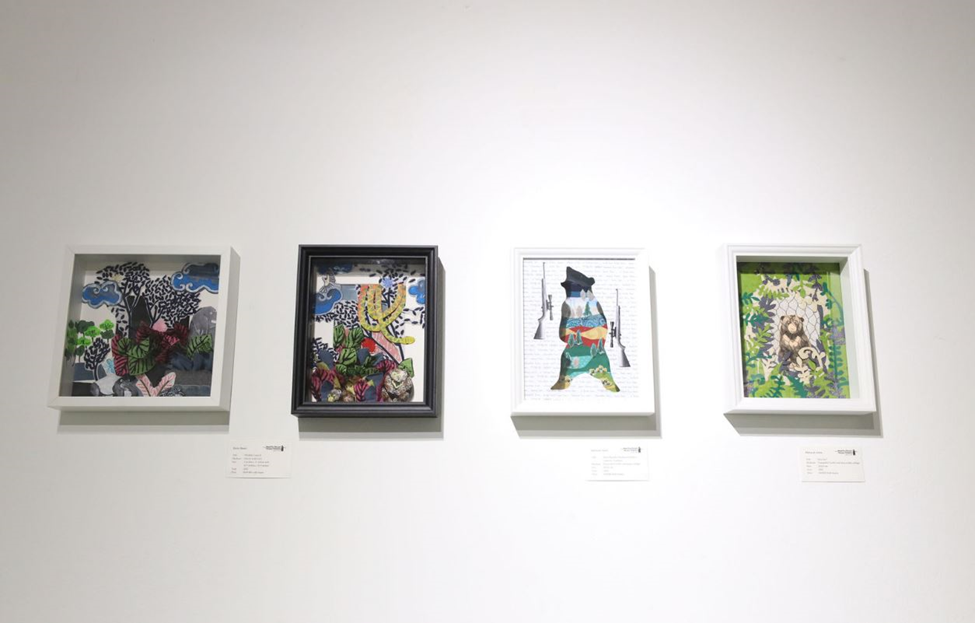 As for the meaning behind Bacio, Chang says it is meant to encourage people to show more physical affection to their loved ones, just like the mother sun bear kissing her child in the work. The name Bacio is Italian, and is homage to Chang's husband, an Italian man. Chang observes that Italian families tend to be more physically affectionate as compared to her own Chinese family. And as for the flower pattern on the mosaic, Chang had this to say, "Mothers love flowers!"
Chang was the one who gathered all the other artists for this exhibition. "I found them during one of my previous exhibitions, and I talked to them, and they liked the idea. This plan began in November 2020, but due to the MCO, we were not able to start at the time. Actually, I don't do exhibitions very often, I only do them with purpose, like for the sun bears, and a coral awareness exhibition next month."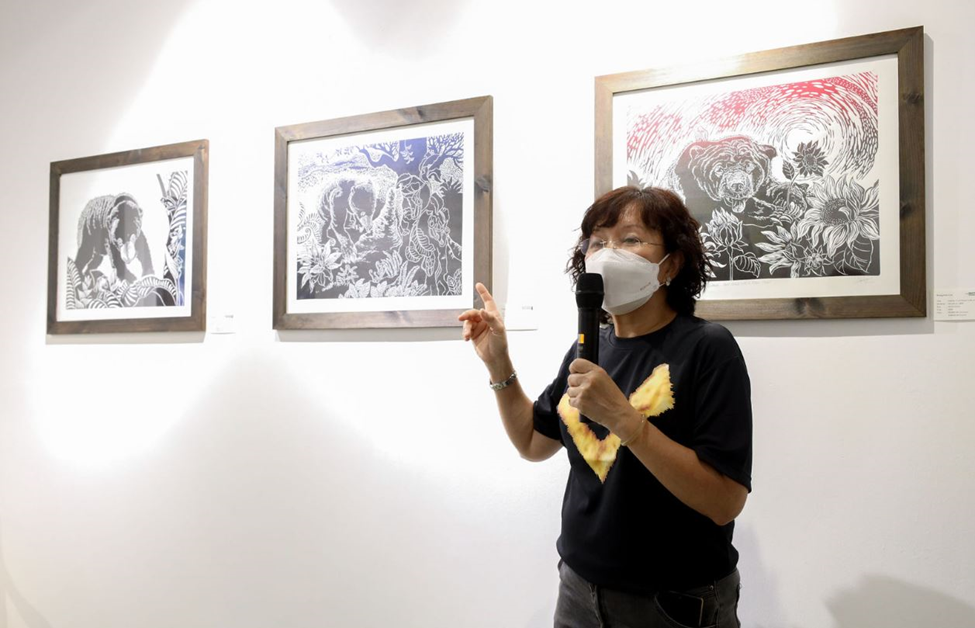 And it is an important purpose indeed, as Dr Wong would agree. "The outlook for sun bears across South-East Asia is bleak," he says. "As they are developing countries, limited resources have been spent on efforts for conserving or protecting the sun bears. The first problem we at the BSBCC in Sabah had to solve was the illegal pet trade of sun bears, and within the first 14 years, we completely solved that. So no one that we know of in Sabah is keeping sun bears as pets, and we also raised a lot of awareness on this issue among the public across Malaysia.
"We not only rescue sun bears but also do a lot of education, research and rehabilitation for those bears that can be released back into the wild. We also promote ecotourism, which is a solution to curb poverty, as a lot of the issues related to poaching started from poverty. Local people were so poor and desperate that they had to take the risk of poaching. Ecotourism will give them jobs and put food on their table. We have 44 bears at our centre right now, and we have to spend money to buy food and medicine. We have to run our education programs and research projects that cost money. Rehabilitation costs a lot of money. So the proceeds from the exhibition will contribute to keeping our centre working."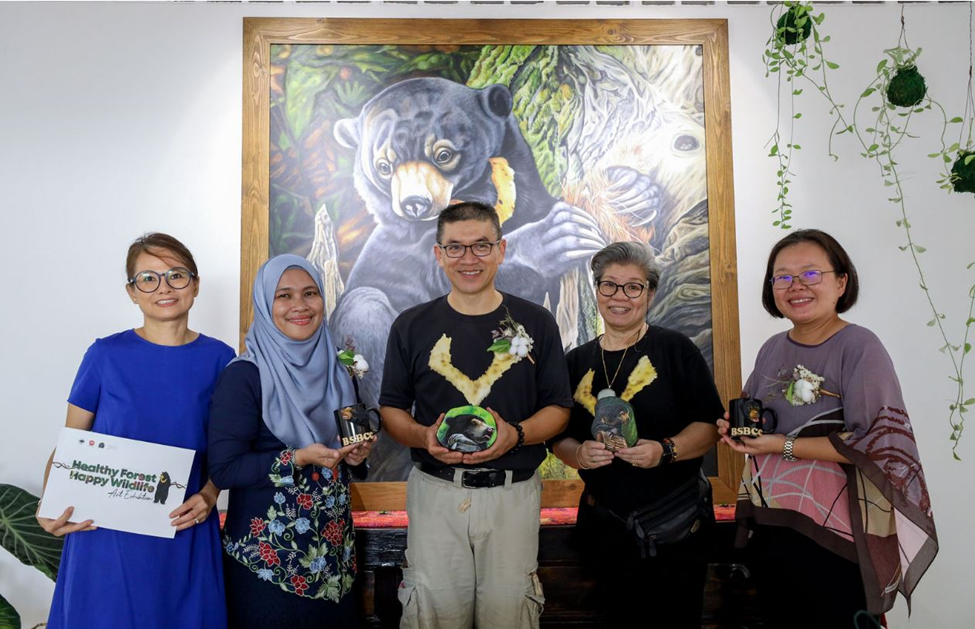 Dr Wong's favourite artwork among the exhibited pieces is Suzi Chua's acrylic painting, depicting a sun bear named Debbie. Dr Wong says, "Debbie was one of the 11 bears which was released back into the wild. It gives us hope that even after she had been through a traumatic early life experience, we were still able to raise her and release her. Hopefully, she's living happily in the forest. Every single piece of art here matters a lot to us because we want to use art to connect with people's hearts. Through visual expression, we want to connect people to nature, and then hopefully they can put their love and passion into actions that can help."
The full list of artists are Alice Chang Oi Lai, Hidawati Amin, Low Khay Hooi, Nasrin Nadhirah, Ng Yan Lih, Ng Yi Shen, Sanae Yamada, Suzi Chua, Wong Siew Lee and Zurin Shaari. The 'Healthy Forest, Happy Wildlife' art exhibition will run until June 11, and you can visit Lai Lai Art Studio between the hours of 10.30am to 4pm daily. Check out its Facebook page to learn more!