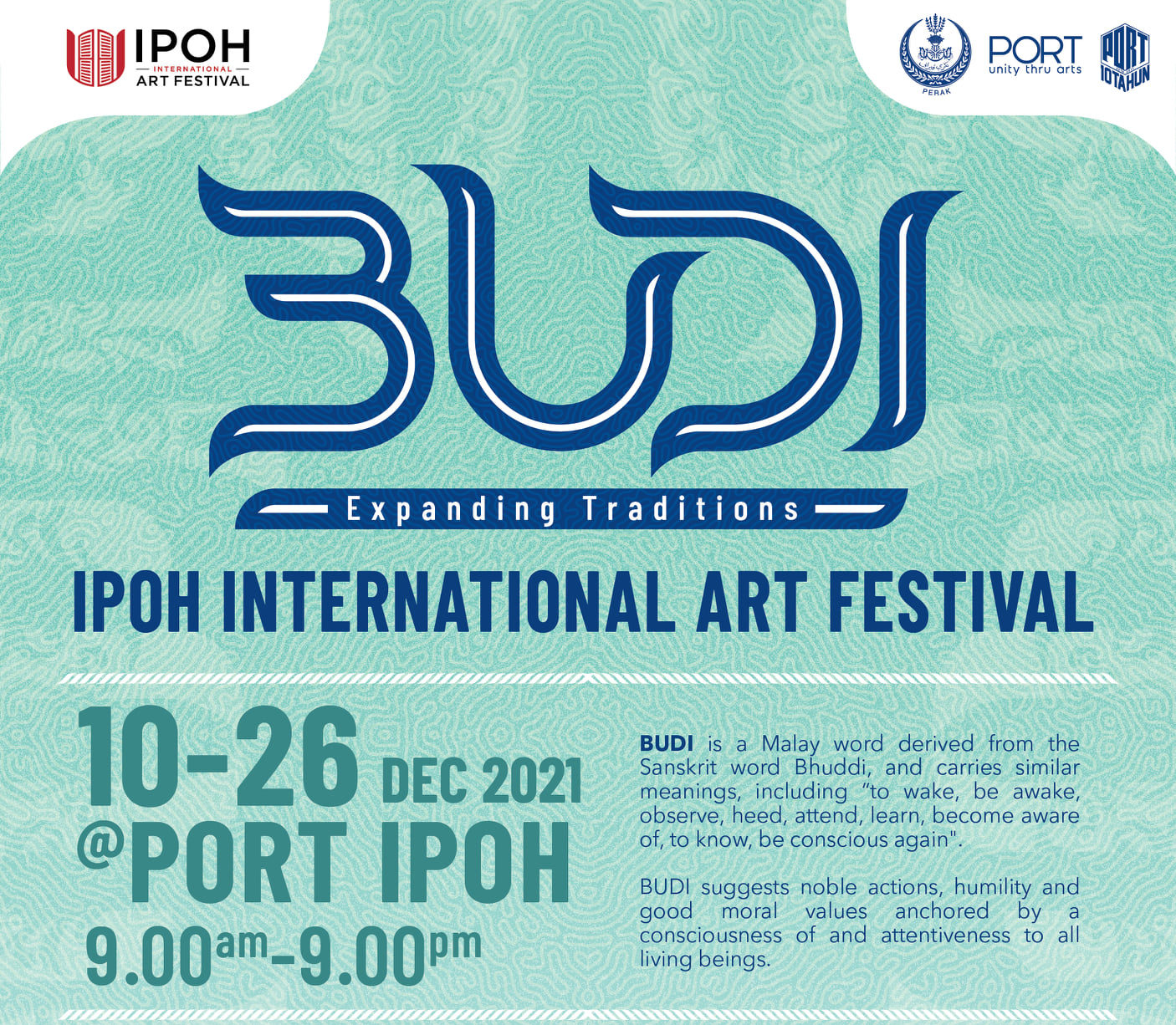 By NICOLE CHANG
From Dec 10 to 26, the Ipoh International Art Festival (IIAF 2021) brings together local and international artists and cultural practitioners from diverse artistic fields to celebrate creativity together, through artistic creations, performances, exchange of ideas and the sharing of knowledge. All festival events and activities are free of charge, with compliance to the COVID-19 SOPs of course.
IIAF is a major annual art festival in Perak that was launched by People of Remarkable Talents (PORT, Perak State's cultural agency) in 2019. Now, it its second year, IIAF 2021's theme is "Budi: Pemanjangan Tradisi" ('Budi': Expanding Traditions) and is being held in collaboration with the Ministry of Tourism, Arts and Culture Malaysia with support from Tourism Malaysia and the National Art Gallery.
In addition, the festival's programs have been expanded this year, with the cooperation of Japan Foundation Kuala Lumpur, Ipoh City Council, Kuala Lumpur City Hall, Tourism Perak and several local art associations and collectives such as the Persatuan Pelukis Perak, Persatuan Kesenian dan Kebudayaan Orang Asli Perak, Persatuan Seramik Negeri Perak, Kapallorek Art Space and Chetak 17.
"The theme of IIAF 2021 was inspired by the Sanskrit word 'Buddi' which means similarly as 'to wake, be awake, observe, ….' Budi emphasizes the noble, humble, thoughtful and honorable moral values, anchored by consciousness and attentiveness to all living beings and surroundings," explained Nur Hanim Dato' Mohamed Khairuddin, the festival director, who is also PORT's General Manager.
"In order to create a safer or more appropriate visiting environment, in accordance with the COVID-19 SOP, this year we adopted an open concept to showcase the artworks. Eighty percent of the works of the participating artists are displayed in the open air within the premises of PORT, with the natural landscape as an attractive backdrop!"
Five visual artists – Ramlan Abdullah, Donald Abraham, Kim Ng, Aznan Omar and Hilal Mazlan – who are widely known for their sculptural and installation artworks, have been commissioned to create their works on-site, using natural or recycled materials.
"By using traditional ready-made clay stoves as a metaphor to contextualise local history, tradition, economy and memory; and to reflect the changes of social structure, development and living habits that alters and reshapes our daily life and living experience, I created a half circle-like installation on site, to allow viewers to walk around, and to peep through the multiple windows on the stove. There are uncertainties, memories and moments that remind you of history and tradition that should be held together," Kim Ng explains his concept of creation.
Ramlan Abdullah introduces his latest sculptural work installed at PORT, "Using bucky ball design and indigenous materials such as bamboo and rattan, I have created a monumental 6m high structure with a geometrical shape and structure. I have used a combination of traditional and modern construction techniques. I named it Minaret. Structurally supported, it can accommodate human participation, which means visitors can actually climb up using the ladder."
According to IIAF2021's artistic director for the visual arts, Bayu Utomo Radjikin, this year's exhibition features creative works by contemporary artists including Raja Shahriman Raja Aziddin, Nor Tijan Firdaus, Ali Rahamad, Mad Anuar, Tengku Sabri Ibrahim, Sharmiza Abu Hassan, Yee I-Lann, Daud Rahim, Multhalib Musa and Tetriana Ahmed Fauzi. Apart from that, a separate photography exhibition is held to showcase works by Ronnie Bahari, Jefree Salim, Seth Akmal Hamdan and Selindang Seri Seliman. The visual arts segment will see further participation from four art collectives, that are Chetak 17 (Malaysia), Tumbuktikus (Malaysia), Kutub Tiga (Indonesia) and Offshoot (the Philippines). Video artworks by Singaporean artist Ezzam Rahman and Indian artist Archana Hande will also be on display.
Besides engaging visitors through exhibitions, IIAF 2021 has programmed a series of workshops and artistic demonstrations. Workshops available include cooking, ceramics, origami, Ikebana and wood carving. Skilled artisans such as woodcarving experts Shaharuddin Man and Adiguru Norhaiza Nordin will conduct art talks to share their experience in craft-making.
In addition, PORT and Kuala Lumpur City Hall (DBKL) will co-host a show, the Projek Panggung: Orkestra Kuala Lumpur DBKL X PORT concert, showcasing local musical talents such as Mus (Ex-MAY), Akhil Haiyy, Balok People, Leaism, Yonny Boi and Endang Hyder. The concert will take place on Dec 17, at 8.30pm, at the Ipoh Convention Centre (ICC).
As part of the closing events, a sharing session about Perak's visual artists and artisans will be held on Dec 26, in conjunction with the launch of "Perak's Creative Directory: The Chapter of Visual Artists and Artisans". At night, the festival will end with another musical performance by the bands featured in the compilation album of Bodysurf Music, Kopi Sechewen Vol. 4, including Raksar, Hem and Lovethee.
For further updates and information about IIAF 20201, kindly follow PORT's social media on Facebook or Instagram.