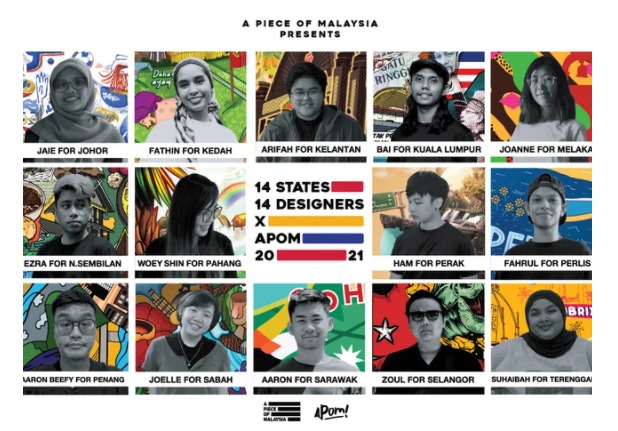 With #empatbelas, APOM creates opportunities for designers and artists across the nation.
By SOFIA SHAMSUNAHAR
Ever walked into an APOM shop? We're not talking about those stalls that sell fermented Indian rice pancakes.
APOM, or "A Piece Of Malaysia", is a shop that tends to capture one's attention. It's charming: filled with vibrant pop-art-like-pieces from local artists. But what makes the store iconic is that the merchandise APOM sells celebrates things that we see in everyday Malaysian life, and that we don't realise make up Malaysian culture.
They sell T-shirts filled with Malaysian slang we hear in casual conversations. They sell earrings with tiny durians and nasi lemak packets. They sell board games filled with references to Malaysian history, politics and culture. APOM, in effect, helps support local artists whilst fostering Malaysian pride.
During the MCO, however, APOM was forced to physically close shop for the past few months. But this didn't stop the store from supporting local artists.
For example, #empatbelas, or 14, is a collaboration launched by APOM, in which a designer or artist from each of the 14 Malaysian states was asked to create merchandise that represents their home state.
The idea of the collaboration started when Malaysia went into another nation wide lockdown in May. Believing that people would begin missing the unique things each state had to offer, like the scenery, slang and food, APOM wanted to capture what everyone was longing for. 
Aside from wanting to highlight state pride, APOM had a goal of creating opportunities for designers and artists across the nation. So they set out, posting a call of entry on June 9 this year on social media platforms such as Instagram. Over two weeks, they received 70 entries from artists from all the different states of Malaysia. 
Those who were picked came from different backgrounds and ages. They were asked to create a design in three weeks, which would then be launched on Aug 5, just in time for Hari Kebangsaan, Malaysia's National Day. 
Take a peek at the #empatbelas online store on the APOM website, and you will see that each designer has created a T-shirt and tote bag design unique to their state. 
On APOM's Facebook page, you'll also find the faces behind the merchandise. Each artist was asked to make a design according to the shape of their state, as well as make a typography design. 
Scrolling through the designs, it's cool to see the range of styles that these designers have created. We're putting a spotlight on a few artists, starting with Joanne Loo.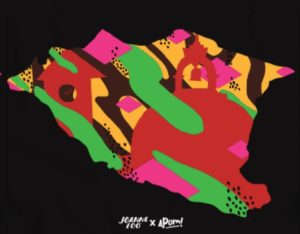 Recognising that Melaka is a "riot of colours", which Loo describes as "oversaturated, overwhelming and over-the-top", the artist created a piece filled with what she calls the brightest colours. She chose "the wriggling green of cendol, bright pink kuih lapis, the iconic terracotta of the historic Dutch Stadthuys building and rich brown Gula Melaka". Her colours are laced over a hue of a "never-ending sunshine", creating a piece that brings lightness to the soul.
"I think it was a pretty fun experience, because I'd never met the other designers before, and it was great to get to know them and their work. And for me it was definitely an opportunity to unpack my thoughts about my hometown, having lived in KL since I started my tertiary education" says Loo, sharing her experience in the APOM collab.
Kuala Lumpur artist @baihaqismail, also known as Bai, has created a piece with a Jutaria concept. He captures iconic things from the city, such as the twin towers (of course), Masjid Jamek, Stadium Merdeka and Tunku Abdul Rahman. His comic-book-pop-art-style captures KL's history nicely.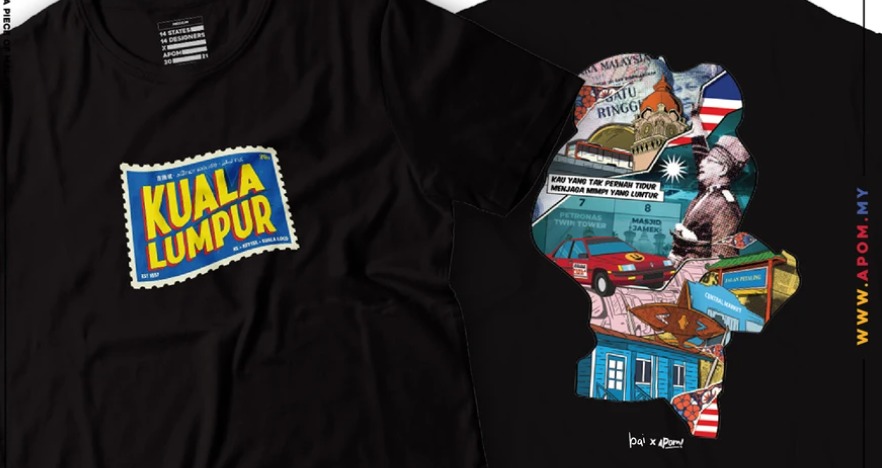 "For me, it's a very interesting project because we were able to work together with creative people from other states in Malaysia… to make it more fun and different… the whole idea was to combine the creativity within Malaysia, for people to see that this is a piece of Malaysia," Bai tells us when asked about his experience with APOM.
For some artists like Ham from Perak, creating art for a platform like APOM was a new experience. Ham designed a piece that captured Perak's outdoor beauty by Photoshopping stock images and putting them together in collage style. He included the Perak Cave Temple and the tin dredge ship "TT5" amongst other Perak icons. 
"The experience was so great! Personally, I have never done any artwork on this scale, so honestly I was quite stressed at the beginning… but I love how this project not only brought every state together, we also had different races working as a team," Ham tells us.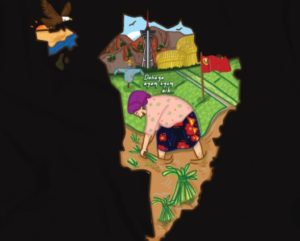 Kedah-born artist Fathin Maisarah shares gleefully that: "Being a part of APOM was on my bucket list!" Commenting on her creation, Fathin says: "When people hear 'Kedah', they usually relate it to a paddy field… so I have portrayed Kedah's daily norms during the harvest season with a lady in Kedah's casual wear back then…the Baju Kedah and Kain Batik."
For those missing the days of #cuticutiMalaysia, perhaps wearing a T-shirt of the state you're reminiscing about could be a way to battle your no-travel blues. 
For each T-shirt sold, the artist who designed it gets a percentage of the sale, so you end up supporting these artists too.
Right now APOM is releasing tote bags and T-shirts with #empatbelas designs on it, but there's talk about other merch such as mugs and pins for the future.
So why not head on over to APOM's website and maybe do a little travelling through T-shirts?