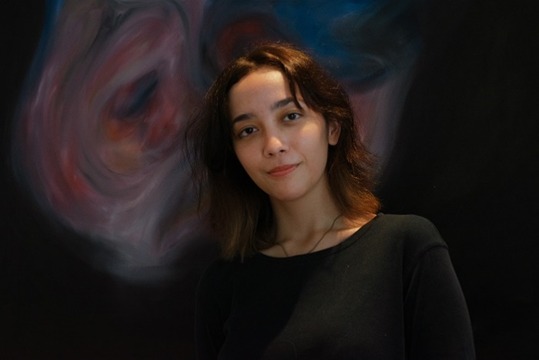 In a world that thrives on conforming, Mulaika stays true to herself by making art based on her own feelings and on her own terms.
By MIRA S. for Lensa Seni
When Mulaika Nordin feels overwhelmed with waves of emotion, she allows her sentiments to come up for air through art. Her last exhibition, I Know You're Somewhere So Far, in December 2021 was a path for her to convey those feelings to the world, and most importantly to herself. Despite mental health being a taboo topic of discourse, Mulaika swam against the current of propriety and unravelled it her way.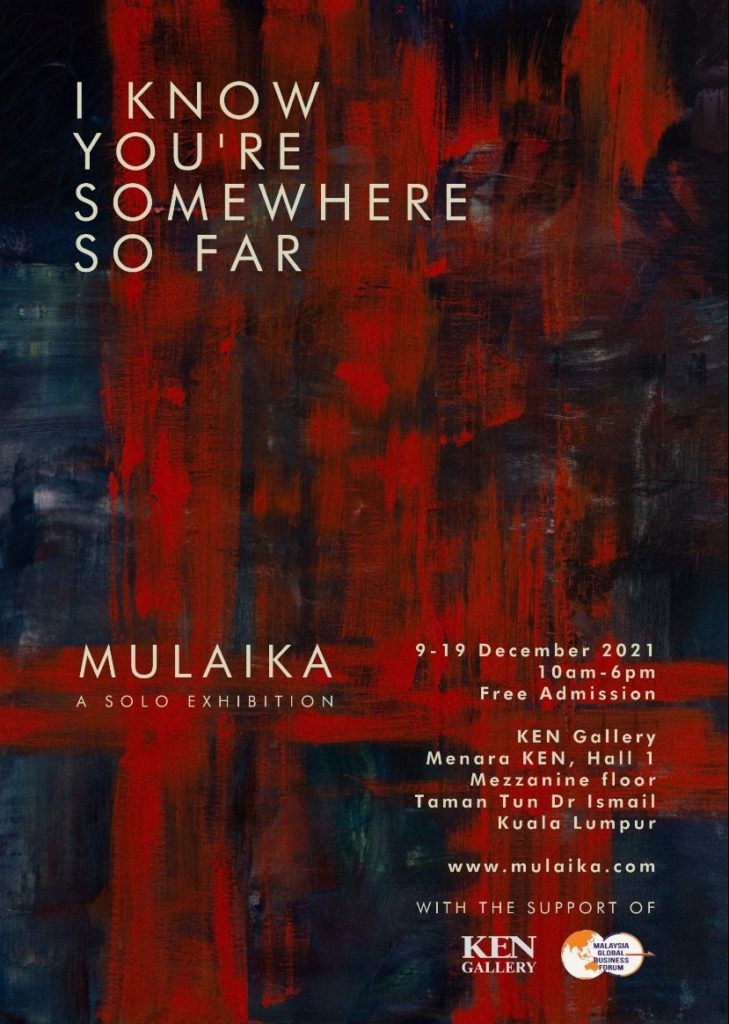 "I know the title sounds a bit confusing. It's basically about my relationship with myself because when I made these paintings, I was dealing with a lot of mental health issues. At that time, I felt so far away from my own self. This title gave me hope that maybe at some point I can go back to who I was, and I am back now," she says.
Journey as an artist
Mulaika began painting while she used to wait for her mother to fetch her after kindergarten. She would draw to occupy herself and her love for it blossomed. "I never really had that big moment of liking art, it just happened. As a kid, I was shy and drawing felt comfortable," she describes, calling her art something that was there for her when she felt lonely. 
However, painting was not her only passion. She also enjoys writing, producing music and making ceramics. "I'm a bit all over the place but I like painting the most," she says.
Her art has graced four exhibitions; one of which was a solo exhibition in Balai Seni Negara. It was titled A Thousand Days of Change, a tribute to the works she generated over a span of three years and to the change and evolution she experienced as an artist.
"For the other two, I was a part of a group show at Taksu gallery. It was for The Future is Female show and for my art installation in MoMo's Hotel. It's been really great," she says.
When art and emotion collide
Five days before her 18th birthday, Mulaika launched her second solo exhibition. The walls of the space at Menara Ken were decked with her artwork, some on canvases and some in frames. There was a certain structure to the exhibition. The pieces encapsulated how Mulaika felt, and the room was divided in two parts – one felt very boxed up, enclosed with paintings that seemed to be in darker, solemn hues while the other had an open concept to it sporting more vibrant, brighter colours.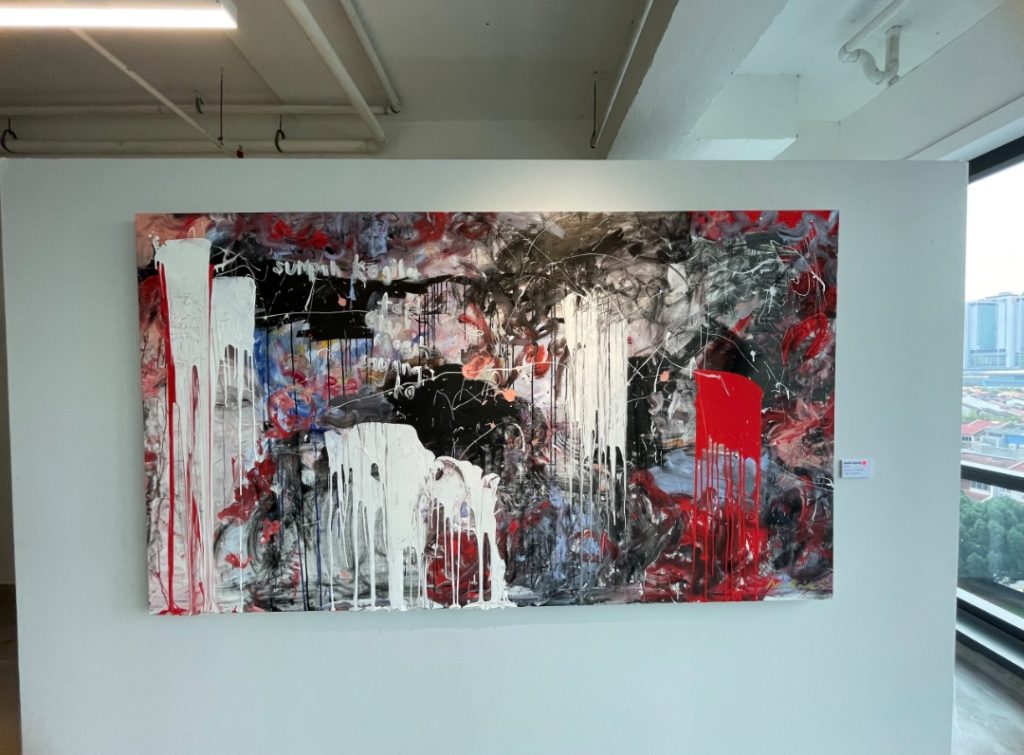 In going about with her art, Mulaika proves that she is unafraid to display her raw emotions. She has a piece titled Masih Sayang in which there are splashes of multi-coloured paint and, in particular, a lot of red. In white, it is written "sumpah ko gila tapi aku masih sayang ko (I swear you are crazy but I still love you)", a powerful admittance to the fact that she still finds ounces of love for herself despite it all.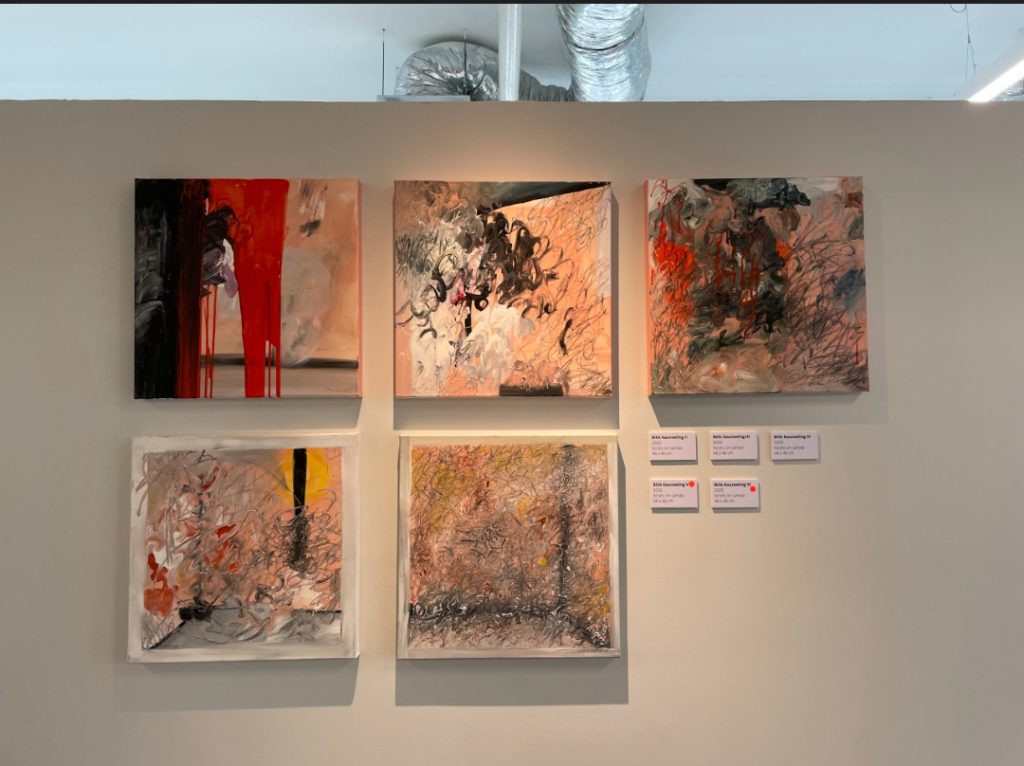 She also openly uses her art to describe uncomfortable past experiences such as those involving unpleasant counsellors. "When I went to my school counsellors, they told me my problems weren't real. I was hurt and betrayed because I was going to an adult who I thought could help me, but it backfired," she says. She then created the series titled Bilik Kaunseling. It consists of five paintings, with splashes and strokes of colour chaotically splattered over it which clearly depicts her feelings of distress and anguish.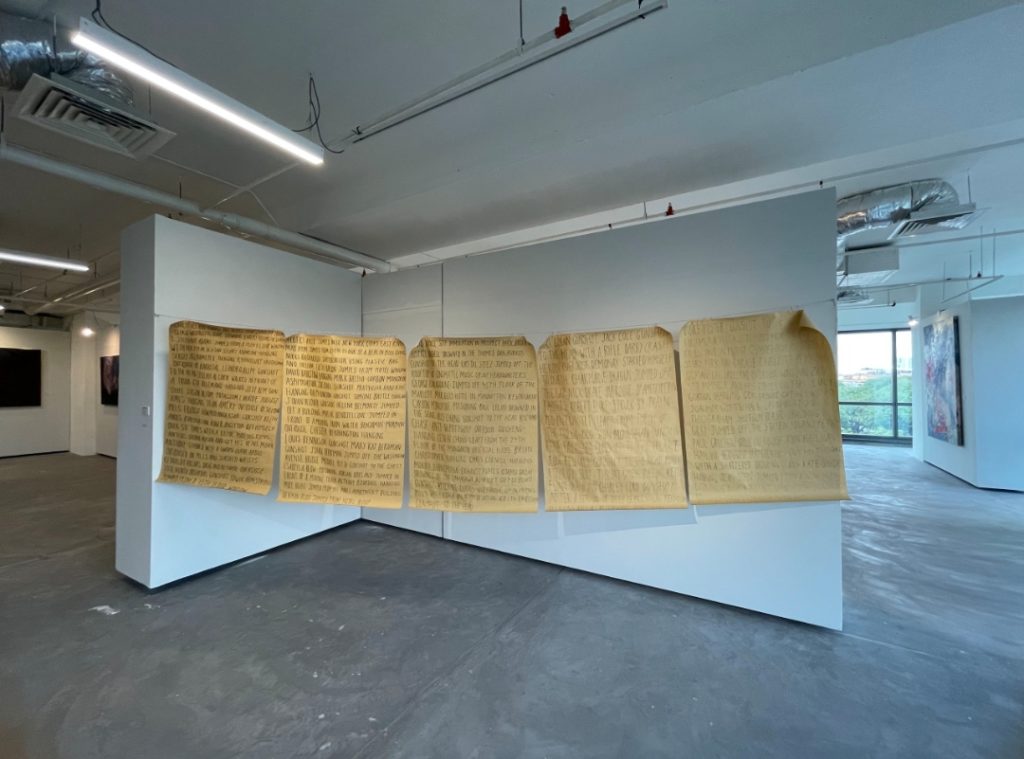 When asked about the process of producing art, Mulaika admits that she does not have one. She flows with her feelings and creates her pieces when it feels right. For instance, upon reading horrifying statistics on suicide, she was moved to create. Thus, her piece titled 40 seconds was produced. She wanted to depict the unnerving reality that one person takes their life every 40 seconds. On five mahjong papers hanging on a thread, names of humans who died from suicide were written till the ink of her marker ran out to symbolise the life of a person suffering just fading away. She added no artistic details to it, just names, but the mere truth was haunting and glaring enough. "Hearing the statistic that one person dies every 40 seconds, it's hard to imagine what that looks like in the real world. I wanted to visualise it," she says.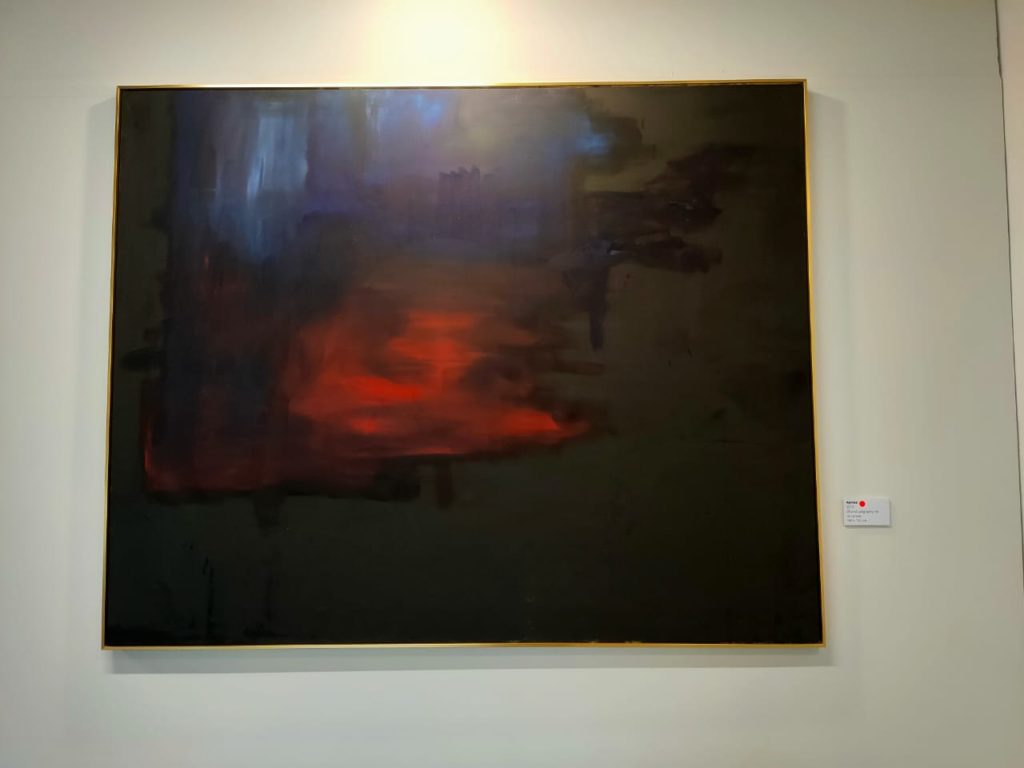 While her exhibition orbits around her emotions and mental health, Mulaika gracefully manages to cling on to hope. She ensures that her pieces have a harmonious balance of self-awareness and ambition for what she strives for. "My favourite piece is titled Aurora. You know Aurora Borealis, it's supposed to be stunning. But my Aurora is black with some colour emerging from it. It shows there's some hope amidst darkness," she says.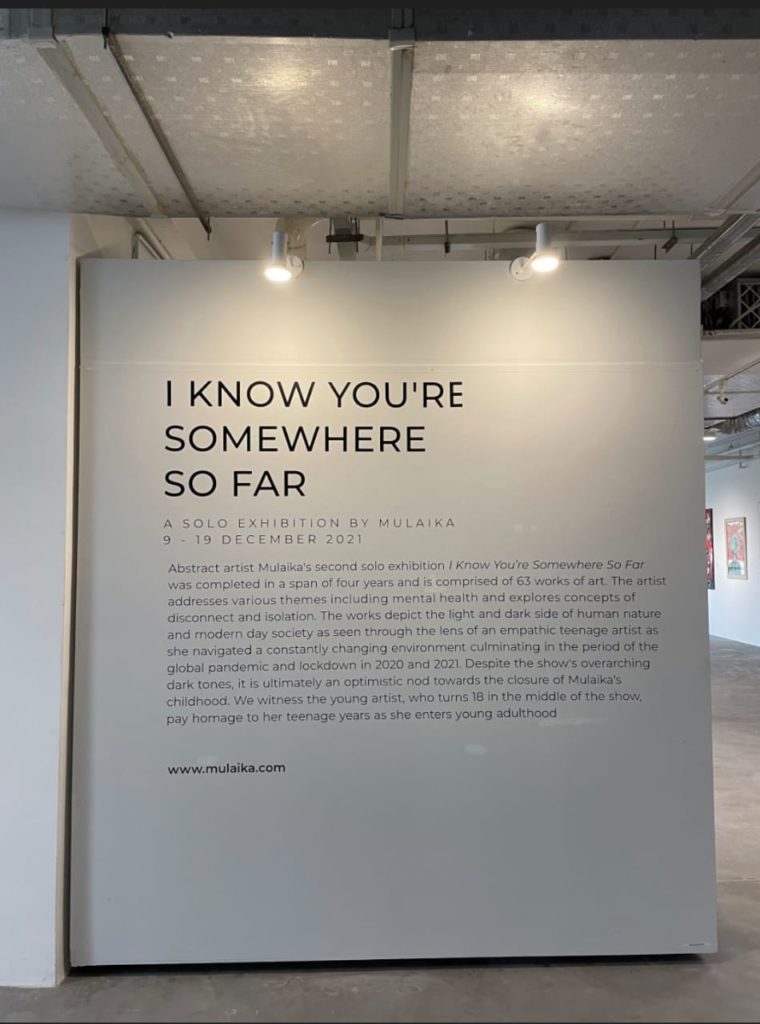 It is amazing to witness Mulaika's level of self-awareness and her ability to articulate it. She notes that this exhibition contained a piece of her youth and childhood considering she created these pieces before she turned 18. As an appreciation for that point of her life, she painted Childhood Space. "I created it as a closure to this show, as it was the last thing I would do as a minor. I wanted to end my show on a very sweet and content note. This piece is a gift to my inner child. It makes me feel okay and it reminds me that I have myself through everything," she describes.
Mulaika crafted an exhibition that was accessible and that allowed many people to realise that their feelings of chaos within are not necessarily alien. Incidentally, her work does not in any way adhere to any form of structure or order. "I refuse to go to art class. I do not want to subscribe to structure," she claims.
While Mulaika obviously puts a lot of effort in her art, she also feels strongly about being authentic. "I do not take any advice on my art. I just do what feels right," she says. And, perhaps it is this originality that allows her to surf those waves of emotion with grace.
Mira S. is a participant in the CENDANA ARTS WRITING MASTERCLASS & MENTORSHIP PROGRAMME 2021.
The views and opinions expressed in this article are strictly the author's own and do not reflect those of CENDANA. CENDANA reserves the right to be excluded from any liabilities, losses, damages, defaults, and/or intellectual property infringements caused by the views and opinions expressed by the author in this article at all times, during or after publication, whether on this website or any other platforms hosted by CENDANA or if said opinions/views are republished on third party platforms.