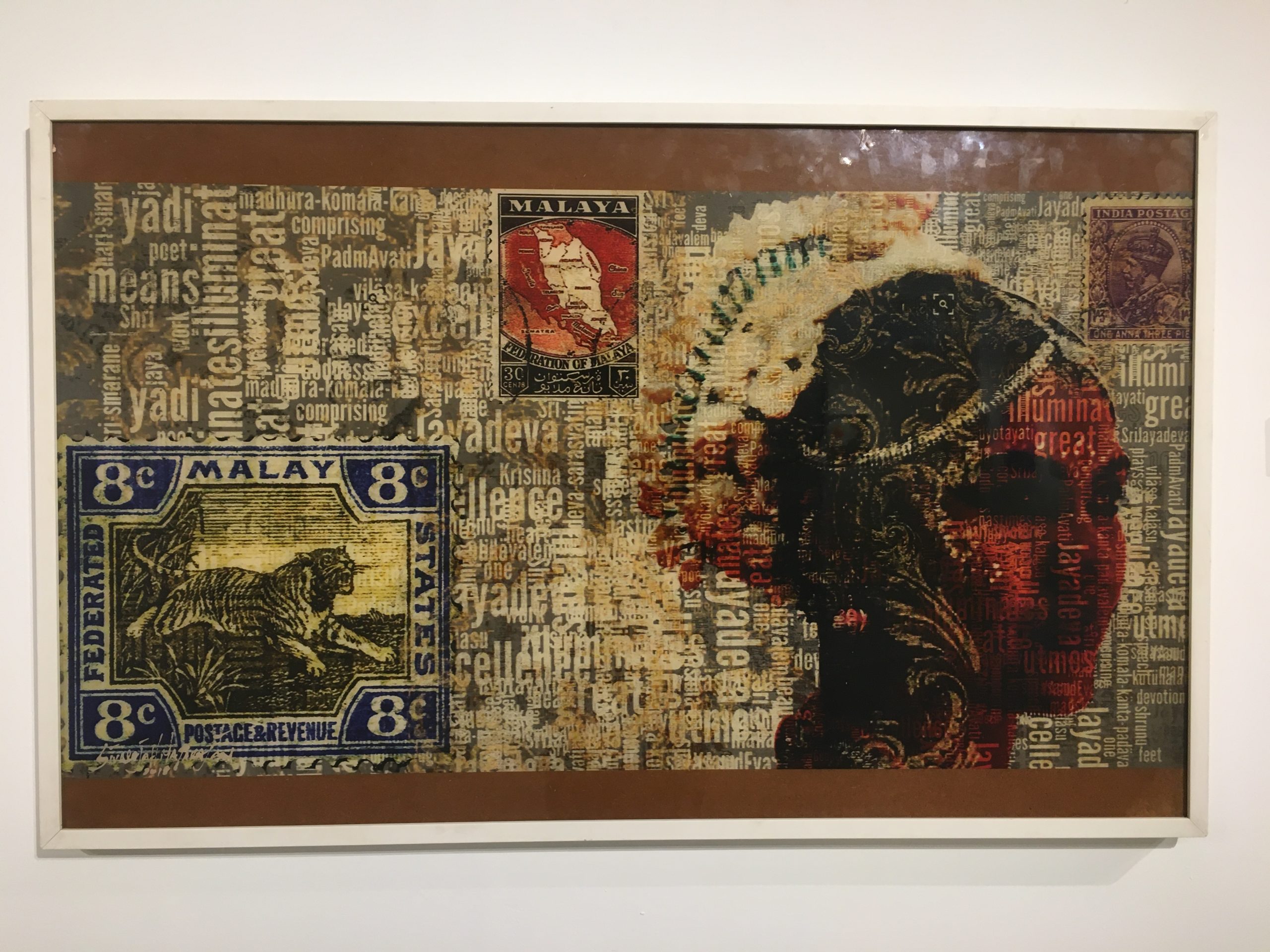 "Telur Pecah" is an art exhibition that celebrates the diversity of Malaysian art.
Story and photos by MURGAN GOVINDASAMY for Lensa Seni
As life regained some sense of normalcy towards the end of 2021, the fine art scene began springing back to life. Telur Pecah came to the GMBB KL shopping mall to bring contemporary art back into the foray of the general public. It was very exciting to attend an in-person contemporary art event like this, as it served as a breath of fresh air from the gloominess of the pandemic. Events like this are important, as curator Phillip Wong put it, to remind us that life must go on.
As Malaysians, we hear much talk about diversity, but rarely do we take a moment to ruminate on what that diversity actually means aside from being discussed along racial lines. Telur Pecah aimed to capture the diversity of the Malaysian fine art scene in its entirety. The exhibition featured works by 50 artists from all over the country. This pool of artists comprised various age groups, diverse backgrounds and users of different mediums. Because of this mix, attending Telur Pecah provided one with an all-encompassing snapshot of the Malaysian experience expressed in the form of fine art.
With the central theme of the exhibition being diversity, and the large number of artists featured, it was useful for attendees to think about Telur Pecah in terms of the individual galleries, with the artworks divided into eight galleries according to style and theme. The first gallery, Abstract, as the name implies, featured a wide range of abstract pieces. One set that was of particular interest was Mazlan Noor Along's "Rhythm of the Coral" series, for which he used short, colourful strokes coupled with long wavy motifs to mimic the structure of coral reefs viewed from above. Another notable one from Mazlan Noor was "Echoes of the Line 1", where he stuck to his geometric style, this time using circular patterns in various colours, leaving the viewer confused as to whether we were presented with an image of bubbles, or some ethereal presence.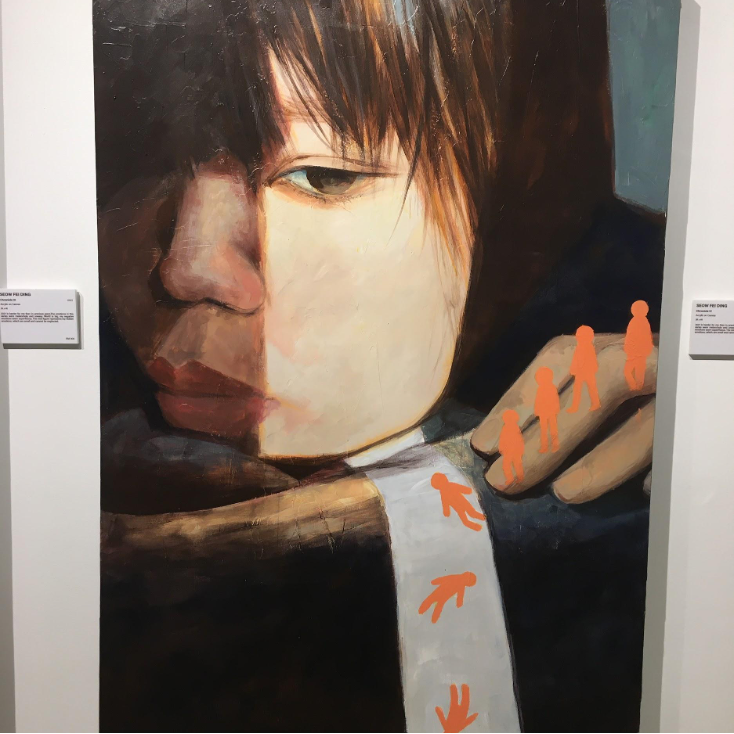 Another highlight of Gallery 1 was Liu Cheng Hua's "Anak Jiran Tionghua" series, which featured abstract strokes and formless figures to retell the poem of the same name in an abstract visual format. The acrylic on jute piece paid homage to the late poet laureate Usman Awang, who wrote numerous poems on patriotism and socialism. This poem, originally published by Dewan Bahasa dan Pustaka in 1982 talks about a young girl living in a rubber estate with her father, Ah Chew, as she plays with a kampung boy named Iskandar. Liu somehow managed to capture the essence of that scene using nothing but abstract strokes and that is definitely something to be commended.
An undeniable standout in Telur Pecah was Gallery Seven, Urban. This one featured works from nine different artists. Highlights included works such as Jaee Tee's "A Nation's Pride" which was an expressionist depiction of KL's icon, the Petronas Towers. In the spontaneous strokes and splashes of paint, the artist aims to convey the dreams and aspirations of what was then a young Malaysia, trying to tread the waters of the 21st century. There is another piece in this space by the same artist, this time depicting one of the towers being golden to symbolise the two different firms, one Japanese and one Korean, who were tasked with the construction of the towers. Jaee Tee's highlight however, would be "Century Old Legacy", which is a large monotone painting of the iconic Sultan Abdul Samad Building in Kuala Lumpur.
Another set of interesting pieces from the same gallery were Nancy Lau's "The Beauty of Nature Plateau" which provided viewers with an expressionist depiction of the rolling green peaks of Cameron Highlands and the lush vegetable farms found there. One couldn't help but feel touched, almost on a personal level, when seeing such works that present images of Malaysia that are iconic, but normally taken for granted with such refined artistic vision. Besides showcasing works on Malaysia's iconic places, the gallery also has other works such as Seow Fei Ding's "Chronicle series", in which she paints pictures of mundane everyday settings, with tiny figures waddling about, symbolising her feelings during the pandemic.
One artist who stood out was Vadivelan Simadiri. His pen and paper works appeared simple, yet somehow infinitely intricate. The pieces seemed other worldly, combining natural patterns found in plants with waves along with geometric patterns in a fractal arrangement. Vadivelan's works appear to almost speak to the viewer. They seem to almost verbally comment on the complexity that goes into the mechanics of life, time and reality.
The exhibition also featured works from more traditional mediums such as batik art. Lim Anuar's contributions did just this using the traditional Malay textile to present a beautiful depiction of traditional Malay Kampung or village life. Tan Hong Jie used mixed mediums to depict the relationship between what was once Malaysia's main source of income, rubber trees with the different ethnic groups of Malaysia.
Besides paintings, the exhibition also featured several sculpture installations such as the ones by Sin Kah Leong. Sin used tiny sculptures of a man doing various things to convey themes such as emotional baggage, safety and sorrow. These works caught my eye because they really utilised the space of the room instead of just being limited to the space of the walls.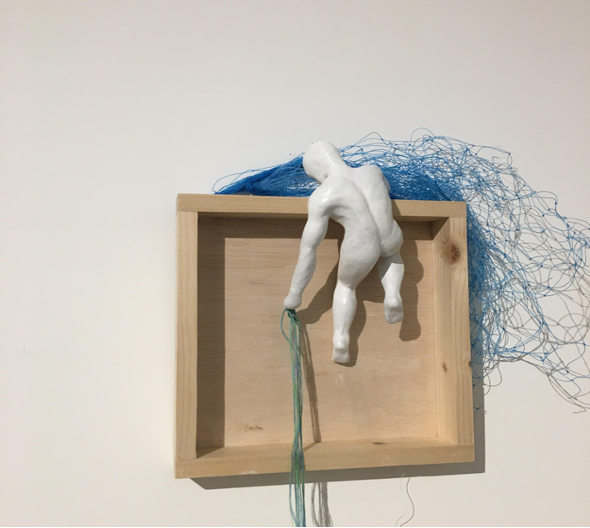 Overall, attending Telur Pecah was an enjoyable experience. It definitely succeeded in what it aimed to do, which is to highlight the diversity of talent present here in Malaysia's fine art scene. Events like this are important on a commercial level to promote these works and generate income for the artists, but also on a deeper societal level, because they provide a space in which laymen can witness all the different ways our artists are expressing themselves, and hopefully take something away with them. Telur Pecah allows visitors to ponder on the nature of art itself, and what it can mean to different people. The sheer diversity of styles and backgrounds of the artists featured means that not every piece will resonate or be appreciated by everyone. However, the artistic value here is not in what is aesthetically pleasing or in first impressions. The value of art, as Telur Pecah conveys it, is in the effort the viewer has to put in to try and discern the strokes on the canvas what the original inspiration of the artist was. Not everyone will understand every piece or every style, but the effort to do so despite something being new or foreign, is what truly celebrates diversity.
Murgan Govindasamy is a participant in the CENDANA ARTS WRITING MASTERCLASS & MENTORSHIP PROGRAMME 2021
The views and opinions expressed in this article are strictly the author's own and do not reflect those of CENDANA. CENDANA reserves the right to be excluded from any liabilities, losses, damages, defaults, and/or intellectual property infringements caused by the views and opinions expressed by the author in this article at all times, during or after publication, whether on this website or any other platforms hosted by CENDANA or if said opinions/views are republished on third-party platforms.