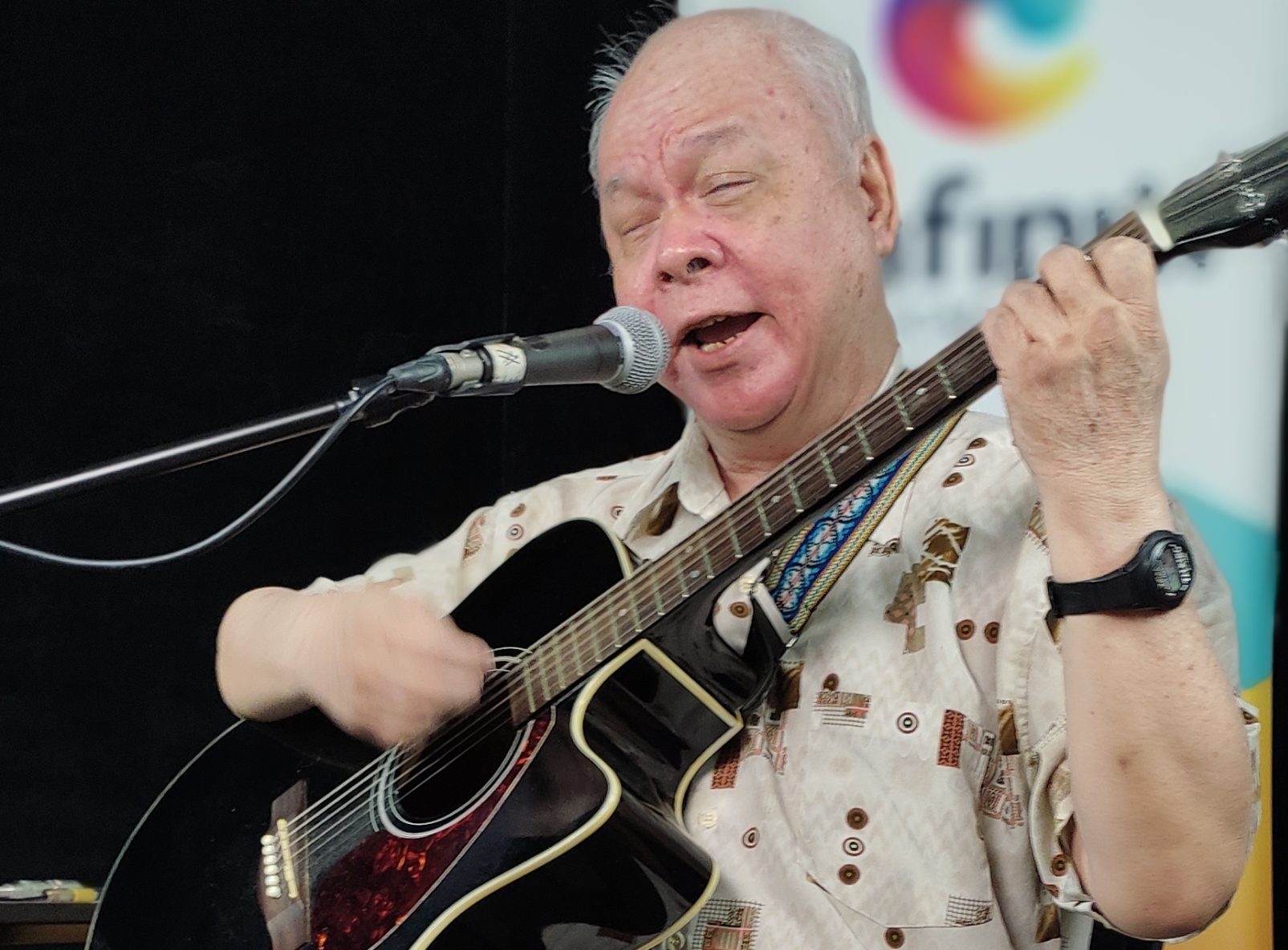 Alfred Ho, a 72-year-old musician and veteran of Malaysia's music performance scene, makes a comeback performance after a two year hiatus.
By CHIN JIAN WEI
The moment Alfred Ho opens his mouth to sing, you are struck dumb by the sound of his voice. Melodious and soulful, each syllable hums with the depth of his voice and years of experience. When he launches into a rendition of Elvis's The Girl of My Best Friend, he'll have you in the palm of his hand. You then realise that his title of "Malaysia's Stevie Wonder" was not given lightly.
That was how it was like attending the "Relive Sweet Memories at Comeback Performance" at Damansara City Mall (DC Mall) with The Artisans Haven. Held on Friday, May 13, on the Lower Ground floor of the mall alongside the bazaar, the concert featured the 73-year-old singer who sang and strummed his guitar for two hours from 5pm to 7pm. Ho's wife Rufina Baptist, 62, played the accompanying music backing track through a laptop computer. This was Ho's first paid gig for a public audience in three years, and his audience enjoyed themselves, with many dancing along to Ho's soulful renditions of classics from the 1950s to the 70s.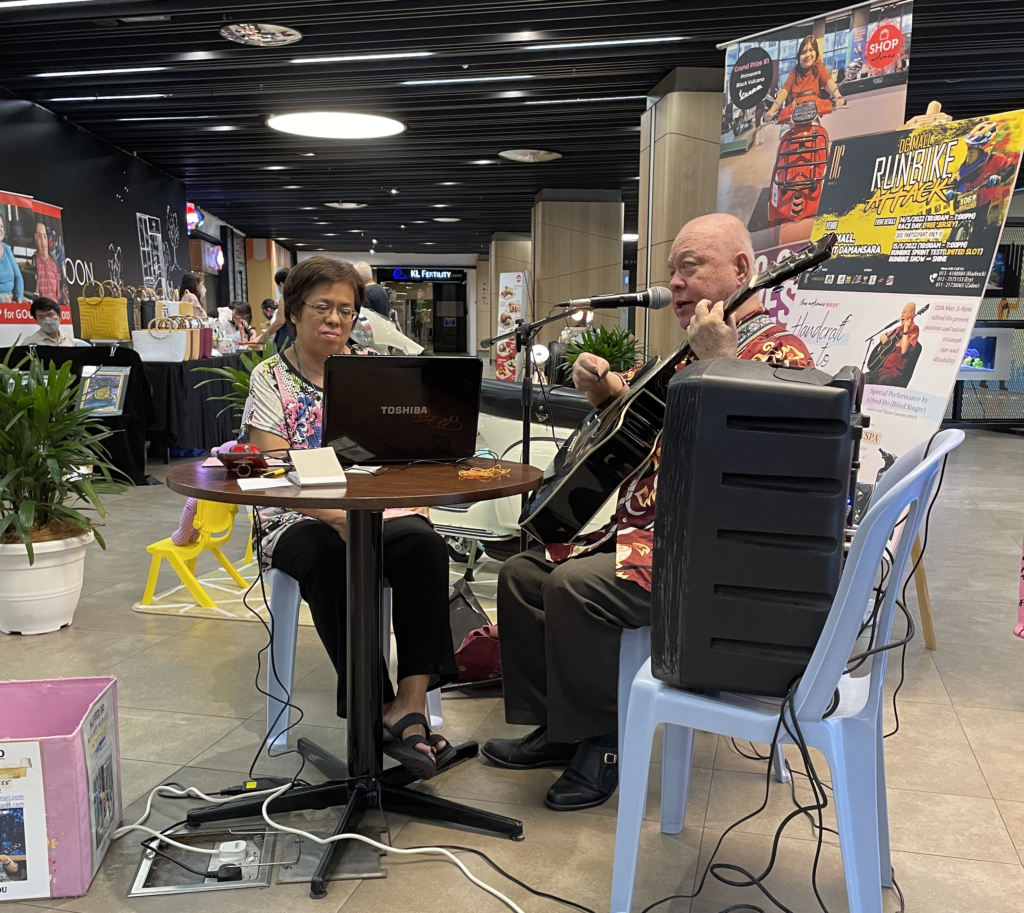 Ho took song requests throughout the performance, interacting with the audience in his smooth, ex-radio DJ voice, surely invoking nostalgia in the members of the audience who grew up with the music of yesteryear. Although his first language is English, Ho can also sing in Mandarin, Cantonese, Hokkien, Spanish and Japanese, learning the lyrics by rote. The talented singer has also participated in multiple singing competitions such as RTM's Bakat TV inaugural reality singing competition in 1971, and more recently, Asia's Got Talent 2017, when he dazzled judges with a skilful rendition of the Italian pop song Quando Quando Quando.
BASKL was able to sit down with Ho to talk to him about his experiences and relationship with music. Ho reminisces about his earliest forays into the world of music. "When I was young, we were poor, so we listened to the neighbour's radio, so when they played songs I would string a few rubber bands on a tin and pretend to strum along, and bang on the tables and chairs like a drum. Later on, in my school days in St Xavier's Penang, I had a classmate who's sadly passed away, his name was Benjamin. He was a good guitarist and a very good keyboard player. I think I was quite jealous of him so I got him to teach me a few chords on the guitar. After that, I branched out on my own, listened to records and I followed how they played. I was a telephone operator for a while, but there were no jobs at the time, and since there was nothing to do, I started a bit of singing just for fun. People asked me to join RTM's Bakat TV singing competition, and so I joined and managed to get to the semifinals. I wrote a few of my own songs, and the rest is history."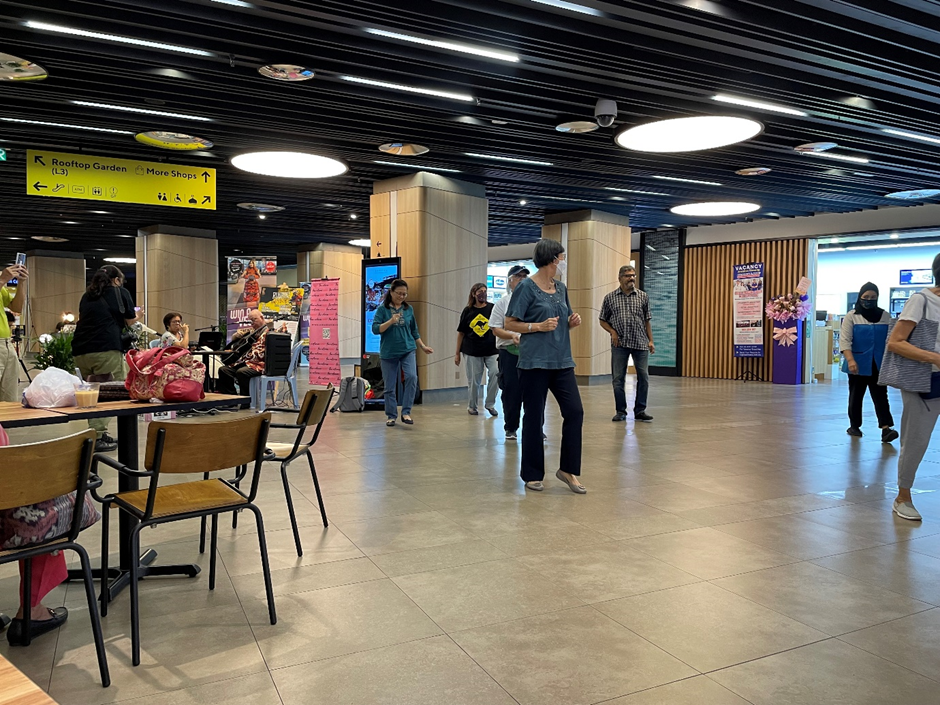 It was a joy to see Ho enjoying himself while performing, as for two years he was not able to perform publicly due to the Covid-19 pandemic. Just like countless other artists, he found his source of income cut off, with the karaoke app WeSing as the only outlet for him to continue singing. "It was difficult," Ho says. "We were not allowed to busk. No jobs, no income. But I didn't waste time, every day I would record songs on WeSing. I've recorded close to 900 songs in English and Chinese."
Ho has nothing but positive encouragement for young people who want to pursue their dreams in music. "If it's their calling, they should continue pursuing it. Even as a blind person, I faced a lot of pitfalls and I've not given up. People have discriminated against me, but I don't allow that to bother me. If you are normal-sighted, all the more you should continue and persevere until you make it. I haven't really made it yet, in fact, my dream is to make it overseas and I haven't succeeded in that yet, but I don't know, only time will tell."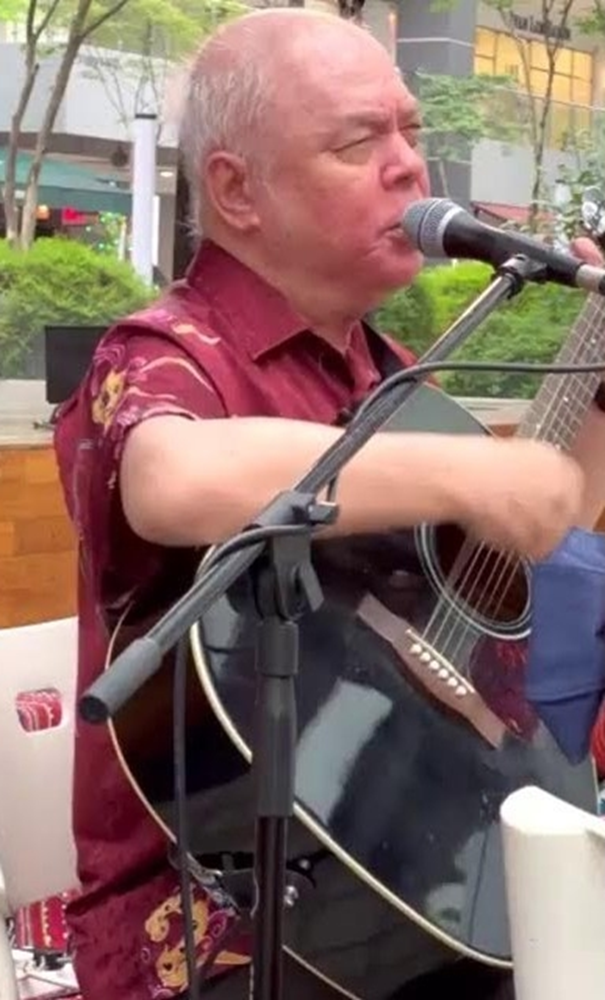 Now that the worst of the pandemic is behind us, perhaps Ho will be able to continue moving toward achieving his dreams. "It feels great being able to perform again," Ho says. "Initially it was a bit difficult playing live again after so long, but gradually it got better. I want to continue singing for as long as I can."
On a related note, DC Mall management has also expressed interest in organising more bazaars and hosting local arts events and exhibitions. Hosting Ho's comeback performance is definitely a major step in that direction, so stay tuned and keep an eye out for more upcoming events at DC Mall.
To listen to Alfred Ho, head on over to his WeSing profile at this link. You can also check out his Facebook page here.