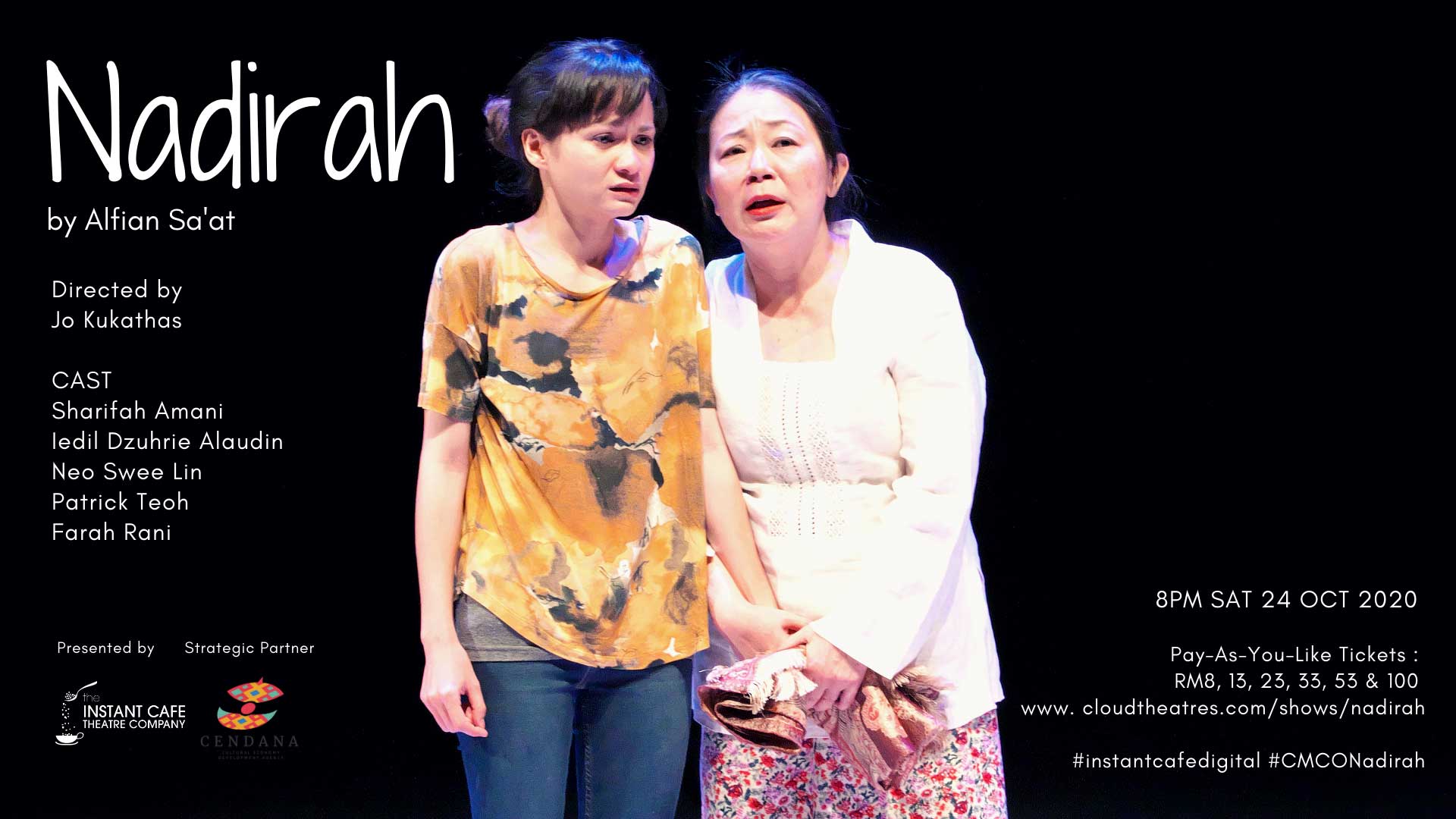 Cloud Theatre presents online viewing of Nadirah in the comfort of your own home
by HAMIDAH ABD RAHMAN
The rise of Covid-19 cases and the imposed Conditional Movement Control Order (CMCO) over some areas in the country have led to the unfortunate postponement and cancellations of numerous arts events. With growing frustrations and dwindling hope for the future, there has never been a more desperate time for artists and the arts.
That is how The Instant Cafe Theatre came to the decision to plan a digital event on Oct 24, when people could enjoy a bit of good theatre together from home. The theatre company showcased one of its most riveting past productions, Nadirah, written by Singaporean playwright Alfian Sa'at and directed by Malaysian thespian Jo Kukathas. Originally the play was performed in 2016 in Tokyo at the Japan for Festival Tokyo. With a formidable cast, the digital show starred Sharifah Amani as Nadirah, Farah Rani as Maznah, Neo Swee Ling as Sahirah, Patrick Teoh as Robert and Iedil Dzuhrie Alaudin as Farouk.
Adapting to the Covid-19 pandemic challenges, The Instant Cafe Theatre successfully ran its online streaming of Nadirah through Cloud Theatre, a digital streaming platform for theatre shows.
Consumers had the opportunity to purchase tickets through a "pay-as-you-like" system, which meant that we could pay whatever we could afford, starting at an RM8 minimum. I thought that this was a compassionate gesture from the theatre company, as it not only made the show accessible to everyone, but also allowed them to forget reality for a night. I also appreciated that the proceeds from Nadirah would aid future theatre events affected by the CMCO. Just as The Instant Cafe Theatre was helping us audiences escape a little bit of our reality, surely it was also our duty to support our local thespians.
The play tells the story of Nadirah, a pious Muslim girl of mixed parentage – her mother Sahirah, a Chinese Singaporean who had converted to Islam, and father a Malay man from Malaysia. Despite the parent's divorce, the mother-daughter duo has been practising Islam devoutly, as hinted at the start of the play in the scene of them praying together. However, conflict ensues when Sahirah announces to Nadirah that she is interested in re-marrying, this time tying the knot to a Christian man, Robert, in a civil marriage. Questions of faith, ethnic and religious identities, and family play throughout as Sahirah tries to make her daughter understand her decisions, and Nadirah continues to oppose the idea of Sahirah's re-marriage.
Although set in Singapore, I believe that the subject of religion and faith affects Malaysian society too. Ideally one's relationship with God should be personal and private, but often it does not feel as such. Instead, there is a sense of public scrutiny, that if one is not showcasing enough of the right kind of behaviour, then they are deemed as not "religious" enough.
In other words, rather than as a personal practice of faith, practising religion feels more like a collective responsibility. Thus, Nadirah brings the question of ethnic/religious identity, which is especially seen in the character Sahirah, who is ethnically Chinese but practises Malay customs and has raised her own daughter as a Muslim, since her conversion to Islam. However, now that she plans to re-marry someone who is non-Muslim, does that mean that she is no longer considered a part of the Malay community? Or would she no longer be deemed as part of the Muslim community?
I think that Sa'at's writing highlights these conflicts of ethnic/religious identities so profoundly, given the fact that the Malay-Muslim identity has become so deeply interwoven that it has become unacceptable to deviate or distinguish one from the other.
If there were one thing that I would like to specifically commend Nadirah for, it would be that the story is set within a family. There are dialogues that mention the state and the bigger picture of religion, but with the focus on family, the issues that Nadirah and Sahirah experience become much more personal for the audience, as we witness how religion and family intersect. It no longer becomes a question of being a believer and non-believer, rather, it is a debate between faith and love which I think becomes more difficult to manoeuvre within a mother- daughter relationship. Amani and Neo also portrayed their characters so convincingly, that I felt every internal conflict and the emotional roller-coaster that both mother and daughter went through. I loved the chemistry between the actresses and I would like to commend their performance.
On a more personal note, although I acknowledge the brilliant points made in the script, there were times I wished that some of the scenes slowed down. Even when the characters were being subtle and reflective within a scene, there was still high tension for the audience. The subject of religion in Nadirah is already quite heavy to digest, so I wish there were more quiet moments for the audience to reflect on the themes.
My viewing experience may have been influenced by the fact that I am a Malay-Muslim. There were moments when I felt like I was being smacked in the face with questions, epiphanies and realisations of my own ethnic/religious identity. I experienced these jarring moments, whilst trying to keep up with the storyline, which in effect made me feel completely overwhelmed and breathless whenever a scene ended. Perhaps that was the intention of Sa'at's writing and/or Jo's directing, which I also want to commend for having brought these discussions to light.
Nadirah plays again across multiple time zones from Nov 19 to 22. For details go to Cloud Theatres.
Hamidah Abd Rahman is a writer is under the CENDANA-ASWARA Arts Writing Mentorship Programme 2020-2021.