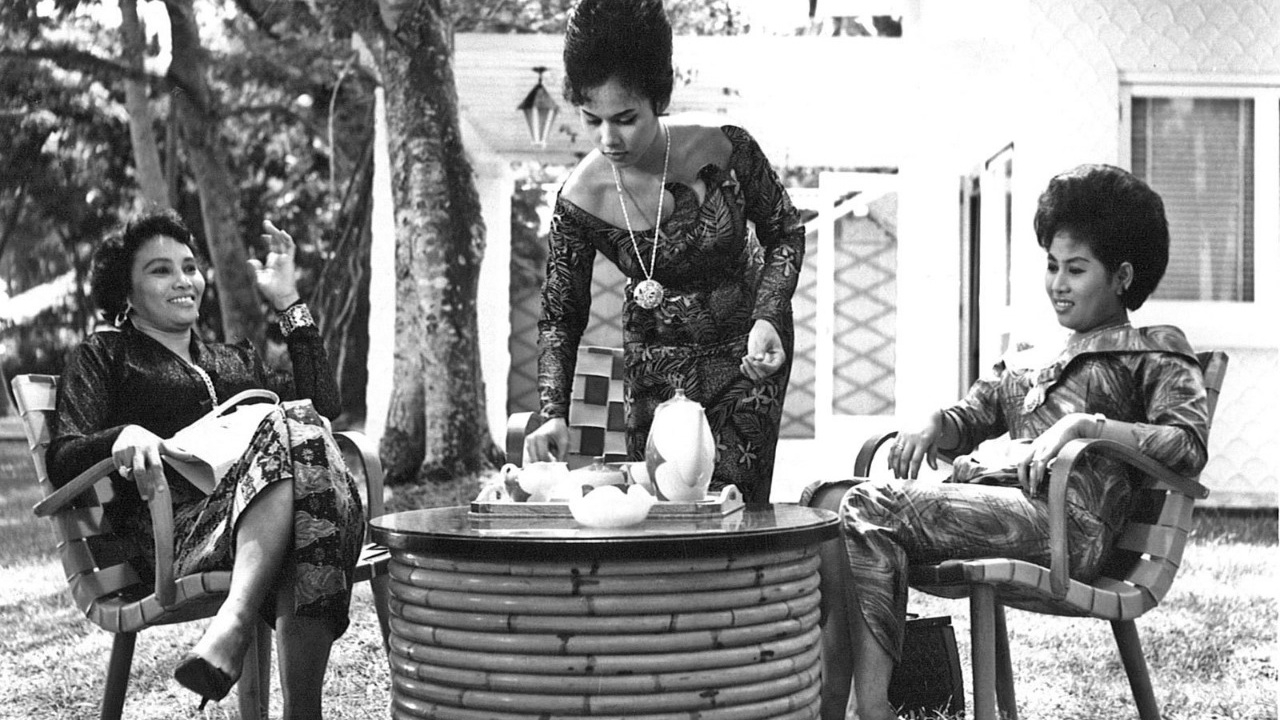 "Cheating husband deceives three women at once". The premise does not sound anywhere close to romantic, much less comedic. But P. Ramlee proved otherwise in the 1964 comedy classic 'Madu Tiga.'
By LEE XIN YING for LENSA SENI
In the world of romantic comedies, it is said that you can never go wrong with the universal "boy meets girl" plot. You could add a love triangle into the mix to make the story juicier, but a good rom-com isn't as satisfying without the "boy/girl gets girl/boy" ending.  In 1964, P. Ramlee's Madu Tiga challenged this format and won the award for Best Comedy at the 11th Asian Pacific Film Festival. But, a rom-com that revolves around a man cheating his way through not one, not two, but three, wives poses a question: can marital unfaithfulness ever be funny?
Released on Feb 12 in 1964, the Malay romantic comedy was produced by Vee Meng Shaw and co-written by S. Kadarisman and P. Ramlee, who also directed, starred in and scored the film.
The film opens at HJ. Latiff & Menantu Co. Ltd, the workplace of our protagonist, Jamil (P.Ramlee), who works for his father-in-law, Haji Latiff (Ahmad Nesfu). Jamil mentions attending a wedding later that night to his colleague, Rashid (Ahmad Sabree). Back at home, Jamil's wife Latifah (Zaharah Agus) plays mahjong with her girlfriends. They chat about how long she has been married to Jamil (12 years), and if they have any children (none). They state their envy of Latifah because her husband comes home every day, unlike their own spouses who are "womanisers", praise which Latifah laughs off.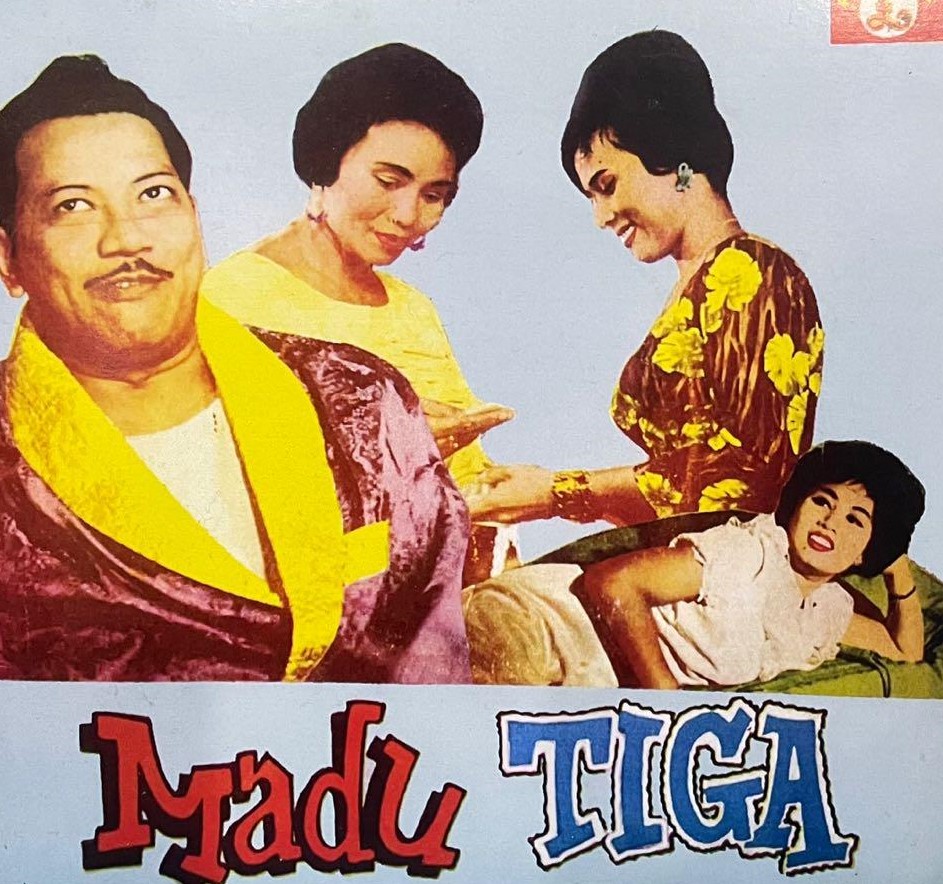 All's fair in love and war 
Straight off the bat, we see Jamil's carefree charm – a confident man with a boisterous idiocy synonymous with all of the comedy greats. Yet, true action begins at the aforementioned wedding 10 minutes in, which (surprise, surprise!) turns out to be Jamil's own! He marries a second wife Hasnah (Jah Mahadi) without both Haji Latiff or Latifah's knowledge. The bride is clueless of her new husband's situation.
As expected of the music legend, P. Ramlee sprinkles Madu Tiga with melodic treats. His real-life wife Saloma makes a delightful cameo, performing Selamat Pengantin Baru at Jamil's wedding ceremony no less. After the first night of celebrations, Jamil goes home to Latifah pretending nothing is amiss but later confesses and apologises to Haji Latiff. Shockingly, he gains his approval. After all, Jamil is in partnership with his father-in-law – they run a whole company together!
A similar wittiness runs through the whole of the movie, sparking off chaotic wedding-crashing havoc as the story unfolds. Latifah and Hasnah, who earnestly loathe each other, are the most enjoyable. Who doesn't like snarky lines delivered with a straight face? To be fair, the main conflict of the film isn't polygamy itself, but Jamil's numerous schemes in maintaining his facade as a monogamous husband.
He lies to both wives, promising to divorce the other, and to keep up with the lies, he teams up with his dumb-and-dumber sidekick, Rafee (M.Rafee). While the series of events is linear, it is impossible to guess what Jamil and the wives will do next, keeping viewers on their toes.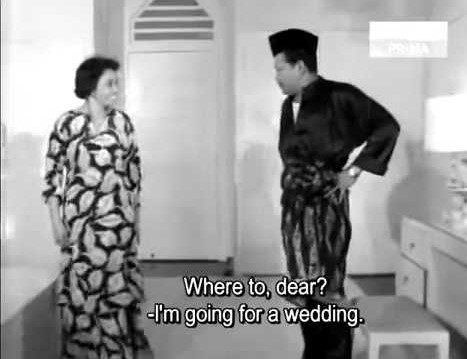 Love at third sight
The only thing possibly sweeter than the ladies is P. Ramlee's vocals, which appear mostly in the second half of the movie, during his pursuit of Rohani (Sarimah Ahmad). He proposes after meeting Rohani – the third and final wife – just once. He smugly sings the title song Madu Tiga to Rafee during the drive. The second song happens on their wedding night when Rohani can't sleep and Jamil croons a soothing lullaby, Pukul Tiga Pagi – arguably the only romantic moment in the movie.  Although the three brides have their separate homes and do not know of each other, they eventually end up meeting by chance. The youngest, Rohani is sensible and caring, acting as a foil to Latifah and Hasnah's catty ways.
Reaching the last act when the cat's finally out of the bag, they embark on a glorious car chase sequence that you just have to see for yourselves. Caught red-handed, Jamil pleads guilty and agrees to divorce whichever wife who wants to. After Rohani's quick mediation ("We all love him, don't we?"), the trio agree to stay married to Jamil under two conditions. One, Jamil spends time with each of them in turns, and two, he treats all of them exactly the same. Like all good endings, the curtains close with them happily zooming off into the sunset in a convertible. 
Is it still sweet?
More than half a century after the film's release, it feels more apt to relabel Madu Tiga a screwball comedy rather than a romantic comedy, because Jamil is no Romeo. He weds Rohani solely because she's pretty, barely spends time with Hasnah after the wedding, and treats Latifah with scorn, often making her the punchline. In the title song Madu Tiga, lyrics such as "if the older wife complains, go to the younger wife, if both complain, then I shall wed another," is an obvious parody and indictment to Jamil's infidelity. 
Even so, we still find the film timelessly hilarious. Why? Aside from P. Ramlee's acting chops, Jamil's situation seems too good to be true. Not only is he financially well-off enough to afford multiple homes and cars, he has the full support of his father-in-law, and he manages to get off with zero divorces. Let's face it – can Jamil really be "loving and fair to all three wives equally" when he failed to provide the minimum for even one? 
His cons are almost too smooth-sailing, facing no obstacles, other than the big ending reveal, which makes our protagonist seem flat. What Jamil has in wealth and audacity, he lacks in communication and arc development – too much sweetness can turn sour and rub off quite a bit of his charm.  In comparison to the male protagonist, the female leads are more appealing. Latifah and Hasnah are always straightforward in whatever they do, including blatantly hating on each other, while Rohani is the one who says, "We're not at fault, Jamil's the culprit here," at the critical moment. True to its title, the "three honeys" are the real stars of the show.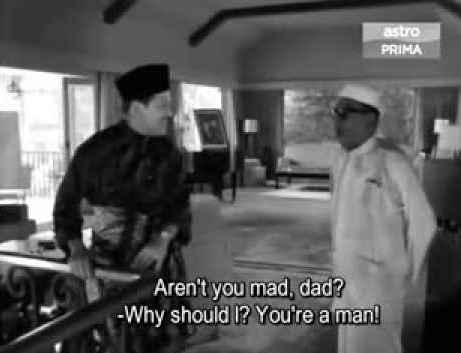 With comedy and satire triumphing over romance, there is a sizable chance for some raised eyebrows during questionable scenes, but laughter and a (morally ambiguous) fun time throughout are also solid guarantees. Singapore's The Straits Times definitely agrees, ranking Madu Tiga fifth in their "5 top Malay films made in Singapore" list in 2014. One thing is certain though. No matter how many knots he ties, Jamil will never be worthy of his wives, because the only person he knows how to love is himself.
LEE XIN YING is a participant in the CENDANA ARTS WRITING MASTERCLASS & MENTORSHIP PROGRAMME 2021
The views and opinions expressed in this article are strictly the author's own and do not reflect those of CENDANA. CENDANA reserves the right to be excluded from any liabilities, losses, damages, defaults, and/or intellectual property infringements caused by the views and opinions expressed by the author in this article at all times, during or after publication, whether on this website or any other platforms hosted by CENDANA or if said opinions/views are republished on third party platforms.